Jose Aldo Net Worth: How Rich is the UFC Fighter in 2022?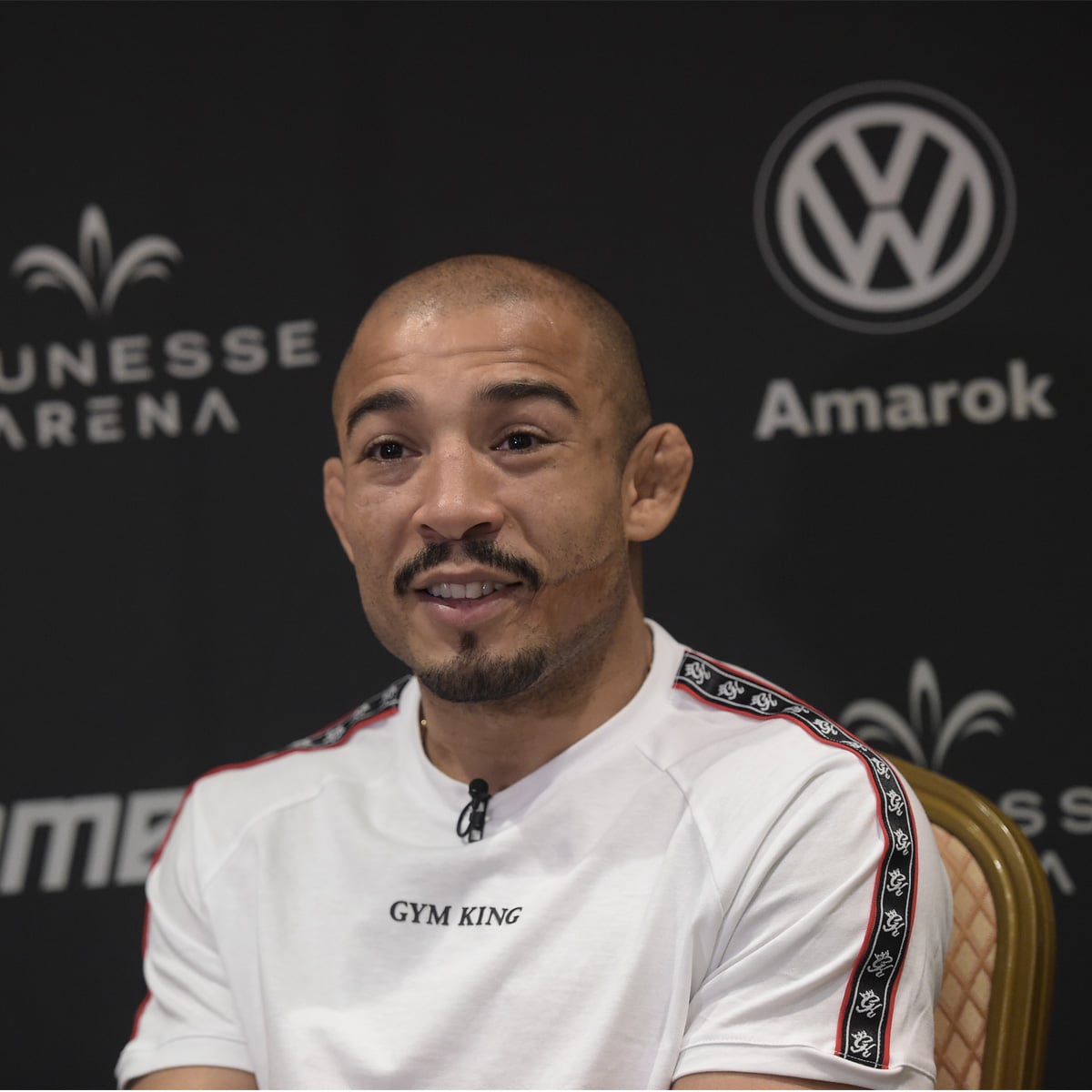 Jose Aldo is a Brazilian mixed martial artist who is best known for competing in the Ultimate Fighting Championship (UFC). He's one of the most decorated featherweights in all of MMA, realizing championship status in both the UFC and the WEC before that.
| | |
| --- | --- |
| Full Name | José Aldo da Silva Oliveira Júnior |
| Birth Date | September 9, 1986 |
| Birth Place | Manaus, Brazil |
| Profession | UFC Featherweight Contender |
| Wife | Vivianne Aldo |
| Net Worth | $10 Million |
Early Life
Jose Aldo was born on September 9, 1986 in Manaus, Brazil to his parents José Aldo da Silva Oliveira Sr. and Rocilene Socorro Souza. As an infant, Aldo was dropped onto a barbecue, leaving a permanent and visible scar on his face.
Growing up as a young child, Aldo loved playing soccer and he aspired to one day play professionally. However, frequently getting beaten up in street fights drove Aldo to begin training capoeira, a Brazilian martial art. After some time with that, he began training Brazilian Jiu-Jitsu.
Aldo decided to move to Rio de Janeiro at the age of 17 in order to train martial arts full time. Now 35 years old, he's been training ever since.
Jose Aldo Net Worth & Career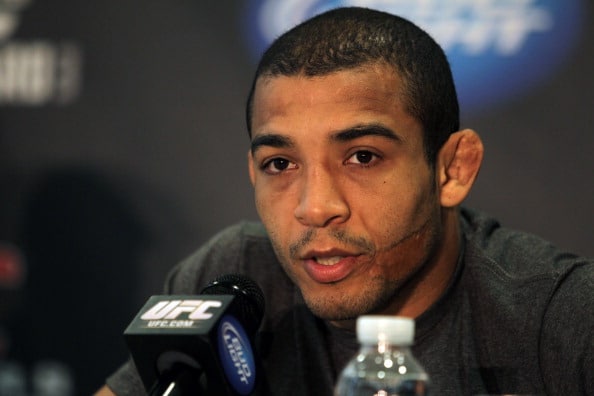 Aldo made his MMA pro debut in 2004 under the EcoFight banner and it took him just 18 seconds to knock out his first opponent. From there, it was evident he had a bright future in the sport. Aldo would go on to finish his next six foes before losing his first fight to Luciano Azevedo.
Yet, following the loss, Aldo would win his next three before singing to the World Extreme Cagefighting (WEC) in 2008.
Jose Aldo WEC Career
Aldo immediately made a splash in the WEC, winning five fights in a year's span which was capped off by a TKO over Cub Swanson in a title eliminator bout. Then, in November of 2009, Aldo secured his first championship belt by finishing Mike Brown at WEC 44.
He'd successfully defended his belt twice before the WEC merged with the UFC, converting his title to the UFC featherweight championship.
Jose Aldo UFC Career
Officially a member of the UFC in 2011, Aldo remained king of the featherweights for quite some time — over four years and seven title defenses to be exact. He defended his title against the likes of Kenny Florian, Chad Mendes, Frankie Edgar, and more.
Aldo quickly became one of the most recognizable and loved figures in all of the mixed martial arts. As UFC featherweight champion, Aldo earned a trio of Fight of the Night honors for his spectacular performances in title fights.
Jose Aldo vs Conor McGregor
In December of 2015 at UFC 194, Aldo faced off against a red-hot rising contender by the name of Conor McGregor. Aldo felt confident heading into the fight, but he only lasted 13 seconds versus the pride of Ireland.
The knockout has been played over and over again as it served as the launching point for McGregor's stardom. As the result, Aldo's 15 fight winning streak ended and it served as his first-ever defeat at featherweight.
Jose Aldo UFC Stats
There's no doubt that Aldo is etched into UFC lore for his extended tenure with the promotion. For starters, the Brazilian holds the record for most title fight wins in featherweight history. Moreover, he's fifth in all-time wins, fifth in KO/TKO wins, sixth in Fight Night bonuses, and second in takedown defense.
Additionally, Aldo has spent nearly four hours inside the UFC octagon. No one featherweight to this day has surpassed Aldo's record of seven successful title defenses.
Jose Aldo is scheduled to headline his eighth UFC event on December 4th against Rob Font.
Jose Aldo Personal Life
Aldo and his wife Vivianne have one child together, a daughter named Joanna. His wife has actually competed professionally in Muay Thai and she possesses a purple belt in Brazilian Jiu-Jitsu.
The mixed martial artist owns a restaurant located in Rio de Janeiro named Famous Burger. Aldo grew up very poor alongside his two sisters Rosilene Oliveira and Josilene Souza de Oliveira. Aldo is oftentimes considered to be the greatest featherweight in mixed martial arts history.
Who beat Jose Aldo?
Since joining the UF, Aldo has lost to Conor McGregor, Max Holloway (x2), Alexander Volkanovski, Marlon Moraes, and Petr Yan.
Who did Jose Aldo take the WEC belt from?
Aldo knocked out Mike Brown in 2009 to secure the WEC featherweight belt.
Jose Aldo played soccer for what team?
Aldo hasn't played soccer professionally, but he's an avid fan of Clube de Regatas do Flamengo as well as Chelsea FC.
Jose Aldo Net Worth
As of 2022, Jose Aldo is projected to have a net worth of roughly $10 million. Still an active fighter, Aldo has the opportunity to add to that figure over the next few years before his expected retirement.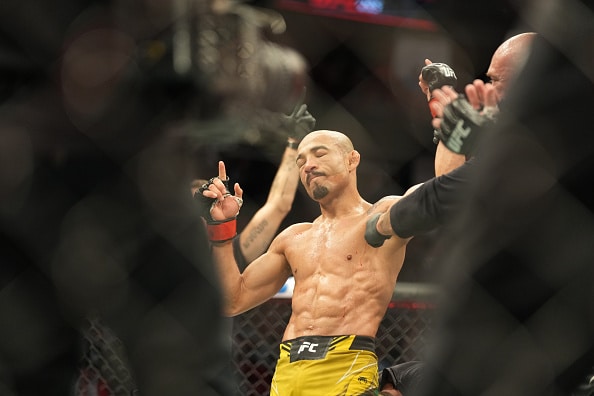 Jose Aldo News
Jose Aldo apologized to Conor McGregor for post-fight outburst, won't likely fight Floyd Mayweather next  MMA Fighting