Urban Meyer Net Worth: How Rich is the NFL Coach in 2022?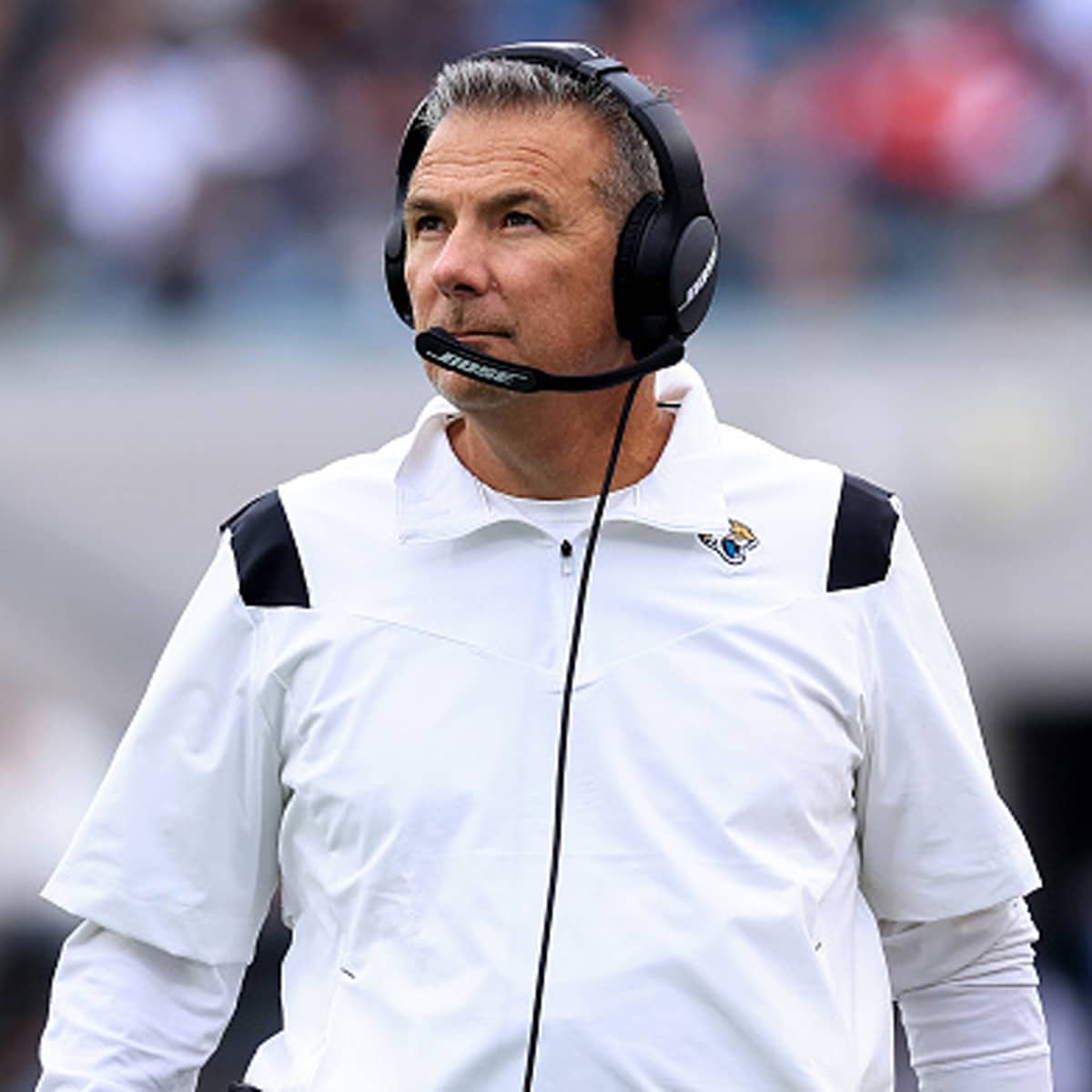 Urban Meyer is an American football coach, who is best known for guiding the University of Florida (x2) and Ohio State University to FBS National Championships. Currently, Meyer is in his first season as the head coach of the Jacksonville Jaguars.
| | |
| --- | --- |
| Full Name | Urban Frank Meyer III |
| Birth Date | July 10, 1964 |
| Birth Place | Toledo, Ohio |
| Profession | NCAAF/NFL Head Coach |
| Wife | Shelley Mather Meyer |
| Net Worth | $40 Million |
Early Life
Urban Meyer was born to parents Bud and Gisela on July 10, 1964, in Toledo, Ohio. Meyer and his two sisters, Gigi and Erika, spent the majority of their childhood growing up in a small Ohio city named Ashtabula.
Meyer attended Saint John High School in Ashtabula where he played varsity baseball. Immediately upon graduating, Meyer was selected by the Atlanta Braves in the 13th round of the 1982 MLB draft. He'd spend two years in the organization playing shortstop, while concurrently playing defensive back at the Univesity of Cincinnati football team.
In 1986, Meyer joined the Ohio State football coaching staff as a graduate assistant. He did so while pursuing his master's in sports administration at the institution. He would pursue his coaching career further after graduating in 1988.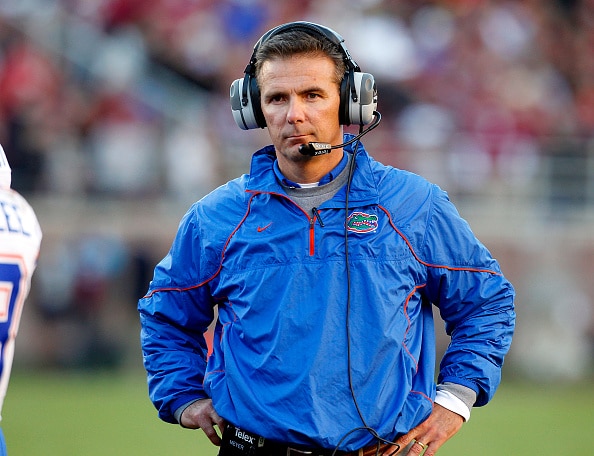 Urban Meyer Net Worth & Career
Meyer would spend 13 years as an assistant coach — two at Illinois State, six at Colorado State, and five at Notre Dame. In 2001, Meyer accepted his first head coaching gig at Bowling Green State University.
Following back-to-back successful years in which he compiled a record of 17-6, Meyer chose to take a head coaching position at the University of Utah. Immediately, Meyer turned sparked the program, leading the team to a 10-2 record in his first season. The next year, the Utes attained a perfect season going 12-0, something that hadn't been done by the school since 1930.
Urban Meyer Florida
Meyer rode his momentum into landing his biggest job yet, signing a seven-year contract worth $14 million to become head coach of the Florida Gators. Meyer went 9-3 in his first season, bringing the Gators to an Outback Bowl victory.
It didn't take long for Meyer to reach great heights at Florida because the Gators would go 13-1 in 2006. A season that was capped off by a 41-14 win over Ohio State in the BCS National Championship game.
The following season was a bit of a letdown by Meyer's standards as his team went 9-3 and lost in the Capital One Bowl to Michigan. However, Meyer coached his first-ever Heisman Trophy winner that year in Tim Tebow. The duo would go on to achieve two straight 13-1 seasons, including a National Championship in 2008 and a Sugar Bowl victory in 2009.
Health issues forced Meyer to resign as head coach of the Florida Gators in 2010 after serving six seasons at the helm.
Urban Meyer Ohio State
In November of 2011, Urban Meyer agreed to return to coaching in the form of coaching the Ohio State Buckeyes. Meyer would run the table in his first season, going 12-0, but the school was barred from postseason play due to NCAA sanctions. In 2013, Ohio State went 12-2 and finished at #12 in the BCS rankings.
The 2014 season was a special one for Meyer and his team. After going 11-1 in the regular season, the Buckeyes entered the College Football Playoff as the #4 seed. They'd go on to defeat top seed Alabama in the semi-finals before dismantling the #2 seed Oregon 42-20 in the championship game.
Over the next four seasons, Meyer's team amassed a record of 48-6, but they failed to gain another CFP win. In 2018, Meyer announced his retirement as a result of health concerns.
Urban Meyer Jacksonville Jaguars
Meyer announced his return to coaching in January of 2021, but not to the college ranks. Instead, he accepted a job as head coach of the Jacksonville Jaguars.
In his first few months, Meyer was fined $100,000 by the NFL for violating practice rules along with being publicly reprimanded by team owner Shahid Khan for his antics following a loss to the Cincinnati Bengals.
Urban Meyer Personal Life
Meyer married Shelley Mathers in 1986, a few years after meeting her while studying at the University of Cincinnati. The couple has three children, Nicole, Gisela, and Nathan. Impressively, both of his played Division I volleyball.
After retiring from Florida, Meyer joined ESPN as a college football commentator and analyst. Moreover, the 58-year-old currently owns a few restaurants in Ohio.
What hospital was Urban Meyer born in?
Meyer was born in Mercy Hospital, which is the same hospital where Jim Harbaugh was born.
How tall is Urban Meyer?
Meyer stands at 6 ft. 5 in. (1.9 m).
Why is Urban Meyer named Urban?
Meyer was given the name Urban after Pope Urban as his family is Roman Catholic.
Urban Meyer Net Worth
As of 2022, Urban Meyer's net worth is at an estimated $40 million. Although that number's expected to rise with him currently earning $10-$12 million annually from the Jaguars.
Urban Meyer Viral Video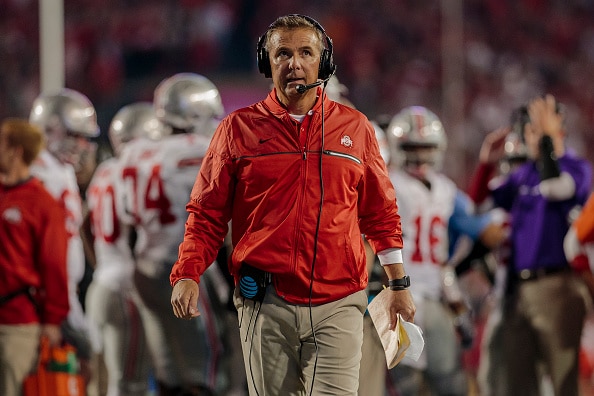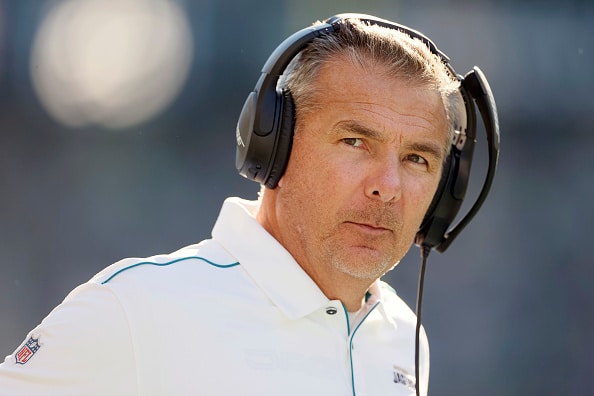 Urban Meyer News
Urban Meyer makes prediction on Colorado vs. Oregon  On3.comTom Brady gives Shedeur Sanders advice after Colorado quarterback buys Rolls-Royce  Fox NewsDeion Sanders now 3-0 at Colorado, talks ceiling for Shedeur Sanders, top […]

Urban Meyer critical of Michigan, Georgia scheduling, fears it will become the norm  On3.comUrban Meyer Rips Michigan's Soft Schedule – OutKick  OutkickUrban Meyer calls out Georgia football again  Athlon SportsMichigan football schedule ripped […]

Urban Meyer addresses Notre Dame future, joining conference vs. remaining independent  On3Can Notre Dame keep Ohio State red out? How it aims to stop Georgia stadium takeover repeat  The Athletic#6 Ohio State […]