Michael Armand Hammer Net Worth: How Rich was Armie's Father?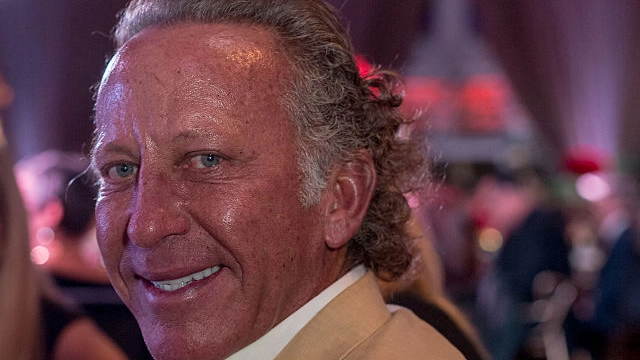 Michael Armand Hammer was an American businessman He was best known for his ties to his late grandfather's company, Occidental Petroleum. Michael also owned numerous businesses including a TV and film production company, Hammer Productions. Hammer died at 67 years of age on Sunday, November 20 after a long, hard fight with cancer. Michael Armand Hammer net worth at the time of his death is roughly around $1.5 million.
| | |
| --- | --- |
| Full Name | Michael Armand Hammer |
| Birthday | September 8, 1955 |
| Birthplace | Los Angeles |
| Profession | Businessman |
| Wife | Dru Ann Mobley |
| Net Worth | $1.5 million |
| Died | November 20, 2022 |
Early Life & Family
Michael Armand Hammer was born in September 1955 in Los Angeles. He was born to Glenna Sue and Julian Armand Hammer. His father is known to be a hotheaded Hammer scion who murdered a man over a gambling debt in the 1950s.
Likewise, his dad, Julian also sexually abused his daughter, Casey. Michael's mom is known to be a native of Texas. He grew up with his sister, Casey, and half-sister, Jan Ward. For his study, he joined the University of San Diego.
Hammer completed his graduation degree in Business Administration in 1978. Later he attended Columbia University and graduated from the Graduate School of Business with MBA degree in 1982.
Michael Armand Hammer Net Worth & Career
At the initial stage of his career, he worked at the New York City securities firm, Kidder, Peabody & Co. He worked in different roles while serving in the securities and investment firm. In 1982, he started working at his grandfather's company, Occidental Petroleum. Earlier he worked in various capacities in the company's various facilities such as Texas, London, Oklahoma, and Oman. He eventually moved to the corporation's headquarters in Los Angeles in 1985.
Michael became a vice president of the corporation headquarters after he moved there. Shortly after that, he became a member of the executive committee and the board of directors. Michael later served on the board and executive committee until he departed from the company in 1991. After ending his association with Occidental Petroleum, he started serving with several companies including OnVANTAGE, Inc.
Personal Life
Michael Armand Hammer was married to Dru Ann Mobley. He exchanged wedding vows with his former wife, Mobley on January 12, 1985, in Tulsa. After marrying Mobley, he became a Christian. He was also a benefactor of several Christian organizations that were dedicated to evangelism. Michael ended his 27 years of marriage with his wife in 2012.
Hammer and his ex-wife had two kids, Armie and Viktor Hammer. His eldest son, Armie is an actor, and his youngest son, Viktor is a businessman. Michael was battling cancer for a long time. The 67 years old businessman Sadly passed away after a long battle with cancer on Sunday, November 20.
Michael's youngest son, Armie, who is now a struggling addict was at the center of several scandals at the time of his father's passing. As per the report, Michael had cut off ties with his son, Armie and due to that, he was seen selling timeshares at a resort in July 2022.
A close source told that Armie was working at the resort because he was in need of money. Michael was not also helping him anymore. Armie also fell into controversy after a woman claimed that the actor has violently raped her. Due to that, he was interrogated at the center of an LAPD investigation.
Michael was also reportedly living a checkered life and was reportedly keeping a sex dungeon in the Carpinteria-based Armand Hammer Foundation. Likewise, he was embroiled in New York City's biggest art fraud scandals. According to reports, the late businessman had the twisted sex drive and the mindset of a teenage boy.
Michael Armand Hammer Net Worth
Michael Armand Hammer's net worth is estimated to be around $1.5 million before he died on November 20, 2022. Hammer reportedly inherited a whopping $40 million dollar fortune from his late grandfather, Armand Hammer. Along with that, he also inherited two foundations and two art galleries. Michael along with his family was featured in a Discovery+ docuseries, House of Hammer, that premiered on September 2, 2022.