Kai Cenat Net Worth: How Rich is the Streamer Actually?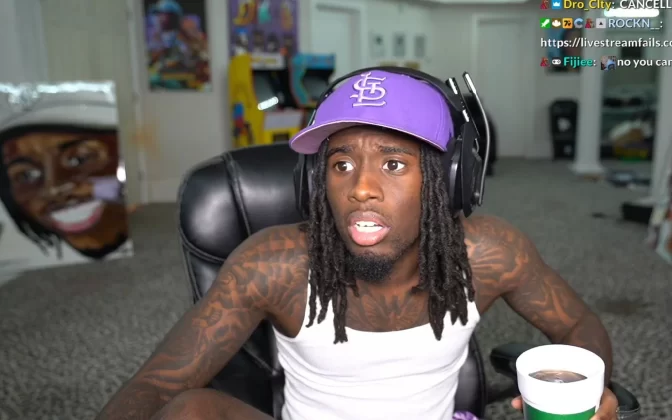 Kai Cenat is an American Twitch streamer, rapper, and YouTube star. He is best known for his vlogging and short original meme-based comedy sketches. Kai is also recognized for being a founding member of the content creation brand, AMP. As of 2022, Kai Cenat net worth is roughly around $1 million.
| | |
| --- | --- |
| Full Name | Kai Cenat III |
| Birthday | December 16, 2001 |
| Birthplace | New York |
| Profession | Twitch streamer, YouTuber |
| Relationship Status | Unknown |
| Net Worth | $1 million |
Early Life
Kai Cenat was born in December 2001 in New York. Not much is discovered about his parents and early life. However, it is known he has a twin sister, an older brother, and a younger brother. For his study, he attended the Frederick Douglass Academy. Then, he studied at Morrisville State College.
Kai Cenat Net Worth & Career
View this post on Instagram
Cenat began posting content on various social media platforms in the year 2017. He uploaded his first post on Instagram in January 2017. Kai then turned his way toward YouTube and uploaded his first video in January 2018. Thereafter, he started creating challenges and prank videos. He eventually migrated from YouTue to Twitch and started streaming on Twitch in February 2021.
Kai met the rapper, Lil Uzi Vert in September 2021. Then, the rapper, Bobby Shmurda appeared on his stream in April 2022. During the stream, he tried to learn the dance step, Woo Walk from Shmurda. Kai has a good relationship with the rapper, Shmurda. Both even call other all the time. Cenat was mocked for his content, community, and many more in August 2022. At that time, he was defended by fellow Twitch streamer, xQc.
Cenat reached 225,000 concurrent live viewers after the rapper, Lil Baby made his appearance on his stream in October 2022. He also gifted Lil Baby 80 thousand dollars during the live stream. Cenat announced in November 2022 that he would be participating in a 2022 first-person shooter game, Call of Duty: Modern Warfare II. That same month, he got into a friendly feud with fellow Twitch streamer, xQc. The feud started after he ridiculed xQC's way of kissing the streamer, Nyyxxii. Likewise, he along with fellow Twitch streamer, YouRage encountered a player in the game, Call of Duty. The player reportedly started using racial slurs against the two streamers.
Cenat had recent visitors, Blueface and Chrisean Rock on his live stream. However, the two music artists' visit on his stream unsurprisingly became very chaotic. On November 21, Monday evening, Chrisean and Blueface joined Cenat on the latest episode of his channel. However, the two quickly started showing violent sides. There was a point when the two forcibly tried to remove the 20-year-old streamer from his seat. Actually, the Thotiana artist, Blueface wanted to sit on his seat by forcibly removing him.
Chrisean also showed his other side as he performed a wrestler-like move on one of Cenat's friends. The unpleasant moments at Cenat's stream don't end there. Chrisean also picked up a chair and threw it at the wall. After that, Cenat appeared bewildered and yelled at him saying that he just put a hole in his hall. In a reply, Chrisean replied that he is rich and he can get it fixed.
The disrespectful moment continued as Blueface repeatedly refers to Cenat that his house is an Airbnb. While Cenat didn't keep quiet and said that the space is in fact his house. Before appearing in Cenat's expensive house setup, the rapper, Blueface was recently arrested for attempted murder. In fact, the rapper posted $50,000 bail after he was arrested.
Personal Life
Kai Cenat's present relationship status is unknown. He is possibly single right now as there is not a single piece of information regarding his love affairs. Cenat would have surely dated many girls in the past. However, he has never openly discussed anything about his lady friends on his live stream and YouTube videos.
Kai has likewise released videos on YouTube claiming that he would introduce his lover to his fans. Nevertheless, later those were revealed as only clickbait. Cenat is available on Instagram under the user name @kaicenat, where he has 2.2 million followers.
Kai Cenat Net Worth
Kai Cenat's net worth is estimated to be around $1 million as of 2022. He has earned a huge sum of money from paid content, YouTube Ads, and sponsorships. Cenat has also released a song, Bustodown Rollie Avalanche along with rapper, NLE Choppa. The song has around 25 million streams on Spotify. Cenat has also been one of the members of the AMP Youtube channel along with Fanum, Agent 100, Duke Dennis, and ImDaviss.