Raphael Warnock Net Worth: How Rich is the Senator Actually?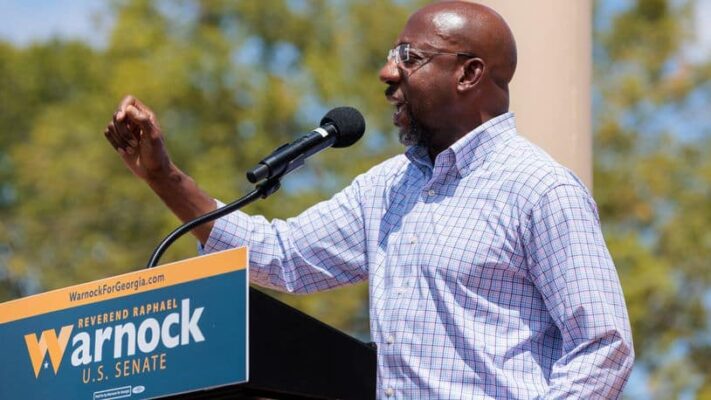 Raphael Warnock is an American politician and pastor. Warnock has been serving as the Junior US senator from Georgia since 2021. He won against the incumbent Republican, Kelly Loeffler by more than 93,000 votes on January 5, 2021 runoff for Georgia. As of 2022, Raphael Warnock net worth is roughly around $800 thousand.
| | |
| --- | --- |
| Full Name | Raphael Gamaliel Warnock |
| Birthday | July 23, 1969 |
| Birthplace | Savannah, Georgia |
| Profession | Politician, pastor |
| Ex-Wife | Ouleye Ndoye |
| Net Worth | $800 thousand |
Early Life
Raphael Warnock was born in July 1969 in Savannah, Georgia. He was born as the eleventh of 12 children to Verlene and Jonathan Warnock. Both his parents were Pentecostal pastors. Though, his dad had served in the United States Army during World War II. Warnock studied at Sol C. Johnson High School.
Warnock wanted to follow in the footsteps of Martin Luther King Jr, thus, he attended Morehouse College. He graduated from the college with a degree in psychology in 1991. Then, he enrolled in early college courses through Savannah State University. Following that, he attended the Union Theological Seminary, Columbia University, and earned a Doctor of Philosophy degree along with a Master of Divinity and Master of Philosophy.
Raphael Warnock Net Worth & Career
View this post on Instagram
Earlier in the 1990s, he served as a youth pastor. He followed up with that by working as an assistant pastor at the Abyssinian Baptist Church. In October 1995, the church hosted Fidel Castro, at the time he was working as a youth pastor. Then, he began serving as a senior pastor at the Douglas Memorial Community Church in the 2000s. While he was working as Douglas, he along with the assistant minister was taken into police custody for obstructing an investigation into suspected child abuse.
However, the charges against him were later dropped. Warnock started working as a senior pastor at the Ebenezer Baptist Church in 2005. He advocated for clemency for Troy David as a pastor. He came into the limelight as a leader in Georgia politics after participating in the campaign that expanded Medicaid in the state. Along with that, he also campaigned for the Georgia Democrats to increase outreach to low-income communities.
Raphael decided to run for the US Senate seat in the 2016 election as a member of the Democratic party. However, later he backed out from his decision. Warnock then decided to run in the 2020 special election for the US Senate seat in January 2020. Several Democratic senators such as Cory Booker, Church Schumer, and Brant Schatz endorsed his campaign. Likewise, several players of Atlanta Dram endorsed Warnock in response to the controversial comments made by Loeffler on the Black Lives Matter movement.
Warnock made an announcement in January 2021 that he would be seeking election to a full term in 2022. He was subsequently sworn into the US Senate on January 20, 2021, by Vice President, Kamala Harris in the 117th Congress. In February 2021, he voted to convict former president, Donald Trump for his role in inciting the Capitol riots. Warnock delivered his first speech on the Senate floor on March 17, 2021, supporting the John lewis Voting Rights Act and the For the People Act.
Personal Life
Raphael Warnock was married to Ouleye Ndoye. He tied the knot with Ouleye in a public ceremony in February 2016. Together, they share two kids. The pair stayed together for three years and separated in November 2019. Warnock officially separated from his former wife by divorce in 2020. His ex-wife accused him of running over her foot with his car in March 2020. However, he denied all her accusations. In addition to that, no signs of injury were found by the medical professionals.
In a debate on Friday, Warnock was accused by his fellow US Senate candidate, Herschel Walker of hitting his wife with his car. Walker further accused Warnock of neglecting his small kids. On the other hand, Walker was reprimanded by a moderator for flashing a prop police badge against Warnock. Walker was further accused by Warnock of his false claim in the past that he had worked in law enforcement.
Raphael Warnock Net Worth
Raphael Warnock's personal wealth is estimated to be around $800 thousand as of 2022. He is currently receiving an average yearly salary of $174 thousand. Simultaneously, he earned an annual salary of $275,000 while serving at Ebenezer.
His current net worth value depends on the current market values of his stock portfolio. Warnock holds a retirement account with MMBB, reportedly worth between $500 thousand to $1 million. Additionally, he holds a dozen of other investments that are worth between $1000 to $15000.