Travis Rudolph Net Worth: How Rich is the Former NFL Player?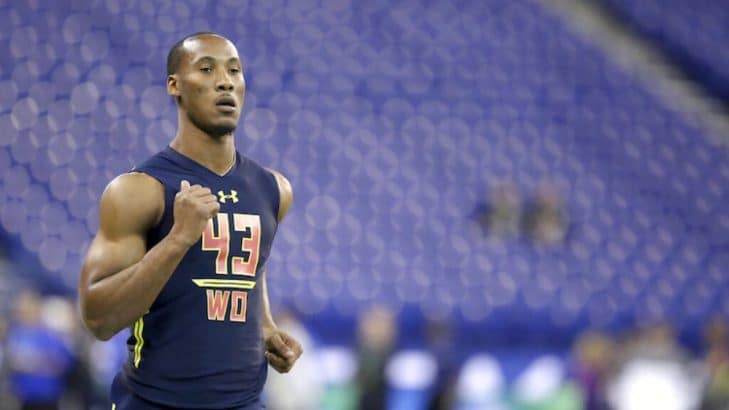 Travis Rudolph is a former National Football League (NFL) player, who played for Miami Dolphins and New York Giants. He is mostly known for being a leading receiver for Florida State University (FSU). Travis Rudolph net worth is estimated to be around $3 million.
Travis has recently been arrested on April 7, with a charge of first-degree murder attempt with a firearm. He was reported to be involved in a double shooting, that killed a man in West Palm Beach.
| | |
| --- | --- |
| Full Name | Travis Rudolph |
| Birth Date | September 15, 1995 |
| Birth Place | West Palm Beach, Florida, U. S. |
| Profession | Football wide receiver |
| Relationship Status | In a relationship |
| Net Worth | $3 million |
Early life
Travis Rudolph was born on the 15th of September, 1995 in West Palm Beach, Florida, United States. His father, Darryl was shot and killed in April 2017. He lost his dad just before his entry in the 2017 NFL Draft.
His cousin, Devin Hester is a former NFL wide receiver. He is also close to his granny, with whom he has shared a picture on Instagram. Likewise, he has a sister, who was present during the Palm Beach Hall of Fame Ceremony.
Travis has studied at Cardinal Newman High School. He was playing football at the time he was studying in high school. He even had 63 receptions for the school team, with the school record of 1237 yards and 15 touchdowns. Travis was even named as the top receiver of his class.
Travis Rudolph Net Worth & Career in Football
Rudolph continued to play football while studying at Florida State University. In 2014, he started playing for Florida State as a freshman. He played a total of 13 games as a freshman, where he had 38 receptions for 555 yards and 4 touchdowns. He also had a good game during the second season, where he led the team for 59 receptions having 916 yards and 7 touchdowns.
In 2015, he set the record for most receiving yards, when he played at the 2015 Peach Bowl. He held the record, having seven receptions for 201 yards. In 2016, he played as a junior player for a total of 13 games. He had a good game during the junior season with 840 yards and 7 touchdowns. After junior year, he played at the 2017 NFL Draft.
Following the 2017 NFL Draft, he was signed by New York Giants as an undrafted free agent. However, he underperformed for the Giants, due to which, he was signed to Giant's practice squad. He played in one season for New York Giants. In his last match, he had 3 receptions for 32 yards.
Travis was signed to a new team, Miami Dolphins on October 10, 2018. However, on the first day, he suffered from torn ACL during a practice session. After that, he was put on to practice squad. He signed with Winnipeg Blue Brothers on January 6, 2020. He played in a team for one year, getting released on 7th April 2021.
Travis Rudolph Personal Life
Travis Rudolph is dating someone at present time. Though, his girlfriend's name has not come out. Recently the news came out that because of his girlfriend, he killed one person. The incident occur when his girlfriend revealed to him that she has involved in a physical argument with some former Seminoles receiver.
After some time, several unarmed people visited his home to face Rudolph. While they were leaving, he entered his house and came back with a firearm, with which he shoot those people. During the incident, one man was killed and another was seriously injured. Rudolph is set to appear in court on April 8, 2021.
In 2016, he made a headline by having lunch with an autistic student, Bo Paske. He was playing for an FSU, during that time.
Travis Rudolph Net Worth
Travis Rudolph's current net worth is estimated to be around $3 million. He received a salary of $328,235 while he was signed to Giants in 2017. Likewise, in 2018, he received a cap salary of $91,200 for signing to Miami Dolphins.
Travis Rudolph News
Travis Rudolph trial update: Football player not guilty on all counts  Palm Beach Post