Adrian Peterson Net Worth: How Rich is the NFL Player in 2022?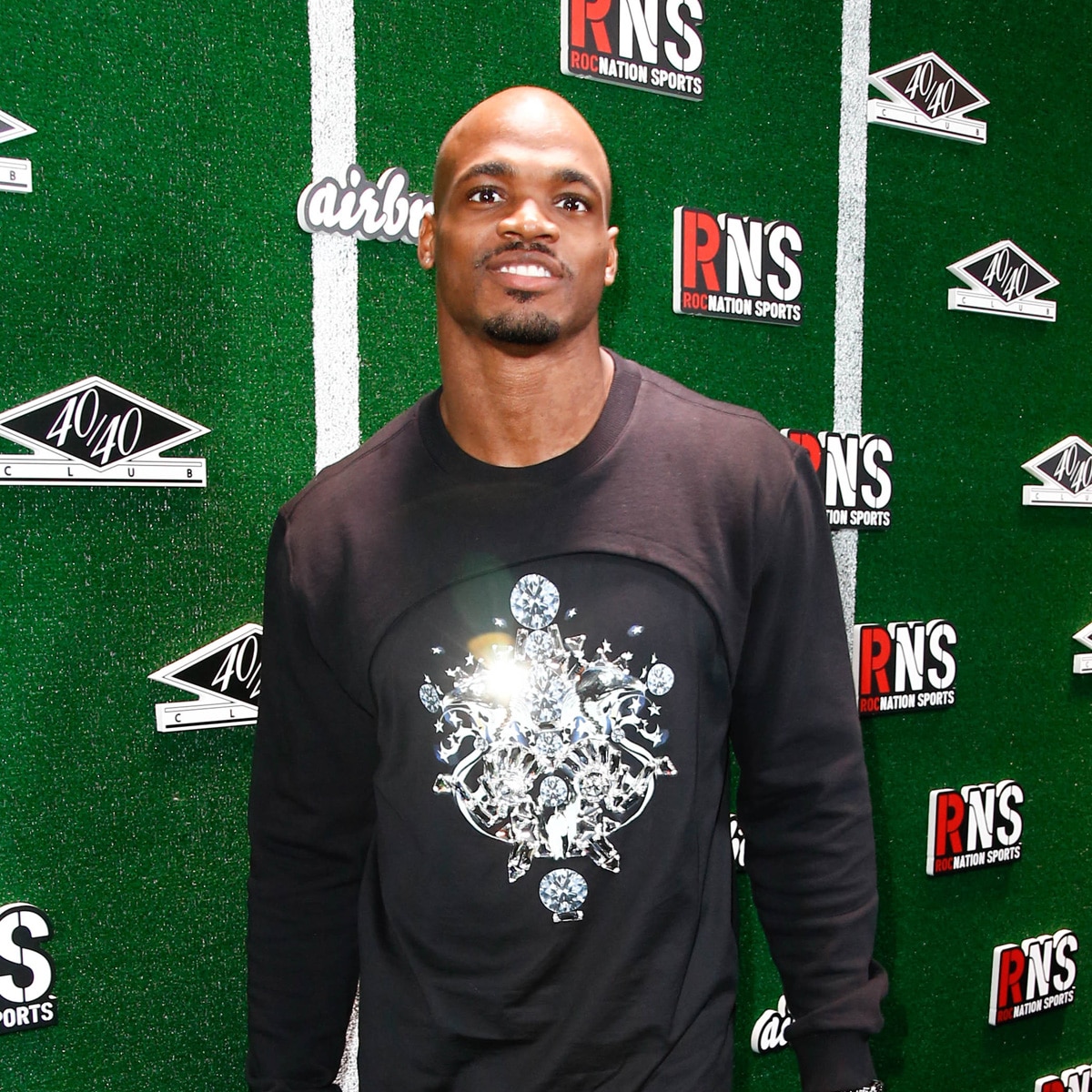 Adrian Peterson is an American football player who is best known for playing the National Football League (NFL) on the Minnesota Vikings. He's one of the most decorated running backs of all time, owning numerous records.
| | |
| --- | --- |
| Full Name | Adrian Lewis Peterson |
| Birth Date | March 21, 1985 |
| Birth Place | Palestine, Texas |
| Profession | NFL Running Back |
| Wife | Ashley Brown |
| Net Worth | $1-$4 Million |
Early Life
Adrian Peterson was born on March 21, 1985, in Palestine, Texas to parents Nelson and Bonita. Peterson's father had aspirations of playing in the NBA, but his dreams were derailed after getting accidentally shot by his brother. Meanwhile, his mother ran track at the University of Houston.
Peterson has four siblings, all brothers: Brian, Eldon, Jaylon, and Derrick. Attending He was a three-sport athlete at his local Palestine High School, playing basketball and football, whiles also running track.
As a senior, Peterson was considered to be the best running back and one of the best overall prospects in the country. High-profile schools such as Miami, Texas, Texas A&M, UCLA, and Arkansas all heavily recruited him.
Adrian Peterson College Career
Peterson eventually committed to the University of Oklahoma. In 2004 as a freshman, he led the Sooners to a perfect regular season and a berth in the BCS National Championship Game. He ended up running for 1,925 yards and finishing second in the Heisman Trophy voting.
Peterson missed four games his sophomore season, but he still managed to rush for 1,104 yards. Oklahoma struggled, finishing the 2005 season with an 8-4 record. In his final collegiate season, Peterson rushed for 1,012 yards in just seven games. In his three seasons at Oklahoma, he was named First-Team All-Big 12 every year.
Adrian Peterson Net Worth & Career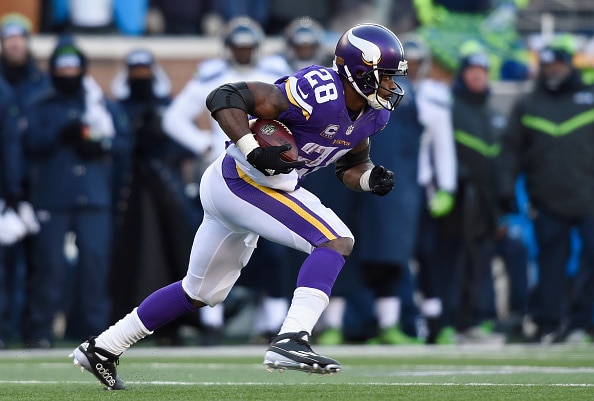 Adrian Peterson was selected with the seventh overall pick in the 2007 NFL Draft by the Minnesota Vikings. coming out of college, he was compared to greats such as Eric Dickerson and Walter Payton for his downhill, aggressive running style.
In 14 games as a rookie, Peterson rushed for 1,341 yards and 12 touchdowns. His season was good enough for him to win the 2007 NFC Offensive Rookie of the Year award and be named to the Pro Bowl roster.
His two best seasons as a pro came in 2008 and 2012. In his second NFL season, Peterson ran for over 1,700 yards, which earned him a spot on the All-Pro First-Team. Then, he put up historic numbers in 2012. Running for 2,097 yards to go along with 12 touchdowns on 131.1 rushing yards per game. Peterson was awarded the league's Most Valuable Player award.
Adrian Peterson Career Stats
Peterson is a surefire first-ballot Hall of Famer and it's due to the following accolades. He's a seven-time Pro Bowler, a four-time All-Pro, an NFL MVP, and he was a unanimous selection for the NFL 2010s All-Decade Team.
He's rushed for 14,902 career rushing yards, which is good for fifth-most all-time. He has the fourth most rushing touchdowns in history with 119 and he owns the record for most rushing yards in a single game with 296 against the San Diego Chargers in 2007.
What Team Does Adrian Peterson Play For?
Over the course of his 15-year career, Peterson has played for six different teams. After spending his first 10 years with the Vikings, Peterson signed a contract to play for the New Orleans Saints. After just four games, the Saints traded the back to the Arizona Cardinals for a conditional sixth-round pick.
Peterson spent 2018 and 2019 with the Washington Football Team before being released and signing with the Detroit Lions. Peterson played eight games with the Tennessee Titans this year prior to being waived. He just recently signed with the Seattle Seahawks.
Adrian Peterson Personal Life
Peterson has six children. Very sadly, his two-year-old son died in 2013 following injuries sustained from an alleged assault via the child's mother's boyfriend. Peterson had just learned of his son before the tragedy took place.
In 2018-19, Peterson was forced by a New York Supreme Court Judge to pay over $10 million after failing to repay loans.
In 2014, Peterson was indicted by a grand jury on charges of reckless or negligent injury to a child. He reportedly used a wooden instrument to discipline his four-year-old son. He avoided jail time and was subsequently suspended by the NFL, which placed him on the commissioner's exempt list.
What number is Adrian Peterson?
Peterson wore number 28 on the Vikings, Saints, and Lions. He then wore 23 on the Cardinals, 26 on the Football Team, and 8 on the Titans.
How big is Adrian Peterson?
Peterson has always been considered large for his position, standing at six-foot-one and weighing roughly 220 pounds.
Where did Adrian Peterson go to college?
Peterson played football for three seasons at the University of Oklahoma
Adrian Peterson Net Worth
Peterson's net worth has fluctuated mightily over the past several years, as a result of the prior mentioned financial issues he faced. As of 2022, the running back is expected to have an estimated net worth of somewhere between $1-$4 million.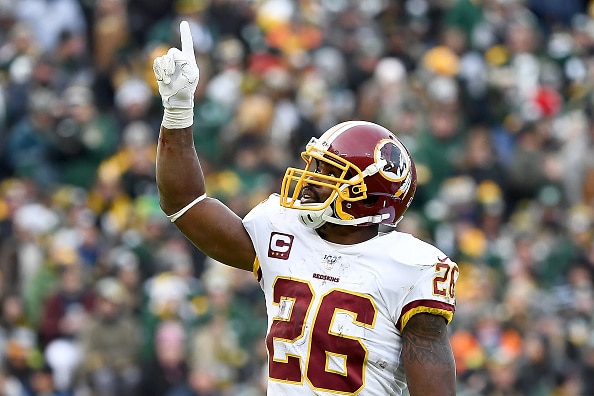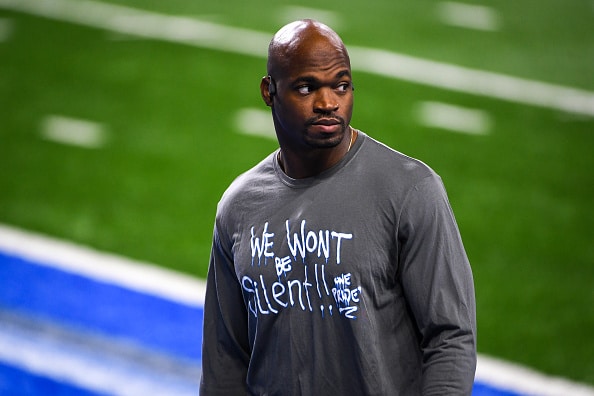 Adrian Peterson News
Cheryl Burke Slams 'DWTS' for Controversial Casting of Adrian Peterson  TV InsiderView Full Coverage on Google News

'Dancing With the Stars' Alum Sharna Burgess Calls Out Show for Casting Adrian Peterson After Child Abuse Charge  VarietyView Full Coverage on Google News

Running back Adrian Peterson not ready to retire. Could Dallas Cowboys be an option?  Fort Worth Star-Telegram