Antonio Brown Net Worth: How Rich is the NFL Player in 2022?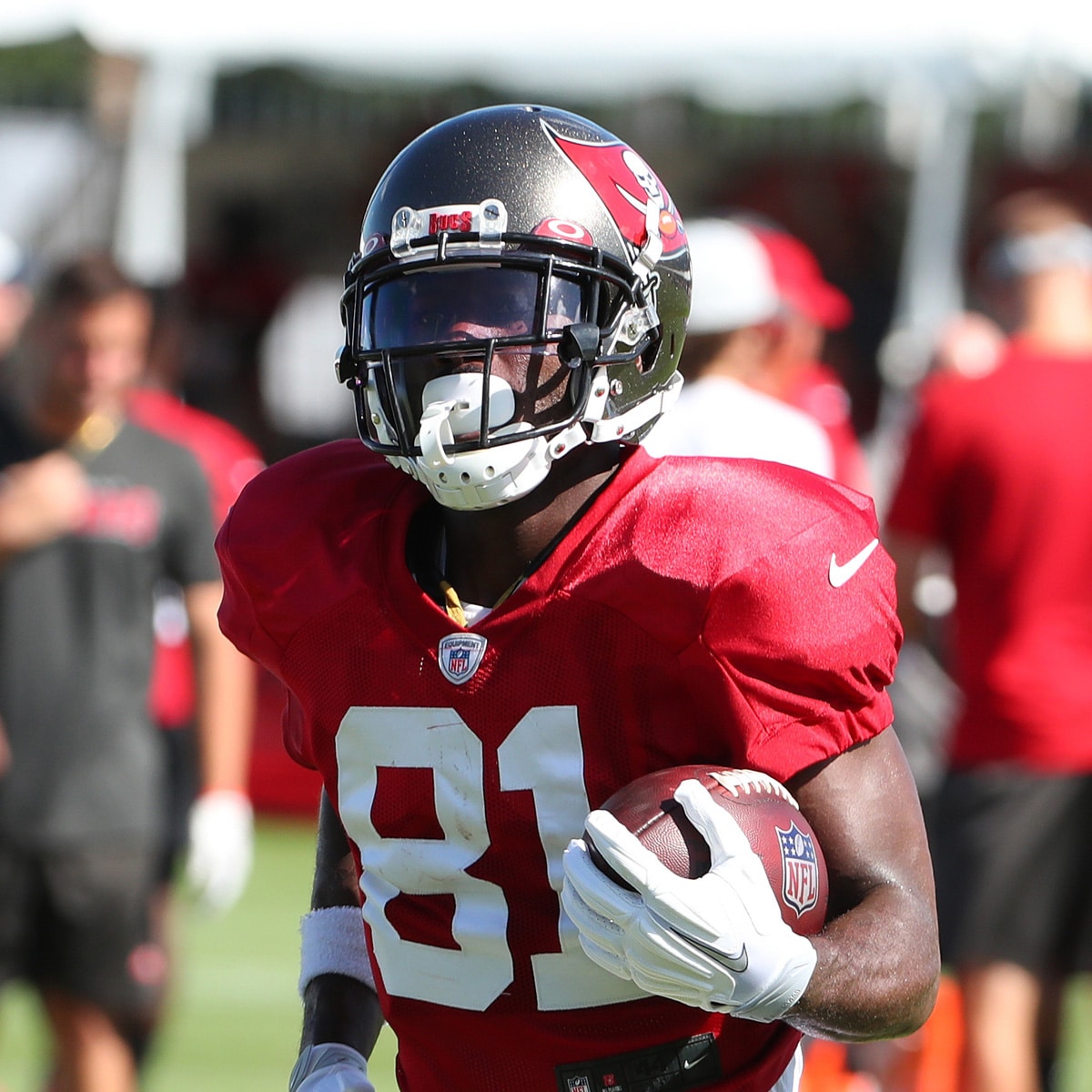 Antonio Brown is an American football player who is best known for playing wide receiver in the National Football League (NFL) on the Pittsburgh Steelers, the Tampa Bay Buccaneers, and a couple of other teams. When on the field, Brown is one of the top players at his position.
| | |
| --- | --- |
| Full Name | Antonio Tavaris Brown Sr. |
| Birth Date | July 10, 1988 |
| Birth Place | Miami, Florida |
| Profession | NFL Wide Receiver |
| Wife | Not Married |
| Net Worth | $20 Million |
Early Life
Antonio Brown was born on July 10, 1988, in Miami, Florida to parents Eddie Brown and Adrianne Moss. Brown's father played wideout in the Arena Football League for a decade (1994-2003) and he was recognized by the league in 2006 for being the best player in its history.
Brown has a younger brother named Desmond who played running back at the University of Pittsburgh. While attending Miami Norland High School, Brown played a plethora of positions for the team, earning two all-state selections.
After failing to get into Florida State University due to academic concerns, Brown enrolled at North Carolina Tech Prep to play quarterback. Impressively, Brown amassed 24 total touchdowns in just five games. Eventually, he'd land at Central Michigan University as a walk-on freshman.
Antonio Brown College Career
Antonio Brown's path to the NFL stardom was unorthodox and improbable at times. However, he's always had electric physical attributes. As a freshman in college, Brown led the Mid-American Conference with 102 receptions, which ultimately earned him Conference Freshman of the Year honors. He also made the All-Conference team as a returner.
Brown racked up 923 catches and seven scores his sophomore season, but he made another massive impact on special teams. He led the conference in both punt return and kick return yardage.
In his third and final collegiate season, Brown finished with 110 receptions and nearly 1,200 yards. The Chippewas totaled a record of 12 victories in 2009. Following the season, Brown announced he'd enter the 2010 NFL Draft.
Antonio Brown Career & Net Worth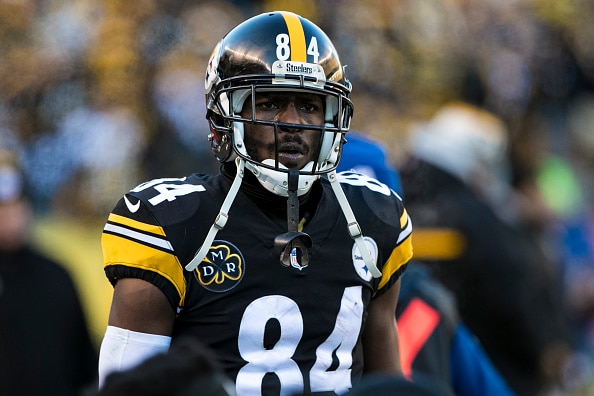 Antonio Brown was selected by the Pittsburgh Steelers with the 195th pick in the sixth round of the 2010 NFL Draft. 21 wide receivers were drafted ahead of him. In his first game played, Brown returned a kickoff to the house against the Tennessee Titans. He finished his rookie year with just 16 catches for 167 yards in 10 games.
Brown made a huge leap in his second season, finishing the year with 69 catches for 1,108 yards, while technically only starting three games. Remarkably, he became the first player in league history to rack up over 1,000 yards in both receiving and returns in the same season. He was selected to the Pro Bowl as a returner.
After signing an extension with Pittsburgh in his third year, Brown had a solid, but not great year as he put up decent numbers while having internal disputes with teammates and coaches. However, 2013 began his rise to becoming arguably the best receiver in the NFL.
Antonio Brown Stats
From 2013-2018, Brown averaged 114 catches per season to go along with 11 touchdowns. Over that span, he was named to four First-Team All-Pros as well as a Second-Team nod. Moreover, Brown was named to the Pro Bowl all six seasons and he led the league in receptions twice and yards twice.
Even with sitting out most of 2019, Brown was an easy choice for the 2010s All-Decade Team. He was traded from the Steelers to the Raiders following the 2018 season after requesting a deal be made.
Antonio Brown Tampa Bay Buccaneers
Brown signed a deal with the Tom Brady-led Bucs a few weeks into the 2020 season. The receiver had played one game with Brady on the New England Patriots in 2019 before getting cut due to off-the-field issues.
In eight games for Tampa Bay, Brown caught 45 passes for 483 yards and four touchdowns. In Super Bowl LV, Brown caught a touchdown pass which aided them in winning the game.
Brown played well in two games this year before he was placed on the COVID-19 list and later suspended three games (which he's currently serving).
Antonio Brown Personal Life
Brown has four sons and a daughter. Three of his children were with his longtime and former girlfriend Chelsie Kyriss, while his other two children were with two other women. He's also the cousin of Baltimore Ravens receiver Marquise Brown.
The decorated athlete has had a few separate personal conduct scandals throughout his playing days. The first of which came in 2018 when he was cited for nearly killing a young child by throwing furniture out of a 14-story window and also speeding over 100mph down a suburban highway.
In 2019, Brown's former trainer accused him of sexual misconduct on three different occasions. The two later agreed upon a settlement. Last year there were several domestic disputes which involved the police. In addition to that, Brown would be charged with felony burglary of a vehicle, misdemeanor battery, and misdemeanor criminal mischief. He'd serve two-years probation and was ordered to do community service and take anger management classes.
Who did Antonio Brown play for?
Brown played nine years with the Steelers, less than a year with the Raiders/Patriots, and he's currently a member of the Buccaneers.
How tall is Antonio Brown?
Brown is on the shorter side when it comes to wide receivers as he stands at five-foot-ten.
How many rings does Antonio Brown have?
Brown's one and only Super Bowl ring came in Super Bowl LV as a member of the Bucs. He also lost a Super Bowl in his rookie year as a member of the Steelers.
Antonio Brown Net Worth
As of 2022, Brown has an estimated net worth of $20 million. Throughout his NFL career, he's made roughly $80 million, but as you can see he's lost a significant portion of that.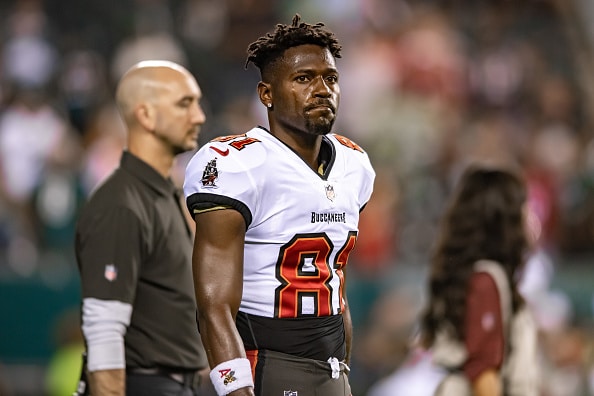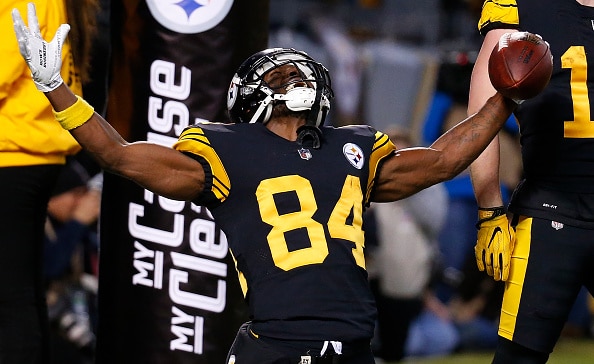 Antonio Brown News
Antonio Brown's unfiltered NSFW response to Giddey scandal raises eyebrows  Marca English

Tom Brady, NFL enabled Antonio Brown's behavior at every turn  Deadspin

Former NFL star Antonio Brown arrested for allegedly failing to pay child support  NBC NewsEx-NFL Star Antonio Brown Arrested for Allegedly Failing to Pay Child Support  The Daily BeastView Full Coverage on […]