Bruce Buffer Net Worth: How Rich is the MMA Announcer Actually?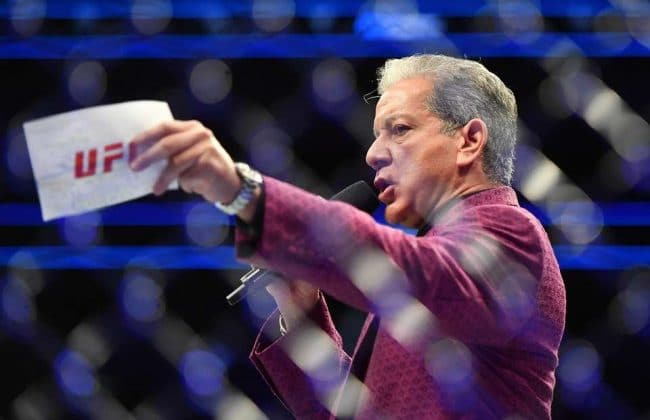 Bruce Anthony Buffer is an American professional mixed martial arts ring announcer who is best known for being the main announcer for the UFC. Along with his half-brother Michael Buffer, they have their own company where he is the CEO called The Buffer Partnership.  As of 2022, Bruce Buffer net worth is estimated to be around $14 million.
| | |
| --- | --- |
| Full Name | Bruce Anthony Buffer |
| Birth Date | May 21, 1957 |
| Birth Place | Tulsa, Oklahoma |
| Profession | Professional Mixed Martial Arts Ring Announcer |
| Relationship Status | Single |
| Net Worth | $14 million |
Early Life
Buffer got an interest in martial arts when he was just 13 years of age. It was during this time that he learned to play judo and became a green belt. He was later introduced to Tang Soo Do which he continued to practice in his teenage years and would become a second-degree black belt in it.
Bruce Buffer Net Worth and Career
By the time that Buffer had reached his 20's, he was an active kickboxer. However, when he was 32 years of age, he suffered the second major concussion that led to him deciding that it was best that he leave this sport.
Later on, considering that Buffer had a great energetic voice, he was considered to be the announcer for the UFC 8 fight that occurred back in 1996. After hosting all of the fights for UFC 10, he proposed to the UFC owner of the time to hire him as a ring announcer on a full-time basis.
Since the UFC was in need of a ring announcer at the time, Bruce Buffer became a great fit and started to announce regularly since UFC 13. Over the years, people have become very much attracted to the way in which he presents the fighters in the ring with him being considered one of the best in-ring announcers.
He has also become known for the Buffer 180 which he uses for the special main events in which he does extra and eye-catching moves to announce the fighters. Some of the rarer moves he does for very special events include the Buffer 360 as well as the Buffer Bow.
Though Buffer's gig with UFC is his main full-time job, he also has been an announcer for other well-known and high-profile events over the years. He has announced boxing events as well as a submission wrestling tournament in Abu Dhabi.
Buffer is also skilled as a poker player and has been considered to be of professional level. He has been part of ESPN's World Series of Poker Main Event show. Furthermore, he also managed to make it to the Final Table of the World Poker Tour.
Because of his popularity, Buffer has also made some guest performances in well-known shows such as Entourage it an episode called Gotcha! Furthermore, he has been part of the show called Tosh.0 and has also been a part of the comedy film called Holmes & Watson.
Personal Life
Many of Bruce Buffer's fans are amazed at the story of how he would meet his half-brother named Michael Buffer after their father saw Michael on television. Later on, the two became close and would start their own company called The Buffer Partnership.
Bruce Buffer was in a relationship with Annie Buffer with whom he has a child as well named Dougie Buffer. But their relationship would later fall apart and they would go their separate ways.
Bruce Buffer Net Worth
As of 2022, Bruce Buffer has an estimated net worth of $14 million. Buffer earns on average $50,000 for every UFC event but for more high-profile UFC events, he gets paid up to $100,000.
Bruce Buffer News
The Successor To Michael Buffer & Bruce Buffer? The New Voice Of Boxing On NBC- Kody 'Big Mo' Mommaerts  Sports Illustrated

Sergio Perez is caught in awkward grid incident with legendary announcer Bruce Buffer ahead of Las Vegas Grand  Daily Mail

I'm UFC's legendary cage announcer but I had my own bloody brawl with fighter in an elevator as Dana White…  The Sun