Stephen Jackson Net Worth: How Rich is the Retired NBA Player?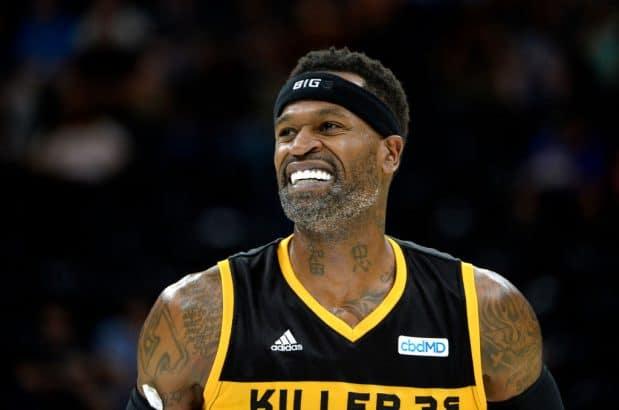 Stephen Jackson is an American retired professional basketball player. He is best known for playing 14 seasons in the National Basketball Association (NBA). Stephen won an NBA Championship with the professional basketball team, San Antonio Spurs in 2003. As of 2022, Stephen Jackson net worth is estimated up to be around $20 million.
| | |
| --- | --- |
| Full Name | Stephen Jesse Jackson |
| Birth Date | April 5, 1978 |
| Birth Place | Houston, Texas, United States |
| Profession | Basketball Player |
| Ex-wife | Renata Elizabeth White |
| Net Worth | $20 million |
Early life
Stephen Jackson was born on 5th April 1978 in Houston, Texas, United States. He was raised by a single mother, Judyette. His mom had a tough time raising him. She used to work two jobs. Stephen also helped his mom by working in his grandfather's soul food restaurant. He used to wash dishes and clean tables at the restaurant.
Regarding his education detail, he has studied at Lincoln High School. He even competed at the state championship while he was in his junior year at high school. Later, he was transferred to Oak Hill Academy (Virginia). There, he received All-America honors in 1996. He was earlier committed to studying at the University of Arizona. However, due to low his score on SAT and ACT tests, he joined Butler County Community College.
Stephen Jackson Net Worth & Career
Stephen was drafted in the 1997 NBA Draft by the professional basketball team, Phoenix Suns. On October 30, he was waived by the Phoenix and started playing with a continental basketball team, La Crosse Bobcats. He played with the team for more than 2 seasons in Continental Basketball Association (CBA).
Jackson then played with the New Jersey Nets during the 2000-01 season. He appeared in a total of 77 games for the team making an average of 8.2 points in each game. However, he was released by the Nets in 2001. After that, he was signed into the new team San Antonio Spurs. In the 2002-2003 season, he showed his best game for the team appearing in a total of 80 games. He made an average of 11.8 points, 2.3 assists, and 3.6 rebounds during the season.
In 2003, he was signed into the new team, Atlanta Hawks. Though he was offered to be a part of Spurs, he rejects the offer and signed 2 contracts with the Hawks. With Hawks, he made an average of 18.1 points, 3.1 assists, and 4.6 rebounds during the 2003-2004 season. He was later signed to Indiana Pacers, where he played for three years until 2007.
Jackson also played with Golden State Warriors for two years from 2007 to 2009, Charlotte Bobcats from 2009 to 2011, and Milwaukee Bucks from 2011 to 2012. He made a comeback to his old team, San Antonio Spurs after he was traded by the Warriors in 2012. He was waived by the San Antonio Spurs on April 12, 2013.
Later, he was signed by the Los Angeles Clippers on December 10, 2013. He struggled to show the best game for the team. Jackson made an average point of 1.7 for the Clippers appearing in a total of 9 games. He announced his retirement on July 22, 2015.
Stephen Jackson Personal Life
Stephen Jackson was in a relationship with the former Basketball Wives star, Imani Showalter. He has two kids with her. Stephen was in a relationship with Imani for over a decade. He was even all prepared to get married to her but called off marriage on the wedding day when he came to know that Imani has not signed a prenuptial agreement.
Stephen Jackson has recently exchanged a clash of words with the former basketball player, Kwame Brown. He said to Brown "You suck at basketball, be mad at ya self." Jackson even called Brown to have a chat with him and Matt Barns on their podcast.
Stephen Jackson Net Worth
As of 2022, Stephen Jackson's net worth is estimated to be around $20 million. During his NBA career, he has earned a salary amount of $68.6 million alone. He received the highest signing amount of his career from San Antonio Spurs in 2012/13, which was $10,060,000. Likewise, he was fined $25,000 while playing with Spurs for threatening basketball player, Serge Ibaka through Twitter.
Stephen Jackson News
An error has occurred, which probably means the feed is down. Try again later.