Dominique Wilkins Net Worth: How Rich is the Former NBA Player?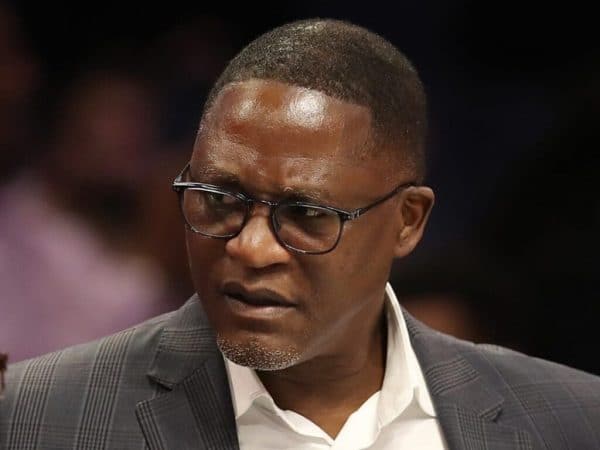 Dominique Wilkins is an American retired professional basketball player. He is best known for playing with the Atlanta Hawks in the NBA. A 9 time NBA All-Star, Dominique is nicknamed "The Human Highlight Film". As of 2022, Dominique Wilkins net worth is estimated to be around $16 million.
The Hawks legend has recently turned away from the Buckhead restaurant. He felt it was because of his skin color, but, later the restaurant released an official statement apologizing to him mentioning the reason as they prohibit athletic clothing.
| | |
| --- | --- |
| Full Name | Jacques Dominique Wilkins |
| Birth Date | January 12, 1960 |
| Birth Place | Paris, France |
| Profession | Basketball Player |
| Wife | Robin Campbell Wilkins |
| Net Worth | $16 million |
Early life
Dominique Wilkins was born on the 12th of January, 1960, in Paris, Frances. His father was an airman in U. S. Air Force, who was stationed in Paris. After few years, his family lived for a short time in Dallas and Baltimore. The Wilkins family finally settled down in Washington, North Carolina.
Wilkins completed his high school education at Washington High School. He has been the best on the basketball court since his high school days. While competing with a higher classification school, he made an impressive score of 48 points with 27 rebounds, 8 blocks, and 9 dunks.
Dominique continued his good game while attending the University of Georgia. There, he played for the college basketball team, Bulldogs. In 1981, he earned the title of SEC Men's Basketball Player of the Year. Dominique didn't complete his education after junior year and became more focused on basketball.
Dominique Wilkins Net Worth & Career
Wilkins was earlier drafted in the 1982 NBA draft by the Utah Jazz. However, due to cash flow problems, he was soon traded to the Atlanta Hawks. He was able to give the best out of him in each game he played for the Hawks. For the ten consecutive seasons, he scored an average point of 25. His effort in the team proved beneficial for the Hawks as they recorded 4 consecutive 50 win seasons.
Dominique scored the highest scoring average of his NBA career in the 1987-88 season. With that, he finished just behind the legend, Michael Jordan in the NBA scoring race. During the 1989 season, he made the best shot score of his career which was .844. He also ranked 2nd on the Hawks team with 177 steals. During 1990-91, he made a high career average score of 9.0, which helped the Hawks to lead in that category for the first time.
Wilkins was traded to the new team, Los Angeles Clippers on February 24 after playing 11 and half years with the Hawks. He got a chance to play against the Hawks on March 25, where he scored 36 points with 10 rebounds. After the end of the 1993-94 season, he became a free agent, and later got signed to the Boston Celtics. Though, he was unhappy with his role in the team. As a result, he was signed with Panathinaikos for two years.
With Panathinaikos, he won the Greek Cup. He was also named the MVP of the Cup Final. However, he was failed to get his team victory at the national championship of the Greek League in the 1995-96 season. Wilkins made a comeback to NBA just before the 1996-97 season and signed a contract with San Antonio Spurs. He played only one season with Spurs and then signed with the new team, Team system Bologna.
Wilkins played his last NBA game in 1998-99 campaign with the Orlando Magic. He played a total of 27 games during the season, where he made an average score of 5 in each game with 2.6 rebounds. Wilkins was appointed as a Hawks' Vice President of Basketball in 2004. He is still working with Hawks, and looking after a variety of management functions.
Dominique Wilkins Personal Life
Dominique Wilkins has married twice in his life. He was first married to Nicole Berry in 1992. He managed to stay with her for 11 years until getting separated in 2003. In Jan 2006, he tied the knot with Robin Campbell Wilkins. He has five kids named Alysandra, Aiysha, Jacob, Chloe, and Danielle.
Dominque has recently been turned away by the officials of Buckhead restaurant, where he went to have some meal. But, in the response, the restaurants refused to provide service to him. After that, Wilkins felt that he was not given an entry to the restaurant due to his skin color. Though, the restaurant later clarified the matter, and also issued an official apology statement.
Dominique Wilkins Net Worth
As of 2022, Dominique Wilkins' net worth is estimated to be $16 million. He has earned a total earning of $16,482,500 from his basketball career. Wilkins was signed by the Panathinaikos for a whopping $7 million in August 1995.
Dominique Wilkins News
Dominique Wilkins explains why nobody deserves to be compared to Michael Jordan: "He didn't care about people's emotional attitude or feelings"  Basketball Network

Dominique Wilkins explains his admiration for Boston's Jaylen Brown  Celtics Wire

Dominique Wilkins Pulls Own Rookie Card In Pack Break, I Was Hoping For Jordan!  TMZ