Malika Andrews Net Worth: How Rich is the ESPN Journalist Actually?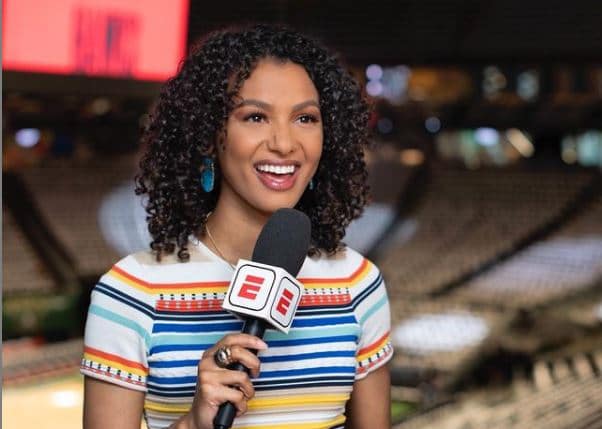 Malika Andrews is an American sports journalist and reporter who is currently working as an NBA reporter. She is ESPN's first black female reporter for the NBA and her work in the industry has even been included in the Forbes 30 Under 30 for sports in 2021. As of 2022, Malika Andrews net worth is estimated to be around $500,000.
| | |
| --- | --- |
| Full Name | Malika Andrews |
| Birth Date | January 27, 1995 |
| Birth Place | Oakland, California |
| Profession | Sports journalist and reporter |
| Relationship Status | N/A |
| Net Worth | $500,000 |
| Height | 5 feet 6 inches or 168 cm tall |
Early Life
Growing up in Oakland, her entire family was a big fan of the Golden State Warriors through which she was introduced to the sport of basketball. Yet, growing up, Malika had severe problems that led to depression and anxiety.
She was studying at Head Royce School but would be kicked out in the 8th grade because of an eating disorder. This caused problems within her family as well causing several conflicts. This made her parents concerned and they decided to send her to a therapeutic boarding school in Utah for a year. This was a great move by her parents as Malika was able to recover from her past and even managed to graduate when she was 17.
Malika Andrews Net Worth and Career
View this post on Instagram
Malika decided to take a gap year before joining college where she would work for her grandfather's civil rights law firm. This experience taught her that a desk job was not suited for her at all and wanted to rather pursue the kind of jobs that her parents had that didn't limit life within a desk.
With this in the back of her mind, Malika would join the University of Portland where she would graduate in 2017 with an arts degree. She was very active even during her time in college where she was the sports editor. Furthermore, the university had a student newspaper called The Beacon where she worked as the editor-in-chief. Her demonstration of potential led to her winning the National Association of Black Journalists scholarship.
After finishing college, Malika started to work as an intern at the Denver Post where her work at The Beacon would be very helpful in hiring her. Furthermore, she also worked working as a James Reston Reporting Fellow for The New York Times. She kept on adding to her experience by then working for the Chicago Tribune for a year.
Eventually, Malika then started to work for ESPN.com starting as a reporter. Initially, she covered teams such as Milwaukee Bucks and Chicago Bulls. She was now publishing a lot of content through ESPN and even sparked controversy in 2019 when a player named Giannis Antetokounmpo would walk out of a press conference citing his disapproval for an article that Malika had written.
Recently, she was announced as a sideline reporter for the NBA Finals coverage after Rachel Nichols was removed following the audio leak disparaging Maria Taylor as the primary host of the Finals.
Personal Life
Malika was born to Mike who is a personal trainer by profession and Caren who works as an art teacher. Her mother is of Jewish descent. Malika has not publicized her relationship status yet.
Malika Andrews Net Worth
As of 2022, Malika Andrews has an estimated net worth of $500,000. She earned the majority of that money during her time as an analyst on ESPN.
Malika Andrews News
An error has occurred, which probably means the feed is down. Try again later.