Jesse Watters Net Worth: How Rich is the Fox News Host Actually?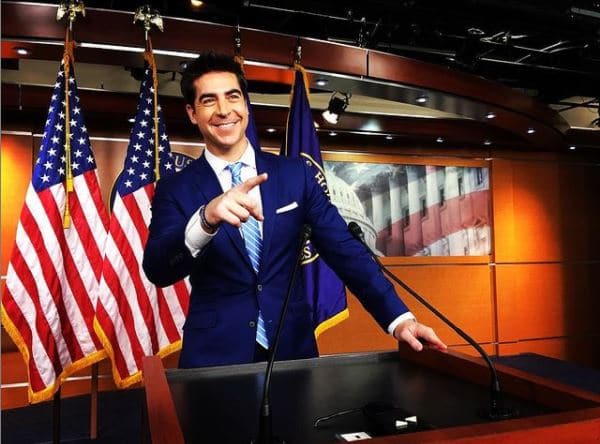 Jesse Watters is an American TV personality, who is best known for serving as a conservative political commentator on Fox News. He is better known for his becoming the co-host of the show "The Five", and man-on-the-street interviews that featured in his segment of the show named "Watters' World". As of 2022, Jesse Watters net worth is estimated to be around $8 million.
| | |
| --- | --- |
| Full Name | Jesse Bailey Watters |
| Birth Date | July 9, 1978 |
| Birth Place | Philadelphia, Pennsylvania, U. S. |
| Profession | Political Commentator |
| Wife | Emma DiGiovine |
| Net Worth | $8 million |
Early life
Jesse Watters was born on 9th July 1978 in Philadelphia, Pennsylvania, United States. He spent his childhood days growing up between Germantown, and East Falls neighborhoods. For his study, he joined the William Penn Charter School. After completing a junior year, he shifted to a new place with his family in Long Island, New York. Then, he attended Trinity College, from where he earned his graduate degree in history in the year 2001.
Jesse Watters Net Worth & Career
Soon after completing graduation, he started working as a production assistant at Fox News. Not long after, he began serving to the production staff of the political talk show "The O'Reilly Factor" in 2003. The following year, he was appearing in on-air segments on the talk show. In 2014, he started appearing occasionally as a guest co-host of the Fox News Show "Outnumbered".
Watters had his moment on Fox News when he started his own monthly Fox News show called "Watters' World" on November 20, 2015. After two years, his show Watter's World became a weekly show, which aired every Saturday at 8 p. m. ET. He began his new journey on the Fox News panel talk show "The Five". Watters is currently a co-host of the show and is joined by other panelists like Dana Perino, Greg Gutfeld, Emily Compagno, and Katie Pavlich.
Watters had been in several controversies while serving on Fox News. While appearing on the 12th anniversary of the September 11 terror attacks, he stated on The O'Reilly Factor that a Muslim is always behind on every domestic terrorism act.
Likewise, in 2017, while co-hosting the show The Five, he made a nasty on-air comment on Ivanka Trump. He actually symbolized the microphone that Trump was holding as a phallic symbol. However, later he clearly denied the statement being sexually targeted towards Trump. Watters clarified that he commented on her voice, which was low and steady.
Jesse Watters Personal Life
View this post on Instagram
Jesse Watters has been married twice. First, he tied the knot with Noelle K. Inguagiato in 2009. After spending nine years together, he parted ways with her by divorce in 2018. His wife, Noelle was actually having an affair with a 25-year-old producer, who has worked on his show. After a year, he got married again to a lady named Emma DiGiovine. He shares two daughters with his first wife, Noelle, and a son with his second wife.
Jesse Watters Net Worth
As of 2022, Jesse Watters' net worth is estimated to be around $8 million. He is currently receiving an annual salary of $2 million from serving at Fox News Channel. Jesse owns a beach house in New Jersey, from where he co-hosted The Five during COVID 19 pandemic.
Jesse Watters News
Democratic voters feel this party no longer represents them: Raymond Lopez  Fox News

Jesse Watters: Biden's losing his grip on Chicago  Fox News

Jesse Watters: Biden's foreign-born population boom  Fox News