Vicente Fernandez Net Worth: How Rich is the Mexican Singer?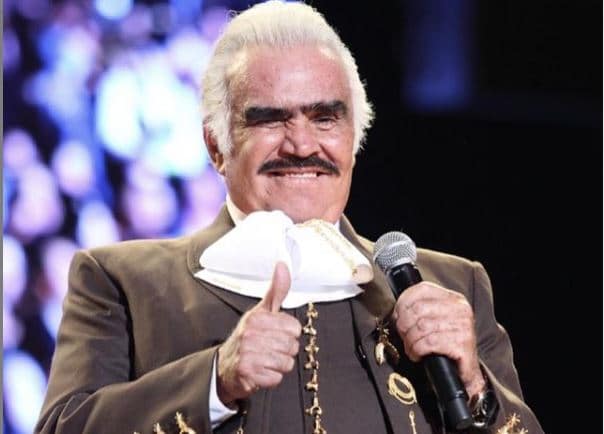 Vicente Fernández Gómez is a retired Mexican singer, actor, and film producer. He is regarded to be a cultural icon in Mexico for his work which spans the creation of more than 50 albums as well as his involvement in over 30 films. As of 2022, Vicente Fernandez net worth is estimated to be around $25 million.
During his star-studded career, Vicente garnered the nickname El Ídolo de México which translates to The Idol of Mexico. Vicente has won three Grammy Awards during his career as well as a total of eight Latin Grammy Awards as well.
| | |
| --- | --- |
| Full Name | Vicente Fernández Gómez |
| Birth Date | 7 February 1940 |
| Birth Place | Guadalajara, Jalisco, Mexico |
| Profession | Retired Singer, Actor, and Film Producer |
| Relationship Status | Married |
| Net Worth | $25 million |
Early Life
Vicente was born in a place called Guadalajara, Jalisco in Mexico. When he was only eight years old, Vicente started to play the guitar and was influenced by the films of Pedro Infante that left an early seed in his mind of being involved in music.
As a kid, he would participate in different festivals and sing including being a part of different contests. In an interview, he recalled how he won 31 pesos at the age of 12 through a competition that gave him the belief in his musical abilities. This led to him playing in different local clubs and gatherings.
His father had owned a ranch where Vicente had spent a lot of time growing up. But sadly his father would lose the ranch and Vicente would drop out of school when he was still only in the fifth grade.
Vicente Fernandez Net Worth and Career
View this post on Instagram
Fernandez started his career working in different jobs such as being a janitor, dishwasher, and waiter to make ends meet. However, he continued his ambitions in music regardless of the life situation he was in.
In 1960, Vicente decided that he was going to dedicate all his focus to music. He would perform as a busker and even started to appear on the show called La calandria musical. With his persistence, in 1966, he was able to get a recording contract from CBS Records International in Mexico.
This has been a long-term partnership that even till his retirement, Vicente was involved with the same label that has today become Sony Music Latin.
Over the years, he also started to be involved in acting with one of his early hits being La ley del monte which was released in 1974. He would continue to act for the next two decades before again having more focus on music.
Personal Life
In 1963, Vicente married María del Refugio "Cuca" Abarca Villasenor. Together with Maria, the couple had three sons who were named Vicente Jr., Gerardo, and Alejandro. In terms of political affiliations, Vicente has been in association with the Partido Revolucionario Institucional (PRI) from 1929 to 2000 and later again in a phase from 2012 to 2018.
Vicente has been part of several controversies but the most recent one was where it was seen that his hand was placed on a fan's breast in a picture that led to outrage on social media. Vicente later apologized for the incident.
Vicente Fernandez Net Worth
As of 2022, Vicente Fernandez has an estimated net worth of $25 million. Vicente has been able to cement his place as among the best singers that Mexico has had and is a legend. Having performed for over 40 years in different concerts filling countless stadiums, Vicente has been able to earn a great fortune over time through his hard work and dedication.
Vicente Fernandez News
How a Boyle Heights skater went viral with Vicente Fernández  Los Angeles Times

Everything The El Rey, Vicente Fernandez Netflix Series Reveals About The Singer  Screen Rant

Michael Salgado to tribute Vicente Fernandez with 'Cruz De Olvido' single release  tejanonation.net