Tom Girardi Net Worth: How Rich is Thomas Girardi Actually?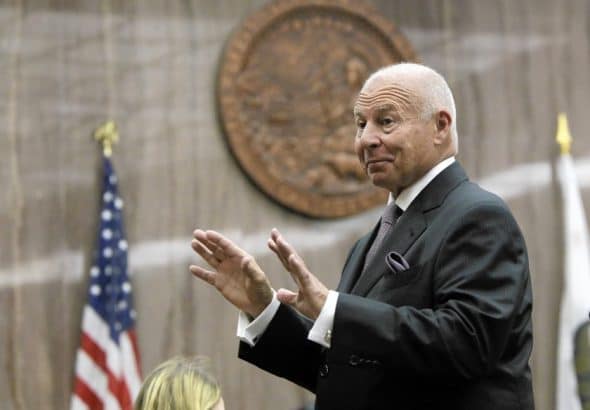 Thomas Giradi, better known as Tom Giradi is a former American attorney. He is the founder of a Los Angeles-based law firm, Girardi & Keese. Tom is also known for being an ex-husband of Real Housewives cast member, Erika Jayne. As of 2022, Tom Giradi net worth is estimated to be around $100 thousand.
Tom, and his ex-wife, Erika's legal woes recently took center stage in ABC News Originals documentary "The Housewife and the Hustler". Tom was accused to be involved in the embezzlement of millions from widows and orphans of plane crash victims.
| | |
| --- | --- |
| Full Name | Thomas Giradi |
| Birth Date | June 3, 1939 |
| Birth Place | Denver, Colorado, U. S. |
| Profession | Former attorney |
| Ex-wife | Erika Jayne |
| Net Worth | $100 thousand |
Early life
Thomas Girardi was born on 3rd June 1939 in Denver, Colorado, United States. He received his high school graduation degree from Loyola High School in 1957. After four years, he earned his undergraduate degree from Loyola Marymount University. In 1964, he received his J. D. degree from Loyola Law School and LL. M. from New York University in 1965.
Tom Girardi Net Worth & Career
Girardi soon established himself as a highly successful consumer lawyer in California. In fact, he became the first attorney to win the amount of over $1 million awards for his medical malpractice case. He has worked on some big cases against the companies like Lockheed Corp, Pacific Gas & Electric Co., and Los Angeles County Metropolitan Transportation Authority. Tom has further worked on Hollywood's 7 major movie studios.
Tom's most notable case was against Pacific Gas & Electric, where the company agreed to pay around $460 million to 650 residents of the desert community of Hinkley. The case was later taken as an inspiration for the movie Erin Brockovich, which was released in 2000. Tom also worked as an adviser in the movie. He was honored by the California State Bar in 2003, where he was inducted into the Trial Lawyer Hall of Fame.
Tom has also served as the President of the prestigious International Academy of Trial Lawyers, which is considered as an invitation-only worldwide organization limited to 500 trial lawyers. In fact, he was the first trial lawyer, who was appointed as the California Judicial California.
Girardi further received recognition after he worked in Democratic party politics, where he donated millions of dollars to several campaigns. He also played a major role in fundraising events and gave advice to governors regarding judicial appointments. In December 2020, his assets were frozen by the Chicago federal judge, after he was accused of using at least $2 million in client funds. He misappropriated the funds of the families of those killed in the plane crash in Indonesia.
In January 2021, he had to be present at the first bankruptcy hearing, however, no one from his law firm appeared at the hearing. In March 2021, he was alleged to be involved in many financial malfeasances, which includes the allegations of theft by the two dozen women, who received $17 million claiming the hormone replacement therapy caused their cancer. His license was revoked by the State Bar of California on March 9, 2021.
Tom Girardi Personal Life
Tom Girardi has been married three times in his life. He was first married to Karen Weitzul in August 1964, with whom, he split in 1983. Later, he tied the knot with Kathy Risner in September 1993. They reportedly separated in the 1990s. Tom shared the wedding vows with Erika Jayne in January 2000. Erika is known for her appearance on the reality series "The Real Housewives of Beverly Hills". Tom has also appeared along with her on the reality series.
Erika announced that she had separated from Tom in November 2020. After a month, they were sued for using their divorce to embezzle money, which was actually intended for the families of victims killed in the 2018 Boeing plane crash. Recently, ABC News Originals presented a documentary "The Housewife and the Hustler: Biggest Moments", which showed Tom and Erika's legal troubles.
Tom Girardi Net Worth
Tom Girardi net worth was estimated to be around $264 million in 2015. Reports claimed that he owned two private planes, $3 million worth of antiques, and $9 million of jewelry. Tom and his wife, Erika also owned a $10 million worth estate in Pasadena, which was listed for sale for $13 million in May 2021. Tom Girardi's personal wealth at the moment is estimated to be around $100 thousand.
Tom Girardi News
Expert Perspectives on Biggest Court Cases  Law.com

Tom Girardi curses at prosecutor during competency hearing  Los Angeles Times

Video Victims repped by Tom Girardi in cancer exposure settlement sue California State Bar  ABC News