Paul Kemsley Net Worth: How Rich Dorit's Husband PK Actually?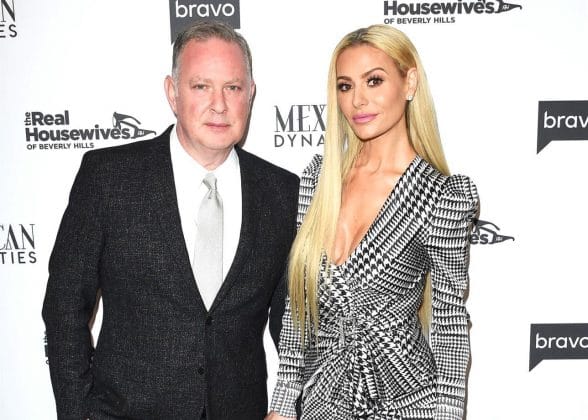 Paul Kemsley is an English businessman, reality TV star, and celebrity manager. He is best recognized for working as a property developer and serving as a Vice-Chairman of English professional football club, Tottenham Hotspur. As a celebrity manager, he manages English singer, Boy George, and football legend, Pele. As of 2022. Paul Kemsley net worth is estimated to be roughly $55 million.
| | |
| --- | --- |
| Full Name | Paul Zeital Kemsley |
| Birth Date | August 17, 1967 |
| Birth Place | Stanmore, Middlesex, England |
| Profession | Business, Reality star, Celebrity Manager |
| Wife | Dorit Kemsley |
| Net Worth | $55 million |
Early life
Paul Kemsley was born on the 17th of August, 1967 in Stanmore, Middlesex, England. He has studied at Atholl School. Paul started working at the young age of 15 at John Paul Menswear. He used to work there on Saturdays. While working at Menswear, he got to meet billionaire retailer, Mike Ashley. With Mike, he used to play darts for money.
At 17 years of age, he left school and started working as a junior surveyor at Gross Fine. In 1985, he joined the commercial real estate firm as an agent. He served at the real-estate firm for seven years, and then joined hands with his old mate, Mike Ashley for his retail group, Sports Direct.
Paul Kemsley Net Worth & Career
After having few years of work experience, he thought of building his own property and securities company. However, he had just £1,800 left in his pocket. Even though he didn't have enough money, he formed a company named Rock Joint Ventures Ltd. along with two investors, Joe Lewis, and Daniel Levy. The company, Rock Joint Ventures was majorly working as an investor and commercial and residential property developer.
Paul and Daniel Levy were able to make a valuable portfolio of £750 million by 2007. However, Joe Lewis had already parted away from the company. Later, Paul's company Rock went on to make a joint venture with banking and insurance company, HBOS, and build up their property portfolio to £1 billion. In June 2009, Paul's involvement was ended in the company during the financial crisis of 2007-2010.
Later, Paul played a major role in buying a majority shareholding in Tottenham Hotspur. His well bond with British business magnate, Lord Sugar was a major reason which made it possible for ENIC/Levy partnership to buy a majority share. In 2005, Kemsley started appearing as one of the advisors/interviewees for Lord Sugar on the British reality series, The Apprentice.
Paul bought 27-35 Poultry in the City of London for a whopping amount of £40 million in May 2006. He gained a profit of £32 million in just 5 months by selling the Poultry to a former Russian government minister. Kemsley also has big investments in different online betting operations like Party Gaming, FUN Technologies, and Chinese-licensed Betex.
In August 2010, he became the chairman of the New York Cosmos soccer club. He held the position of Chairman for over a year. Later, Paul went on to sell his share in Cosmos at a high profit and invested the amount in a legendary football player, Pele's commercial rights through a management agency, Legends 10. The agency is expected to be earning $30 million from endorsement and licensing revenues.
Paul Kemsley Personal Life
View this post on Instagram
Paul Kemsley has married twice in his life. At first, he tied to knot with a lady named Loretta. He shares three kids with his first wife, Loretta. Paul later got married to Dorit in March 2015. He shares two kids; a son and a daughter with Dorit. His second wife, Dorit is a popular reality TV star, who appears on the reality series "The Real Housewives of Beverly Hills".
Paul Kemsley Net Worth
As of 2022, Paul Kemsley's net worth is estimated to be over $55 million. Paul purchased a big house worth $6.5 million in the Encino area of Los Angeles. The house was put for sale in August 2020 for $9.5 million.
Paul Kemsley News
'I'm nicer than Lord Sugar' says host of new Apprentice estate agent show  The Jewish Chronicle

Selling Super Houses – Press Pack  Channel 4

Property tycoon PK Kemsley on how he went bust… and reinvented himself as a reality TV star  Daily Mail