Richard Montanez Net Worth: How Rich is the Author Actually in 2022?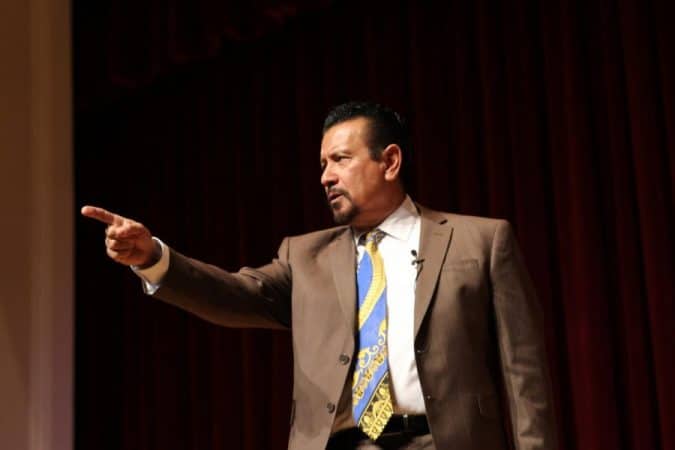 Richard Montañez is an author, businessman, and speaker. He is best known for claiming to be the inventor of the popular product from Frito Lay called Flamin' Hot Cheetos. As of 2022, Richard Montanez net worth is estimated to be around $10 million.
| | |
| --- | --- |
| Full Name | Richard Montañez |
| Birth Date | N/A |
| Birth Place | Mexico |
| Profession | Author, Businessman, Speaker |
| Relationship Status | Married |
| Net Worth | $10 million |
Early Life
Richard was born to Mexican immigrant parents and was raised in California along with his 10 siblings. His entire family lived in a one-bedroom apartment. One of his well-known lines is "I have a Ph.D. in being Poor, Hungry, and Determined." This helps to explain the kind of background that Richard came from and how it shaped his life.
He had an entrepreneurial mind since being a kid. When he was in the 3rd grade, his mom would pack him a burrito for lunch but was embarrassed to eat it since burritos weren't very popular at that time. His mom then packed him two burritos so that he could have one and he could give one to make a friend. He then started selling those burritos for $0.25 each when he was only 7 years old.
Richard Montanez Net Worth and Career
He eventually dropped out of school and started to work as a laborer as a teenager. He worked odd jobs as a chicken slaughterer, car washer, and gardener. When he was 18 years old, one of his friends told him that Frito Lay was hiring and he would apply. Since he barely knew how to read or write, he had his girlfriend write the application on his behalf.
Richard got the job and started to work as a janitor. Even as a janitor, he mentions in his memoir how he was determined to be the best janitor. He was able to go from rags to riches after he pitched his idea to the CEO about spicy chips which were more suited for the Latino market.
The product which would be named Flamin' Hot Cheetos garnered billions in revenue since then and has been a best seller. For his work, Richard served as vice president of multicultural sales & community promotions for Pepsi. He has gone on to write two books which are A Boy, a Burrito, and a Cookie: From Janitor to Executive and Flamin' Hot: The Incredible True Story of One Man's Rise from Janitor to Top Executive.
Personal Life
Richard is married to his wife Judy with them being together for more than 37 years now. They live in Rancho Cucamonga and have three sons together as well as five grandchildren.
Richard Montanez Net Worth
As of 2022, Richard Montanez's personal wealth is estimated to be around $10 million. Before retiring in 2019, Richard was a top executive at Frito Lay where he earned a handsome income with stock options. This has been the source of most of his net worth. Nowadays, he has built a lucrative career as a motivational speaker for organizations and charges from $10,000 to $50,000 per appearance he makes.
Richard Montane News
An error has occurred, which probably means the feed is down. Try again later.