Tom Barrack Net Worth: How Rich is Tom Barrack Actually?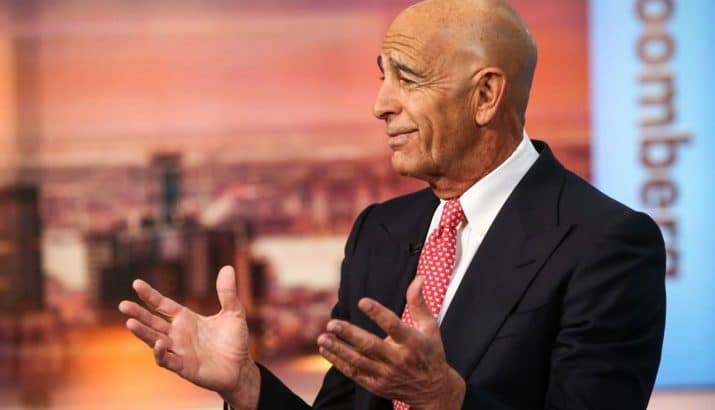 Thomas Joseph Barrack Jr., better known as Tom Barrack is an American private equity real estate investor. He is the founder of the publicly traded international investment firm, Colony Capital Inc. Tom has served as the chairman of the former United States President, Donald Trump's Inaugural Committee. As of 2021, Tom Barrack net worth is estimated to be around $1 billion.
Tom Barrack was indicted and jailed on charges of acting as an unregistered agent of the United Arab Emirates on Tuesday, July 20, 2021. He was further charged with making false statements to the FBI, and obstruction of justice.
| | |
| --- | --- |
| Full Name | Thomas Joseph Barrack Jr. |
| Birth Date | April 28, 1947 |
| Birth Place | Los Angeles, California, U. S. |
| Profession | Private equity real estate investor |
| Ex-wife | Rachelle Barrack |
| Net Worth | $1 billion |
Early life
Tom Barrack was born on the 28th of April, 1947 in Los Angeles County, California, United States. He belongs of Lebanese descent as his grandfather traveled to the United States from Zahle, Lebanon in 1900. Tom spent his childhood days growing up in Culver City, California. His father used to work as a grocer, and his mother was serving as a secretary.
Regarding his education detail, he studied at the University of Southern California from where he received a Bachelor of Arts degree in 1969. Then, he joined the USC Gould School of Law. There, he served as an editor of the flagship scholarly journal, Southern California, Law Review. In 1972, he earned a J. D. from the University of San Diego School of Law.
Tom Barrack Net Worth & Career
Tom started off his professional career working at the law firm of attorney and banker, Herbert W. Kalmbach. He got a chance to travel to Saudi Arabia in 1972 after the law firm sent him there, and very soon, he became a very close friend of the Saudi prince. He also became the Saudi prince's squash partner. Later on, he started working for Saudi princes.
Tom started working as a deputy undersecretary of the U. S. Department of the Interior in 1982 under the former U. S. Secretary, James G. Watt. In 1987, he had started working for the Robert M. Bass Group. He got to meet Donald Trump first time in 1985. There, Trump purchased a1/5th stake in the real estate investment trust, Alexander's department stores. Soon after a year, he was paid a whopping $410 million by Trump for the whole ownership of the Plaza Hotel.
Tom founded the investment firm Colony Capital in 1990 with the help of investors, GE Capital, Eli Broad, Koo Chen-fu, and Merrill Lynch. Through the investment firm, he has been running a $25 billion portfolio of assets. Besides his real estate venture, he has been a close companion of Donald Trump for a long time. He has even endorsed Trump during the 2016 U. S. Presidential election.
Barrack was also working as a chairman of the Trump's committee, where he oversees the 2017 Trump Inauguration. During the inauguration, he was able to collect more than $100 million.
Tom Barrack Personal Life
Tom Barrack was married to Rachelle Barrack, with whom he has six children. Unfortunately, his marriage life ended with a divorce in 2016. Tom recently got into big trouble after he was indicted in New York federal court on July 20, 2021, on the accusation of acting and conspiring to act as agents of the United Arab Emirates (UAE) between April 2016 to April 2018.
He was arrested and jailed for making multiple false statements to FBI agents, and obstruction of justice. Tom and two other people were found responsible for influencing the foreign policy positions of a campaign of candidates during the 2016 U. S. presidential election, and foreign policy positions of the United States government in the incoming administration.
Tom Barrack Net Worth
Tom Barrack had a net worth of around $1.1 billion in September 2011. At that time, he was 833rd richest person in the world, and 375th wealthiest person in the U. S. However, his billionaire status vanished in 2014. Barrack seems to have got back his billionaire status since his current net worth is speculated to be around $1 billion.
Tom had purchased a big property in Santa Monica for a whopping $21 million in 2014. Later, he sold the property for $35 million making a profit of $14 million. In 2017, he bought a huge property in Aspen, Colorado for $15.5 million.
Tom Barrack News
Trump's Ditched DC Hotel Deal With Tom Barrack Comes Up at NY Fraud Trial  Bloomberg

How Jeffrey Epstein Tried to Tap Into Trump's Circle  The Wall Street Journal

Barrack: I Would Not Advise Trump In 2024 Race  Bloomberg