Ted Ginn Jr Net Worth: How Rich is the Retired NFL Player Actually?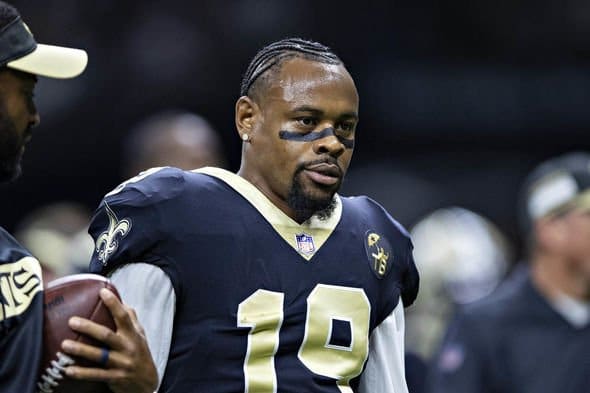 Ted Ginn Jr. is a retired American football wide receiver. He is best known for playing in the National Football League (NFL) for 14 seasons. Ted was playing with Chicago Bears until he announced his retirement from professional football on July 16, 2021. As of 2022, Ted Ginn Jr net worth is estimated to be around $15 million.
| | |
| --- | --- |
| Full Name | Theodore Ginn Jr. |
| Birth Date | April 12, 1985 |
| Birth Place | Cleveland, Ohio, U. S. |
| Profession | Football wide receiver |
| Wife | Kystle McCoy |
| Net Worth | $15 million |
Early life
Ted Ginn Jr. was born on the 12th of April, 1985 in Cleveland, Ohio, United States. He has played under his father, Tedd Ginn Sr.'s guidance, who is the coach of the Glenville High School. Ted has played as a wide receiver, defensive back, and quarterback for his high school team. From the beginning, he has excelled in football. In fact, he was named Most Valuable Player while playing in the U. S. Army All-American Bowl.
Ted also competed in the track and field as a part of the Glenville track team. He has set the record of the best time as a senior while grabbing the state title in the 200 meters. Ted was able to complete the track in 21.51 seconds. He was about to compete in the 2008 Summer Olympics, however, later his track athletic career was put on hold as he started to excel more in football.
Ginn started playing as a defensive quarterback for the Ohio State University. While playing for the 2004 season, he made 25 receptions for 359 yards. In his freshman season, he helped his team to get victory over Indiana with 30-7. In his sophomore year, he started playing as a wide receiver, and later, he was named a starter.
Ted Ginn Jr Net Worth & Professional Career
View this post on Instagram
Ted played along with Ohio State till 2006 season, where he made 125 receptions in 37 games. He began his professional career in 2007 after getting picked up by the Miami Dolphins in the 2007 NFL Draft. Dolphins received a lot of criticism for selecting Ginn instead of Brady Quinn. Ginn entered the football ground wearing #19 for the Dolphins in the 2007 season against the New York Giants. He made his first career touchdown return while playing against the Philadelphia Eagles.
In the 2008 season, he started playing as a starting wide receiver. In the starting season, he made 2 receptions for 17 yards. Ted excelled in his performance while playing against the Buffalo Bills, where he made 7 receptions. He ended the 2008 season with 56 catches for 2 touchdowns and 790 yards. In the 2009 season, he had 1826 all-purpose yards.
Ginn was traded to the San Francisco 49ers on April 16, 2010, in the 2010 NFL Draft. He scored his first touchdown against the St. Louis Rams. He had an injury in the late 2011 season which forced the San Francisco team to replace him with Kyle Williams. However, the 49ers had to face a big loss after the replacement which decreases their chance to appear in Super Bowl XLVI. Then, he was re-signed with the San Francisco 49ers on March 22, 2012.
Ted played with the Carolina Panthers in the 2013 season, and the following year, he signed a 3-year deal with the new team, Arizona Cardinals. Along with the Panthers in the 2015 season, he made 35 receptions in the first 12 games. Ted signed 3 year deal with New Orleans Saints on March 9, 2017. After a year, he had an injury on the knee due to which he was placed on injured reserve on October 18, 2018.
Gin was signed with the Chicago Bears on May 4, 2020. He was placed as a replacement for Tarik Cohen in a Week 3 game against the team Atlanta Falcons. Gin played as a punt returner from Week 4 to Week 7, and then he was released by the Chicago Bears on November 4, 2020. Gin made an announcement of his retirement from professional football on July 16, 2021, after playing for 14 seasons.
Ted Ginn Jr. Personal Life
Ted Ginn Jr. is married to Krystal McCoy since April 12, 2015. He tied the knot with Krystal after having a love affair with her for over ten years since 2002. The pair shares twins named Theodore Ginn III, and Krysten Lee Ginn, who was born in 2010.
Ted Ginn Jr Net Worth
As of 2022, Tedd Ginn Jr's personal wealth is estimated to be around $15 million. From his 14 seasons in NFL, he has earned total earnings of around $40,102,852. Ted was signed for a whopping amount of $1,187,500 with the Chicago Bears for one year on May 4, 2020.
Ted Ginn Jr News
An error has occurred, which probably means the feed is down. Try again later.