Tawny Kitaen Net Worth: How Rich was the Actress Actually?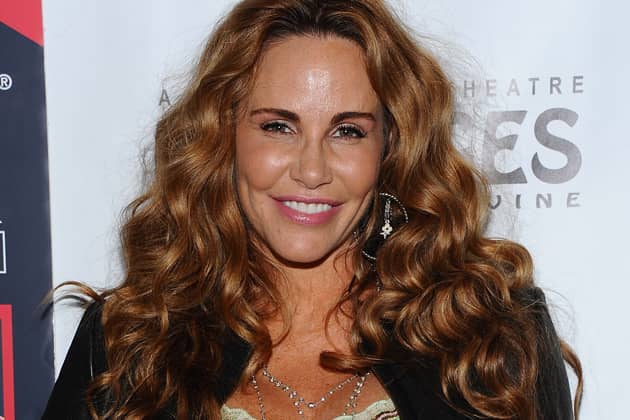 Tawny Kitaen was an American actress, comedian, and television personality. Tawny Kitaen net worth before her death is estimated to be around $500,000.
| | |
| --- | --- |
| Full Name | Julie E. Kitaen |
| Date of Birth | August 5, 1961 |
| Born Place | San Diego, California, United States |
| Profession | Actress, Comedian |
| Husband | David Coverdale (1988-1991), Chuck Finley (1997-2002) |
| Died on | May 7, 2021, at the age of 59 |
| Net Worth | $500,000 |
Early Life
Tawny Kitaen was born on August 5, 1961, in San Diego, California to parent Linda Kitaen and Terry Kitaen. Her father Terry used to work in a neon sign company while her mother was a housewife. As a child, she had an interest in music. At the age of 14, she went to Peter Frampton's rock concert. There she and her friends were given backstage passes and VIP treatment.
Tawny Kitaen Net Worth and Career
Tawny started her career in the entertainment industry as the album cover model on the band's first EP 'Ratt' and their debut studio album 'Out of the Cellar'.
Her acting career started in 1983 after appearing in a short role in the television movie 'Malibu'. A year later, she starred as the title character in the erotic movie 'The Perils of Gwendoline in the Land of the Yik-Yak'. Tawny then appeared in several other movies including 'Bachelor Party', 'Witchboard', 'White Hot', and 'Dead Tides'.
In addition to movies, Tawny has also appeared in television series including Seinfeld as Jerry's girlfriend in the episode 'The Nose Job'. She also starred in 19 episodes of the TV series 'The New WKRP in Cincinnati' as a night-time DJ named Mona Loveland.
Tawny has also appeared in several music videos in the 1980s for the band Whitesnake. Some of the songs she has appeared in are 'Here I Go Again', 'Still of the Night', 'Is This Love', and 'The Deeper the Love'.
Tawny Kitaen Personal Life
In 1989, Kitaen married Whitesnake singer David Coverdale. However, they got divorced in 1991. Kitaen also had an affair with O.J. Simpson while he was still married to Nicole Brown Simpson.
In 1997, Kitaen married baseball player Chuck Finley. Her second marriage also ended in divorce in 2002 after she was charged with domestic violence for kicking Finley in the face repeatedly with high-heeled shoes. The couple had two daughters together.
On May 7, 2021, Kitaen died at her Newport Beach home at the age of 59. The cause of death is still unknown.
Tawny Kitaen Net Worth
As of 2022, Tawny Kitaen's personal wealth is estimated to be somewhere in the range of $500,000 to $1 million. She earned a vast chunk of money from her acting career. Tawny has appeared in over 30 movies and television shows.
Tawny Kitaen News
Was Tawny Kitaen Just As Important To Whitesnake As David Coverdale? Discuss.  K104.7

RATT's STEPHEN PEARCY Remembers TAWNY KITAEN – "Let's Be A Little Sexy; We Don't Need Sledgehammers, Chains And Leather, Let's Just Grab Her And Throw A Bunch Of Rats On […]

Today In Metal History May 7th, 2023 TAWNY KITAEN, MOTÖRHEAD, BERNIE MARSDEN, UFO, AT THE GATES, PANTERA  bravewords.com