Robin Givens Net Worth: How Rich is Mike Tyson's Ex Wife?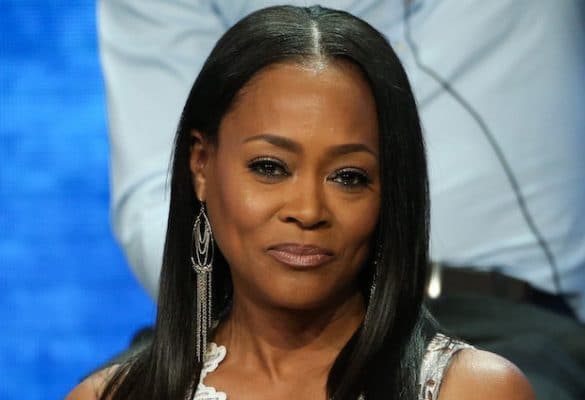 Robin Givens is a famous American model and actress. She is best known for her amazing performance as Darlene Merriman in ABC's sitcom "Head of the Class". Robin is also known for her troubled marriage life with a boxer, Mike Tyson. As of 2022, Robin Givens net worth is estimated to be around $1 million.
Robin and Tyson's relationship was briefly explored in the first part of ABC's documentary "Mike Tyson: The KnockOut", which was premiered on May 25, 2021.
| | |
| --- | --- |
| Full Name | Robin Simone Givens |
| Birth Date | November 27, 1964 |
| Birth Place | New York City, United States |
| Profession | Model and Actress |
| Ex-husband | Mike Tyson |
| Net Worth | $1 million |
Early life
Robin Givens was born on 27th November 1964 in New York City, United States. She was born to parents, Ruth Roper and Reuben Givens. At two years of age, her parents separated with divorce. She was raised by her mother. Robin grew up in Mount Vernon and New Rochelle along with her sister, Stephanie.
Regarding her education, she earned her early school education from the private school, New Rochelle Academy. Later, she joined Sarah Lawrence College. She was just 15 when she joined the school, and thus became the youngest student who attended the school. During her school days, she also acted in daytime drama series. In 1984, she came out as a graduate of Sarah Lawrence College.
Robin Givens Net Worth & Career
Robin started off her career by appearing on "The Cosby Show". The show stars the famous stand-up comedian, Bill Cosby, who became her mentor. Because of him, she left the Harvard Graduate School of Arts and Sciences. Bill has actually promised her to pay tuition fees for her medical school if she didn't get success in two years.
Bill's prediction turned out to be true, as she became popular after appearing in 'Different Strokes" and "Beverly Hills Madam". However, it was the role of Darlene Merriman on ABC's TV sitcom "Head of the Class', which earned her wide recognition. She appeared in the series for 114 episodes until the series ended in 1991.
To date, Robin has appeared in various TV series. Her most noticeable TV appearances came in "Sparks", "One on One", "Twisted", "Riverdale", and "Once Upon a Time". She was last seen playing the role of Sierra McCoy in the musical comedy-drama series "Katy Keene" in 2020.
Robin has also shown her incredible acting skills in many movies. She made her movie debut in 1978 appearing as a guest in the movie "The Wiz". Since her debut, she has appeared in over 20 movies. Her most noticeable movie appearances came in the movies "Queen of Media", "The Family That Preys", and "God's Not Dead 2".
Robin Givens Personal Life
Robin Givens was married to the former professional boxer, Mike Tyson. She tied the knot with Mike in 1988. However, their relation lasted for just a year. Robin had a miscarriage in June 1988, and since then they started having an issue in their marriage life. Mike also used to get physical with Givens. She has mentioned her married life as torture, pure hell, and worse than anything.
Robins' miserable married life was shown in the first part of ABC's documentary on Mike Tyson: The Knockout. Robin later got married to Svetozar Marinkovic in 1997. Though, the relation survived for only one year. In 1999, she dated a tennis player, Murphy Jensen. She even gave birth to a son named William "Billy" Jensen from her relationship with Murphy. After living four years, she parted ways with him in 2002.
Robin Givens Net Worth
Robin Givens has accumulated an approximate net worth value of $1 million by 2022. She bought $4.3 million worth of mansion while she was living together with ex-hubby, Mike Tyson. According to sources, she received $10 million as a divorce settlement from Mike Tyson, however, she completely denied the report of getting one dime from him.
Robin Givens News
iHeart Launches New Podcast to Revisit '90s Icons Such as Pamela Anderson and Robin Givens (EXCLUSIVE)  Variety

"I went from a hard stallion to a wet noodle": Mike Tyson Went "Emotionally Comatose" After Seeing His Ex-Wife With Oscar-Winner Brad Pitt  FandomWire

Robin Givens' 'Nana Project' to open this year's Mystic Film Festival  The Westerly Sun