Tabitha Brown Net Worth: How Rich is the Actress Actually?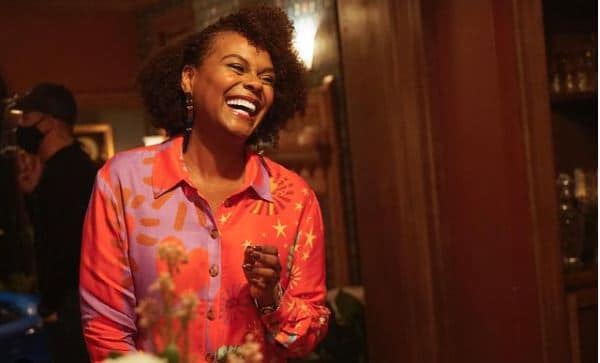 Tabitha Brown is an American actress and social media star. She is best known for creating online video content comprising humor, veganism, and motivational speaking. Brown is also recognized for her food and comedy content that she posts on TikTok, YouTube, and Instagram. As of 2022, Tabitha Brown net worth is estimated to be roughly $4 million.
| | |
| --- | --- |
| Full Name | Tabitha Bonita Brown |
| Birth Date | February 4, 1979 |
| Birth Place | Eden, North Carolina, U. S. |
| Profession | Actress |
| Husband | Chance Brown |
| Net Worth | $4 million |
Early life
Tabitha Brown was born on the 4th of February, 1979 in Eden, North Carolina, United States. She lost her mother in 2007 after she suffered from ALS. Brown completed her early school education staying in Eden. Then, she joined the Miami International University of Art & Design. However, she eventually dropped out of the University at age 19. She later shifted her place to Laguna Niguel, California.
Tabitha was financially struggling while staying in California. So, she decided to move back to North Carolina. She eventually settled down in Greensboro and lived there for 5 years. Brown's early work experience came as a co-host of the local late-night show in 2002. In the show, she took an interview of some of the famous celebrities who showed their performance at Greensboro Coliseum Complex.
In 2004, she shifted her place to Los Angeles to give a try as a stand-up comedian, and actress. However, she struggled to get a role as an actress. She then started working at the department store, Macy's based in Century City. Brown spent five years of her life serving at the department store.
Tabitha Brown Net Worth & Career
Brown ultimately showed up as an actress in several indie films, and direct-to-video films, where she appeared in small roles. As an actress, she has appeared in the movies like "Caution to the Wind", "I Am Still Here", "I Hate LA", "All Between Us", "A Stone Cold Christmas", and "Princess of the Row". She has also appeared in various TV series such as "Family Time", "Black Jesus", "Sex Sent Me to the ER", "Switched at Birth", "CH Originals", "Will & Grace", and "The Talk".
Brown went on to become a popular social media star after she made a video of a Whole Foods Market vegan BLT Sandwich in December 2017. After the video went viral, she was hired by the company as their brand ambassador who would travel the various countries.
She opened a TikTok account in early March 2020, where she started sharing vegan recipes, family moments, cooking tips, and motivating advice. Brown was able to gather 2 million followers on TikTok in just five weeks.
Tabitha Brown Personal Life
View this post on Instagram
Tabitha Brown is married to a police officer, Chance Brown, who recently turned in his badge after serving 15 years at the Los Angeles Police Department. Brown seemed quite happy on her husband's retirement, which she shared through a video. However, Wendy Williams, the popular broadcaster had a less positive reaction to Brown's statement in the video.
Brown actually wanted her hubby, Chance to live his dream now. Wendy shared in the Thursday Morning show that she had been in the same situation as Brown. She told the audience in the show that she was married to one of those. According to Williams, the marriage would be on real rocky ground after you decided to live your dream. She further revealed that they may invest in stuff and lose the money.
Brown soon made a video responding to Williams, where she prayed and sent love to Wendy. She further claimed that her situation is not like her at all. Brown shares two kids with hubby Chance named: Choyce, and Question. She is also taking care of her stepdaughter from Chance's previous relationship.
Tabitha Brown Net Worth
As of 2022, Tabitha Brown's net worth is estimated to be around $4 million. She started hosting the show called "All Love" on Ellen Digital Network in June 2020. Brown has also appeared as the commencement speaker at John M. Morehead High School for the graduation exercises in June 2016.
Tabitha Brown News
Social media influencer Tabitha Brown is coming to Jackson  WLBT

Kevin Hart and Tabitha Brown Dish on Vegan Food, Authenticity, and Why Feeling Good Matters  VegNews

Social media influencer and author Tabitha Brown coming to Jackson  WAPT Jackson