Suzanne Somers Net Worth: How Rich is the Actress Actually in 2022?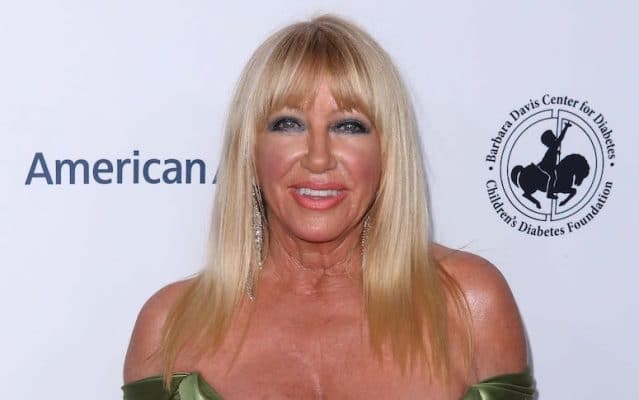 Suzanne Marie Somers is an American actress, author, and businesswoman. She is best known for appearing in the television show called Three's Company which propelled her to fame where she appeared in the role of Chrissy Show. As of 2022, Suzanne Somers net worth is estimated to be a mammoth $110 million.
| | |
| --- | --- |
| Full Name | Suzanne Marie Somers |
| Birth Date | October 16, 1946 |
| Birth Place | San Bruno, California, U.S. |
| Profession | Actress, Author, and Businesswoman |
| Relationship Status | Married |
| Net Worth | $110 million |
Early Life
Somers had a normal upbringing but she faced some tough moments early on since her father was an alcoholic and would even be verbally abusive. She went to Capuchino High School and later transferred to Mercy High School. Later on, Somers went to San Francisco College for Women.
Suzanne Somers Net Worth and Career
Somers started to appear in films in the 1960s where she started by getting smaller roles including a role in Blonde in the white Thunderbird. Later on, she made appearances in roles in Lotsa Luck and The Rockford Files.
Some of her early roles also included explicit scenes with her appearance in Magnum Force having her as a topless poor girl. She was starting to gain popularity gradually with further roles in The Love Boat and One Day At a Time.
Yet, her big breakthrough would come in 1977 when she landed the role of Chrissy Snow in the sitcom called Three's Company. The show was a big hit where her character Chrissy was a dumb blonde girl who worked as an office secretary.
But the further success of the show would result in the falling out of Somers for the show. As the show started gaining mainstream popularity, Somers demanded that she get a pay increase from her current salary of $30,000 to up it by five times.
Furthermore, she also demanded that she have a 10% share of the profits for the show. From her perspective, she felt that the value she was creating for the show was very high. However, the producers of the show were not impressed with this and refused the increase that Somers was demanding.
This led to her role being cut down to only 60 seconds per episode with Somers later suing the show for business damages to her reputation. Since then, Somers had played in several other roles but they haven't been as successful as Three's Company which also included the talk show called Suzanne Somers Breaking Through.
Personal Life
Somers got married at the young age of 19 to Bruce Somers. Together with Bruce, she had a son named Bruce Jr. However, over the years their marriage degraded and they decided to get divorced just 3 three years after getting married.
She later started to date Alan Hamel who worked as a host. The two decided to get married in 1977 and have been together ever since. A tough point came in her life when she was diagnosed with stage II breast cancer in 2000 because of which she had to go through several therapy sessions.
She is a proponent of bioidentical hormone replacement therapy for which she has also written a book.
Suzanne Somers Net Worth
As of 2022, Suzanne Somers has an estimated net worth of $110 million. Along with her husband Alan, the couple have several homes that they own in Southern California. Among their biggest purchase includes a 73-acre mansion which is located in the premium area of Palm Springs which they once listed for $35 million.
Furthermore, they previously also owned around 480 acres in another area of Palm Springs which they decided to donate to the Coachella Valley Conservation Commission.
Suzanne Somers News
Suzanne Somers' Family Celebrates Thanksgiving After Her Death as Daughter-in-Law 'Channels' Her Cooking  PEOPLE

Adam Carolla Was 'Caught Off Guard' by Friend Suzanne Somers' Death  PEOPLE

Biodentical Hormone Therapy Awareness Advanced By Suzanne Somers, Says Dr. Paul Savage  Yahoo Finance