Supa Cent Net Worth: How Rich is Raynell Steward Actually?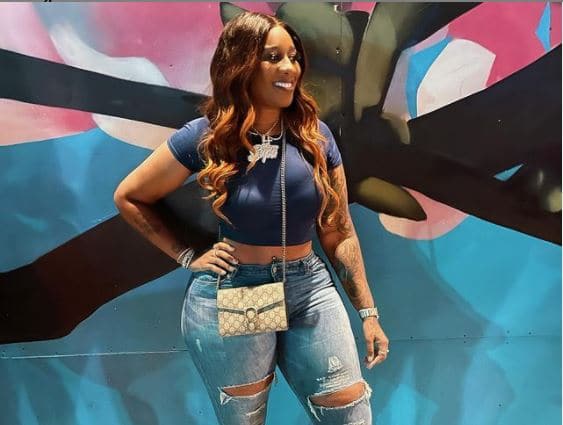 Raynell Steward better known as Supa Cent or Wuzzam Supa is an American entrepreneur and Instagram Star. She is the CEO of the viral cosmetics brand "The Crayon Case". Supa Cent made a news headline in 2018 after her brand, The Crayon Case sold $1 million dollars worth of products in under 2 hours. As of 2022, Supa Cent net worth is speculated to be roughly $5 million.
| | |
| --- | --- |
| Full Name | Raynell Steward |
| Birth Date | February 2, 1988 |
| Birth Place | Louisiana, U. S. |
| Profession | Entrepreneur, Instagram Star |
| Relationship Status | Single |
| Net Worth | $5 million |
Early life
Supa Cent was born Raynell Steward on 2nd February 1988 in Louisiana, United States of America. She spent her childhood days growing up in the 17th uptown of New Orleans. Cent was raised by a single mother along with her sister. She has mentioned that her father was not there to support her family, but, she still shares a good relation with him.
Cent had a tough time while studying in middle school, as she used to get bullied by her classmates. She used to get depressed because of bullying. However, she eventually found a way to get out of depression by thinking of jokes on them who used to bully her. The bullying has played a major part in establishing her as a comedian. She is even popular among her friends for the humorous roasting style of comedy.
Supa Cent Net Worth & Career
Cent struggled in the starting days of her career. She even did few odd jobs like housekeeper and waitress. Though she was not finding the correct path, Cent kept on working hard by working at different places. Her hard work pays off when she came up with several entrepreneurial ideas and worked on several startups.
Cent has served as the CEO of the Nola-based company, Bayou Scooter Rentals. Likewise, she has worked as the CEO of the entertainment company "Watch My Smoke Ent.". But, she became famous after she came up with her own cosmetic brand called "The Crayon Case".
Cent became a popular name among the beauty industry in 2018 after her brand "The Crayon Case" generated $1 million dollars revenue on Cyber Monday sale in just two hours from selling the products online. After a year in 2019, she set a new record by making a revenue of $1.37 million dollars in just one hour.
Supa Cent is also quite popular on Instagram, where she is followed by 2.6 million people. She also has a YouTube channel named "Wuzzam Supa". Though, she doesn't seem much active in making videos on YouTube. She made her last video on YouTube on May 19, 2020, which has the title Lea and Supa #FruitSnackChallenge.
Supa Cent Personal Life
Supa Cent's present relationship status is assumed to be single. But, she was married to someone in the past. She also has two kids; a son, Tre, and a daughter, Lea. According to sources, she separated from her husband after she came to know that he was cheating on her.
Supa Cent Net Worth
As of 2022, Supa Cent has earned an approximate net worth value of $5 million. In early 2020, she bought a $2.6 million worth huge mansion in Florida. She even gave a Mansion Tour of her new house in an episode of IGTV Cribs, which was premiered on YouTube channel "9MagTV" on January 19, 2020.