Stormi Steele Net Worth: How Rich is Canvas Beauty Founder?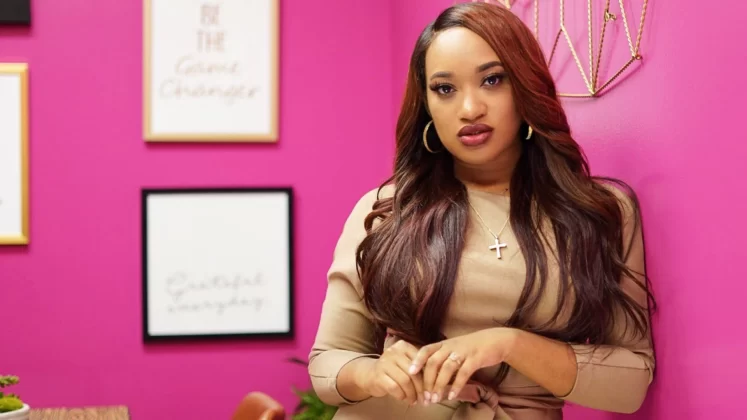 Stormi Steele is an American beauty expert, salon owner, and successful hairstylist. She is best known as the founder and CEO of the Canvas Beauty brand. Stormi booked nearly $20 million in sales last year. Stormi Steele net worth is not available and is under review at the moment.
| | |
| --- | --- |
| Full Name | Stormi Steele |
| Birth Year/ Age | 1989/ 33 years old |
| Birthplace | United States |
| Profession | Hairstylist, entrepreneur |
| Husband | Courtney Beasley |
| Net Worth | Under Review ($10 million estimated) |
Early Life
Stormi Steele was born in 1989 in the United States of America. Not much detail is available regarding her parents and upbringing. She studied art at Mississippi State University. However, she dropped out of the University after a year. Steele revealed that she was really lost and frustrated while studying at University. Then, she realized that she should better pursue hairstyling.
Steele shared that she actually woke up in the middle of the night and had an idea of starting her own business. Afterward, she joined a nearby cosmetology school. In her last semester when she was about to get her license, she had a physical altercation with her father. Due to that, she fled Mississippi for Huntsville, Alabama.
Stormi Steele Net Worth & Career
View this post on Instagram
In the early days, she had no plan and had just $800 in her pocket. She eventually started an apprenticeship at a local salon. There, she worked under a master stylist who gave her credit hours for her license. While in Huntsville, she witnessed many women running their own businesses. At the same time, she was also exposed to entrepreneurship. By looking at the women who were running their business, she felt a fire inside her to go hard and make a name for herself in the city.
In 2012, she started concocting her own hair products. During that time, she dedicated full time to stying and started working on her own hair products in the kitchen. Stormi would combine over-the-counter ingredients including Vitamin E and flaxseed oil to create a solution that would eventually help her hair grow. Steele ultimately got the result after seven months. She got the perfect serum which she started using on her own hair. Steele started her own salon in 2013 and after two years in 2015, she started using her hair growth serum on her clients.
Stormi received positive reviews from her customers. She was also encouraged to sell her hair growth serum online. After that, she went back to the kitchen and started discovering better hair growth solutions. By that time, Steele had also started working on the idea of launching her own brand. She eventually succeeded to launch Canvas Beauty Brand in 2018. In the early days when she launched her company, she released new products every month such as deep conditioners and shampoos that has a price range between $11.99 and $50.
In 2019, Steele started investing in paid social media advertising as she was not getting the expected results in the first year of her business. She spent around $100 on her first targeted ad, which was a glossy promotion that she had shared on Instagram and Facebook.
Surprisingly, the paid advertising worked like a charm for her as she had nearly got $15,000 in sales in just a few days. Afterward, she sold around $440,000 worth of products in two weeks. In 2018, she targeted the Black hair care community. The community had an estimated market value of around $2.5 billion.
Steele continued posting ads with before and after pictures of her and what her products did for hair. The company ultimately hit $900,00 in sales after two months. Just after a month, she was able to reach $1 million in sales. Subsequently, after that, she continued using paid social media advertising that helped her company stay afloat during the pandemic. In 2021, the company hired 24 more people and shifted their place to 17,000 square foot factory from a 50-square-foot depositary.
Husband & Personal Life
Stormi Steele is married to Courtney Beasley. She and her husband, Courtney became the parents of a baby boy in 2021. Her life partner, Courtney is also helping her out with running her business. On July 30, she posed a picture with her husband on her official Instagram, @canvasgirlbeauty.
Likewise, she shared an Instagram post with Courtney promoting her product named C-Valley Canvas. Steele also regularly shares a picture of her son on her Instagram. Likewise, she is also fond of animals and is often seen sharing a picture of her dog and a deer.
Stormi Steele Net Worth
Stormi Steele's net worth has not got revealed yet. However, it is assumed that her current net worth value falls somewhere between $10 to $20 million. Steele is expecting to make another $20 million in 2022 as she spooked nearly $20 million last year.
Steele is also getting popular for her appearance on Love and Marriage: Huntsville Season 4. In one of the episodes of LAMH, she had a huge argument with Destiny Payton which was later diffused by the rest of the cast members.