Soborno Isaac Bari Wiki: Facts To Know About Youngest Professor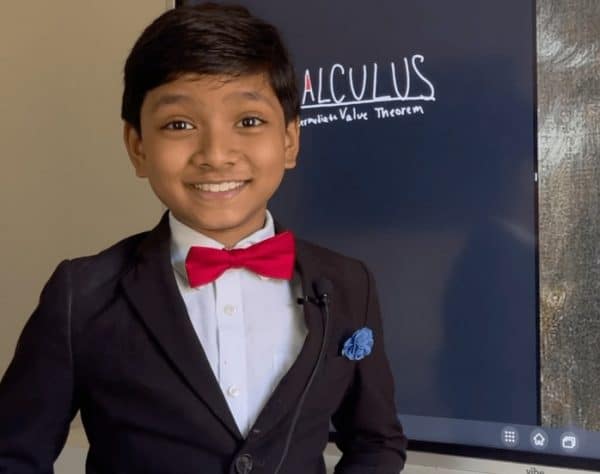 Soborno Isaac Bari is a 10 years old Bengali American professor. He is the youngest professor in the world, who received Global Child Prodigy Award from Nobel laureate Kailash Satyarthi in 2020.
| | |
| --- | --- |
| Full Name | Soborno Isaac Bari |
| Birth Date/ Age | April 9, 2012/ 10 years old |
| Birth Place | Bangladesh |
| Profession | Professor |
| Relationship Status | Single |
| Net Worth | Under Review |
Early life & Parents
Soborno Isaac Bari was born on the 9th of April, 2012 in Bangladesh. He was born to parents, Rashidul and Shaheda Bari. Soborno has a brother named Refath Bari. He started talking full sentences when he was just six months old. By reaching 2, he was able to solve tough equations of Physics, Maths, and Chemistry. After coming to know about his extraordinary talent, his parents started sharing his videos on social media platforms.
Soborno Isaac Bari's Career
It didn't take a long time to get his videos viral on social media, and the young math genius was invited for an interview by the Voice of America (VOA). He received an invitation from the Voice of America to conduct a test on his brilliant abilities. Bari became the youngest person who had a conversation with VOA.
People started taking Bari as the next Sir Isaac Newton and even requested to his change his name to Isaac. Initially, his parents didn't agree to change his name, but after discovering his talent, they agreed to add Isaac as his middle name, and he started getting recognized as Soborno Isaac Bari.
At four years of age, Bari received a letter from former U. S. President, Barack Obama. He was noticed by the former President for his great achievements in math and science at such a young age. At 6 years of age, in 2018, he was called up by the Harvard University for his unbelievable problem-solving abilities.
In January 2020, Bari received the Global Child Prodigy Award. The organization recognized and presents the award to incredible talents internationally. Likewise, he further received a nomination for the Nobel Prize. The young professor, Bari often appears as a visiting Physics professor at Ruia College of the University of Mumbai.
Bari has his own website, barisciencelab, tech, which he started with the motto "Memorization is a Crime". Soborno is also quite popular on YouTube, where he runs a channel named Bari Science Lab. He has recently uploaded a video with the title "Maxwell Equation 1" on June 13, 2021.
Soborno Isaac Bari Personal Life
Soborno Isaac Bari has achieved a huge achievement at such a young age. He is just ten years old, and yet successful to solve difficult equations of math, physics, and chemistry. Bari is often seen sharing his knowledge through his YouTube videos, and website. He doesn't seem active on Instagram, though, he has an Instagram account where he has 332 followers.
Soborno Isaac Bari Net Worth
Soborno Isaac Bari's exact net worth might not be available at the moment. The young genius would be earning more for sure in the next few years if he comes up with new and innovative equations that will change the world dynamics.