Sean Lee Net Worth: How Rich is the Retired NFL Player Actually?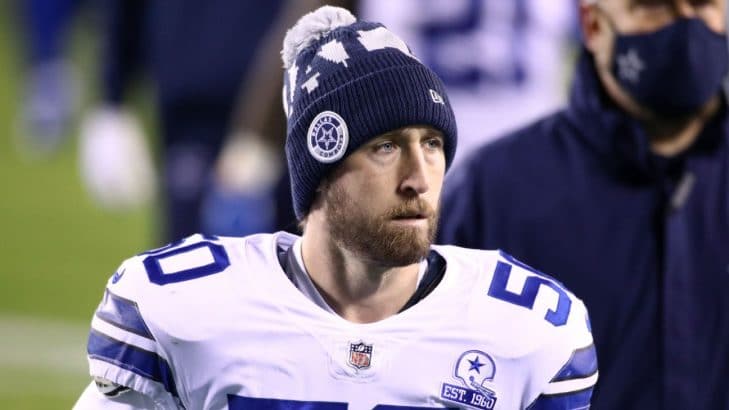 Sean Lee is a former American professional football linebacker. He is often known as a tackling machine, who played 11 years of his professional career with the football team, Dallas Cowboys. Sean recently announced his retirement from football on April 26, 2021. As of 2022, Sean Lee net worth is estimated to be roughly $35 million.
| | |
| --- | --- |
| Full Name | Sean Patrick Lee |
| Birth Date | July 22, 1986 |
| Birth Place | Pittsburgh, PA, U. S. |
| Profession | Football Player |
| Wife | Megan McShane |
| Net Worth | $35 million |
Early life
Sean Lee was born on the 22nd of July, 1986 in Pittsburg, Pennsylvania, United States. He was born to parents, Craig and Geralyn Lee. Sean has an elder brother named Conor, who played as a placekicker for the University of Pittsburgh. Likewise, he has a sister named Alexander, who attended Upper St. Clair High School and was a student-athlete there. His grandfather, Donald J. Lee was the Federal Judge of United States District Court for the Western District of Pennsylvania.
Sean Lee's Early Career
Sean was actively participating in different sports while studying at Upper St. Clair High School. As a basketball player, he won the district title with an average of 21.2 points, 3.2 assists, and 9.1 rebounds. Lee was good at basketball, but he was just best in football. At high school days, he registered a total of 95 tackles with 1240 yards and 21 touchdowns.
Following high school graduation, he joined Pennsylvania State University. There, he started as an outside linebacker for the team, Nittany Lions. He played with the team for consecutive two seasons. Sean had a good game with the team in junior years. In fact, he finished 2nd on the team with 138 tackles.
Lee was having a great game until he had a serious injury, ACL in his right knee. Despite the injury, he was elected as a team captain during the 2008 season. Though, later he opted out of rehabbing and started serving as an undergraduate assistant coach.
Sean Lee Net Worth & Professional Career
Sean was selected by the football team, The Dallas Cowboys in the 2nd round of the 2010 NFL Draft. The team didn't select him in the first round because of his injury history. He was officially included in the Cowboys, after signing a 4-year contract deal on June 23, 2010.
In 2011, he was promoted to inside linebacker in the team. He played his first game for the Cowboys against New York Jets. In the game, he set the record for 3rd interception of his career by intercepting Mark Sanchez. In the 3rd week, he had a total of 36 tackles with 2 interceptions and 2 fumble recoveries.
Lee went through an injury in the 7th game of the 2011 season, while playing against Philadelphia Eagles. In the first quarter of the game, he dislocated his left wrist when his hand hit with Michael Vick's helmet. He had a total tackle of 51 in 7 games.
Sean had an excellent game in the 2012 season, where he became one of the best defensive leaders. He led the team with a total of 131 tackles. His contract was extended to 6 years by the Cowboys on August 24, 2013. He had a good game during the 2013 season, where he led the team with a total of 52 tackles and 3 interceptions.
Lee was in the best form until he tore his ACL for 3rd time on May 27. He suffered the injury after he was blocked by an offensive lineman, Zack Martin. After that, he was put on the injured reserve list. During the 2015 season, he had a solid game against the Philadelphia Eagles, where he had a total of 16 tackles. He finished the 2015 season with 128 tackles by appearing in 14 games. Though, he missed the game due to a hamstring injury.
Sean was re-signed by the Cowboys on March 24, 2020, for a one-year deal. However, he was placed on the injured reserve list as he went through sports hernia surgery. He had to take a rest for 6 weeks. Sean returned to the field on October 31, where he played for 9 games and had 20 tackles. Lee officially retired from football On April 26, 2021.
Sean Lee Personal Life
Sean Lee is a married man. He tied the knot with a lady named Megan McShane on March 22, 2014. Lee has been married to his wife Megan for six years now, and still, we have not heard any conflict in their relationship.
Sean Lee Net Worth
Sean Lee has bagged an enormous wealth of around $35 million by 2022. A vast chunk of that money is from his successful football career. Lee received a whopping amount from the Cowboys as a signing amount. He first received $3.49 million, and then $42 million after his contract was extended in 2013. According to Spotrac, Sean has earned $51,145,578 during his 11 seasons at the NFL.
Sean Lee News
An error has occurred, which probably means the feed is down. Try again later.