Sammy Watkins Net Worth: How Rich is Chiefs' Wide Receiver?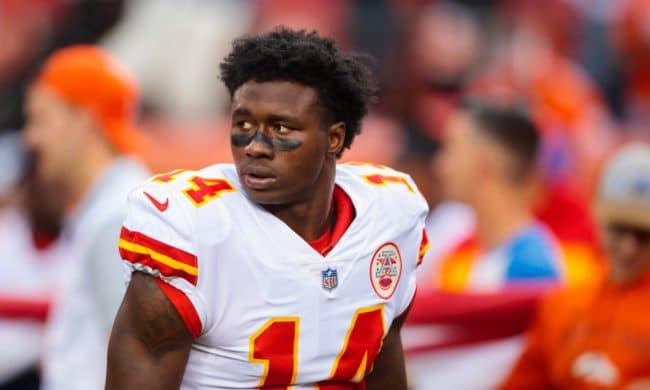 Sammy Watkins is an American football player who played as a wide receiver for the Kansas City Chiefs of the National Football League. As of 2022, Sammy Watkins net worth is estimated to be $14 million.
| | |
| --- | --- |
| Net Worth (as of 2022) | $14 million |
| Date of Birth | June 14, 1993 |
| Age | 28 years old |
| Born Place | Fort Myers, Florida, United States |
| Nationality | American |
| Source of Wealth | Professional NFL player |
| Wife/Girlfriend | Tala Watkins (Girlfriend) |
Early Life
Watkins was born on June 14, 1993, in Fort Myers, Florida. He attended South Fort Myers High School where he was a letterman in football, basketball, and track & field. In his sophomore year, he had 33 receptions for 537 yards and 10 touchdowns. In his junior and senior years, he was a first-team all-state selection.
Watkins was considered a five-star recruit by Rivals.com. He received scholarship offers from Florida, Florida State, Miami, Michigan, and Tennessee but decided to play for Clemson University.
Career
In his freshman season at Clemson University, he caught 82 passes for 1,219 yards and 12 touchdowns. He broke 11 school freshman records, including total all-purpose yards previously held by C. J. Spiller. He was named a Freshman All-American by the Football Writers Association of America.
In his sophomore season, he played 10 games recording 57 receptions for 708 yards and three touchdowns. As a junior, he started in all 13 games and had 101 receptions for 1,464 yards and 12 touchdowns. At the start of 2014, he announced that he would forgo his senior season to enter the NFL Draft.
Sammy Watkins was drafted by the Buffalo Bills in the first round of the 2014 NFL Draft. He signed a four-year contract worth $19.94 million, including a $12.28 million signing bonus. In his rookie season, he shattered previous records setting new records in both receptions and receiving yards with 65 and 982 respectively.
In his first five games of the 2015 season, he had a tough time and caught only 7 for 99 yards. However, at the end of the season, he made a remarkable comeback finishing the season with 60 catches for 1,047 yards and nine touchdowns reception. He was ranked 96th on the NFL Top 100 Players of 2016. A year later, the Buffalo Bills decided not to extend his contract making him a free agent.
In 2017, he signed for the Los Angeles Rams followed by the Kansas City Chiefs a year later. He signed a three-year, $48 million contract with the Chiefs. In his second season with the Chiefs, he recorded 52 receptions for 673 yards and three receiving touchdowns. He also helped his team to win Super Bowl LIV. He caught five passes for 98 yards in a 31-20 win against the San Francisco 49ers.
Sammy Watkins Net Worth
As of 2022, Sammy Watkins net worth is estimated to be $14 million. He signed a three-year contract with the Kansas City Chiefs worth $48 million. His career earnings until 2019 is $53 million. By the time his contract expires in 2020 with the Chiefs, his career earnings will be $64 million.
Sammy Watkins News
Winston Watkins, who committed to Deion Sanders at Colorado, transfers from IMG to First Baptist  Naples Daily News