Ron Artest Net Worth: How Rich is the NBA Player Actually?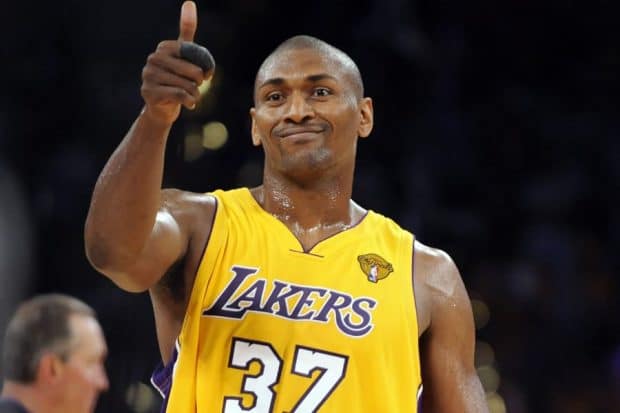 Ronald William Artest Jr., better known as Ron Artest is a retired American basketball player. He is also recognized as "Metta Sandiford-Artest" and "Metta World Peace". Ron won the 2010 NBA Championship as a member of the Los Angeles Lakers. As of 2022, Ron Artest net worth is estimated to be around $35 million.
He is known for his on-court incidents most notably the "Malice at the Palace", the fight between Detroit Pistons and the Indiana Pacers' fans on November 19, 2004. The documentary series made on the fight titled "Untold" aired its first episode on Netflix on August 10, 2021.
| | |
| --- | --- |
| Full Name | Ronald William Artest Jr. |
| Birth Date | November 13, 1979 |
| Birth Place | Queens, New York |
| Profession | Retired basketball player |
| Wife | Maya Sandiford |
| Net Worth | $35 million |
Early life
Ron Artest was born on the 13th of November, 1979 in Queens, New York, United States of America. He grew up with two young brothers, Daniel and Isaiah in the Queensbridge projects based in Long Island City.
Regarding his education detail, he has studied at the La Salle Academy. While studying at the private boy's high school, he used to play basketball a lot. There, he played along with future NBA star players, Lamar Odom and Elton Elton Brand on the same team, Amateur Athletic Union (AUU).
Ron later attended St. John's University where he continued to play basketball for the college team. He was with the college team for two years. Artest led the University's men basketball team, Red Storm to a 14-4 record victory in the Big East Conference. He started getting popular after he showed his amazing sports skill in many high-profile summer basketball tournaments.
Ron Artest Net Worth & Career
View this post on Instagram
Ron began his professional basketball career in 1999 when he was picked up by the Chicago Bulls in the 1999 NBA Draft. In a two and half years association with the Bulls, he played a total of 175 games as a starter. In a total of 175 games, he made an average point of 12.5 and rebounds of over 4 in each game.
Artest was signed to Indiana Pacers in 2002. During a game with Miami Heat on January 27, 2003, he got involved in a verbal altercation with Pat Riley, and as a result, he was suspended for four games. He was with the Pacers for four years.
He was traded to Sacramento Kings for Peja Stojakovic on January 25, 2006. Artest played along with Kings wearing jersey #93. He broke .500, and with that, he landed the 8th spot in the Western Conference.
Ron was signed by the Los Angeles Lakers in July 2009. With the Lakers, he showed his best game and helped the team win at the 2010 Western Conference Finals. He witnessed his first-ever championship win with the Lakers. Artest was signed by the New York Knicks on July 16, 2013. However, his contract with Knicks was ended on February 24, 2014, after the Knicks bought out his contract.
Artest returned back to Los Angeles Lakers on September 24, 2015. He made a season debut against Brooklyn nets on November 6, 2015, where he helped the Lakers to get the win with a score of 104-98. Artest was re-signed by the Lakers on September 21, 2016. After few months while playing against New Orleans Pelicans, he scored a team-leading 18 points which helped his team get the victory with a score of 108-96.
Ron got into a big brawl when he was playing for Indiana Pacers in the Eastern Conference against Detroit Pistons. In 45.9 seconds of the game, Ron made a hard foul on Ben Wallace. Later, the foul turned into a big fight between the fans and the teammates.
Artest also hit a fan, and in a return, he received a punch from a fan named John Green. The incident is popular as the Malice at the Palace. Recently the Netflix documentary series presented the story based on the incident. The first episode of the series was premiered on Netflix on August 10, 2021.
Ron Artest Personal Life
Ron Artest is married to a lady named, Maya Sandiford. After getting married to his wife Maya, he changed his name to Metta Sandiford-Artest on May 4, 2020. Ron was previously married to Kimsha Hatfield. They were married in June 2003, and their relationship ended with divorce in 2009.
Ron shares three kids with ex-wife Kimsha named; Sadie, Diamond, and Ron III. He also has a son named Jeron from his ex-high school girlfriend, Jennifer Palma.
Ron Artest Net Worth
As of 2022, Ron Artest's personal wealth is estimated to be $35 million. He earned a total salary of $77 million in his NBA career. Besides his basketball career earnings, he is also running a company called The Artest Management Group, which helps athletes with tax preparation.
Ron Artest News
An error has occurred, which probably means the feed is down. Try again later.