LeSean McCoy Net Worth: How Rich is the NFL Player Actually?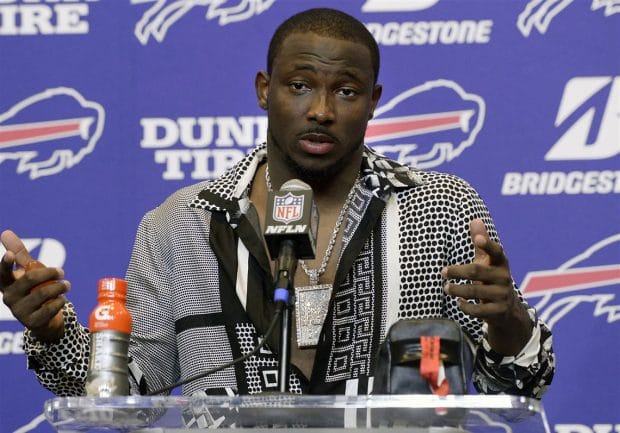 LeSean Kamel McCoy is a former American football player who is best known for playing in the NFL for the Philadelphia Eagles. In his career, he went on to play for other teams as well including Buffalo Bills and Tampa Bay Buccaneers. As of 2022, LeSean McCoy net worth is estimated to be around $20 million.
| | |
| --- | --- |
| Full Name | LeSean Kamel McCoy |
| Birth Date | July 12, 1988 |
| Birth Place | Harrisburg, Pennsylvania |
| Profession | Former Football Player |
| Relationship Status | Single |
| Net Worth | $20 million |
Early Life
McCoy went to Bishop McDevitt High School where he started to play football and was part of the school team as well. He played in several tournaments including state-level tournaments yet also faced injury issues that caused setbacks early on.
McCoy had initially decided to go to Miami for college but later on, he committed to play for the University of Pittsburgh in 2007. During his time there, he managed to have great performances and was even among the top 11 prospects for the NFL from high school.
Yet, after enjoying two great seasons there, he faced a serious injury. During this time, he got to reflect on what would be best for him and it was here that he decided to forego the last two years of his college to be part of the NFL Draft.
LeSean McCoy Net Worth and Career
View this post on Instagram
In the 2009 NFL draft, he was chosen in the second round by the Philadelphia Eagles and signed a four-year deal with them. He got his start after one of the regular members of the team had an ankle injury. McCoy made the most of this opportunity and showcased immediately the potential that he carried.
That year in his debut season, he was able to break the Eagles record for the most rookie rushing record having managed 606 yards on the year beating the previous record of 586 yards. McCoy gradually built his spot in the main team over the years and continued to contribute to the Eagles and their performance until 2014.
Among the different accolades that he accumulated till then included being part of the Pro Bowl Selection three times as well as part of the first-team All-Pro two times. Furthermore, McCoy managed to be among the top 100 players regularly from 2012 to 2015.
McCoy was a valuable asset to the team wherever he went having also been a two-time winner of the FedEx Ground Player of the Year. Among the traits in his game that made him stand out among others included being able to change directions rapidly.
Personal Life
McCoy was previously in a relationship with Delicia Cordon with whom he has been in different controversies too. Among them was the charge that he got for assault and robbery against Cordon with the case being that McCoy wanted back the jewelry they had.
Delicia was allegedly assaulted and robbed with jewelry worth around $133,000 going missing. McCoy is currently single and has a child named LeSean Jr. from his previous relationship.
LeSean McCoy Net Worth
As of 2022, LeSean McCoy has an estimated net worth of $20 million. During his career, McCoy has signed multiple multi-million dollar contracts with different teams. After initially signing a $3.47 million deal for four years after being drafted to the NFL, he had extended his contract which led to a $45 million deal.
Later on, McCoy became part of the Buffalo Bills where he signed a five-year deal for $40 million. These big contracts have helped McCoy to have a huge net worth after his career ended.
LeSean McCoy News
LeSean McCoy Could Replace Shannon Sharpe As Skip Bayless' Partner  Front Office Sports