Robbi Jade Lew Net Worth: How Rich is the Poker Player Actually?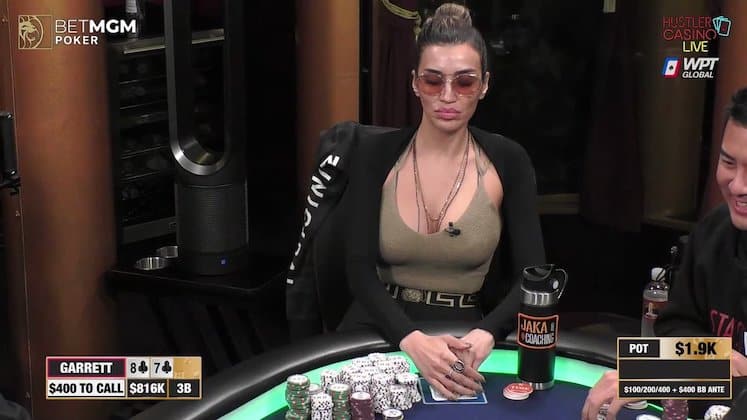 Robbi Jade Lew is an American poker newcomer. She won an all-in-hand pot against Garrett Adelstein on the Hustler Casino Live stream on Thursday night. Robbie was then subsequently accused by Adelstein of cheating in the game. As of 2022, Robbi Jade Lew net worth is roughly $1 million.
| | |
| --- | --- |
| Full Name | Robbi Jade Lew |
| Birthday/Age | 1987/35 years |
| Birthplace | United States |
| Profession | Poker Player |
| Relationship Status | Unknown |
| Net Worth | $1 million |
Early Life
Robbi Jade Lew was born in 1987 in the United States of America. Not much detail is available regarding her parents, upbringing, and academic details. She has appeared twice in the Hustler Casino Live tournament.
Robbi Jade Lew Net Worth & Career
View this post on Instagram
Robbi played with a professional poker player, Garrett Adelstein at the 24-hour Hustler Casino in California. In the Livestream game, Robbi stunned Adelstein into silence when she suddenly made a call to go all-in even though she had a relatively poor hand. Lew was forced to go all in with her $130,000 hand by Adelstein. After she revealed her cards, Adelstein was shocked to see her having a Jack high. She eventually won the game and took the entire $269,000 pot.
Lew started playing poker more seriously after the COVID-19 pandemic. Previously, she served in a senior position for the pharmaceutical company, Bayer. On the other hand, Garrett Adelstein has been playing poker professionally for over 10 years. Adelstein is best recognized for his aggression and large wagers. He is known to be best on live-no-limit hold'em cash games.
Cheating Accusation
Robbie clearly outshined Adelstein during the casino's Livestream game on Thursday night. She had Jack-four offsuit, while Adelstein had the 7 and 8 of clubs. Adelstein had an open-ended straight flush draw when the flop came out 10 of hearts, 10 of clubs, and 9 of clubs. At that time, Lew had nothing, and Adelstein had a nearly 70 percent chance to win the hand. Adelstein would have easily won the game with any club, jack of six.
All of the sudden, Robbie called Adelstein's $2,500 bet. During that time, things turned as the fourth street brought the 3 hearts which helped neither of them. Then, Adelstein put an initial bet of $10,000 and raise to double from Lew. Thereafter, Garrett went all-in for $129,000. Even at that moment, he had a 53 percent chance to win the game. On the other hand, Lew was holding nothing besides a jack-high and suddenly she called the bet.
In the end, Robbi won the hand with jack high, four kickers. After the event, Adelstein accused Lew of cheating. During the Livestream, Garrett was seen giving Lew a death glare, where she responded with a laugh and said you look like you want to kill me. Adelstein was previously seen congratulating an opponent for a hero call. But, in Lew's case, he gave a death glare. The announcer on the stream said that was literally the most disturbing look that he's ever seen Garrett give.
Lew explained that she thought Adelstein had ace-high which would be better than hers. After winning the game, Lew said that she thought Adelstein was betting so high even though he didn't have s–t. Lew and Adelstein also had a private conversation, after which, she gave all hands back to him. While asking why she did that, Lew told she had asked Adelstein what would make him happy. In a reply, he said by giving him his money back. Lew further revealed that she will win the money back and that she was not going to deal with drama.
Personal Life
Robbi Jade Lew's love affair and relationship status have not been made public yet. She has mainly been in the limelight due to her controversial game with Garrett Adelstein. After the game, she was further accused by Adelstein of cheating by using some type of vibrating device that would tell you when you get the best hand. Lew shared a tweet and revealed that Adelstein has blocked her and confirmed him guilty of his accusation.
Robbi mentioned in her tweet that Adelstein has cornered and threatened her. She also spoke on the matter where he gave her a death stare ON camera and where she was forced to speak to him in a dark hallway after she was pulled out of the game.
Robbi Jade Lew Net Worth
Robbi Jade Lew's personal wealth is estimated to be around $1 million as of 2022. She has reportedly collected just more than $100k in winnings in her two appearances at Hustler Casino games. After the controversial Livestream game against Garrett Adelstein, the Hustler Casino said that neither player will be invited to play the game until the incident would be completely investigated.