Ramesh Balwani Net Worth: How Rich is Ramesh "Sunny" Balwani?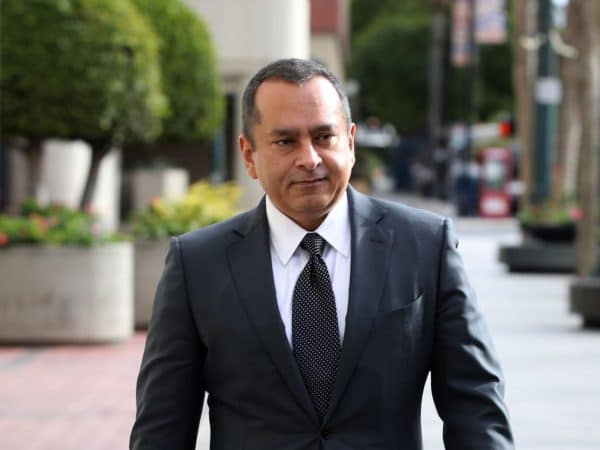 Ramesh Balwani is an American businessman. He is best known for serving as the president and COO of a privately held health technology company, Theranos. The company was founded by his former girlfriend, Elizabeth Holmes. As of 2022, Ramesh Balwani net worth is estimated to be roughly $40 million.
Ramesh Balwani has recently been accused of defrauding investors, doctors, and patients along with Elizabeth Holmes. Balwani's trial was pushed to January 11, 2022, due to COVID-19 concerns. While, Holmes went for fraud trial on August 31, 2021.
| | |
| --- | --- |
| Full Name | Ramesh Sunny Balwani |
| Birth Date | June 13, 1965 |
| Birth Place | Pakistan |
| Profession | Businessman |
| Ex-girlfriend | Elizabeth Holmes |
| Net Worth | $40 million (estimated) |
Early life
Ramesh Balwani was born on the 13th of June, 1965 in Pakistan. She was born to a Sindhi Hindu family. Balwani's family first moved to India, and then immigrated to the United States. For her undergraduate study, she joined the University of Texas. Ramesh earned an undergraduate degree from the University with majoring in Information Systems.
Ramesh has initially served Lotus Software and Microsoft. He also helped to create a software development company, CommerceBid, which helped businesses to purchase and sell items on the internet. Later, the company was purchased by another software development company, Commerce One in 1999.
Balwani sold his shares of Commerce One in July 2000, which earned him nearly $40 million. However, the company didn't do well in the business after some time. Then, he went back to school to earn a Master's degree from the University of California. He came out holding an MBA degree from the University in 2003.
Ramesh Balwani Net Worth & Career
In 2009, he joined the company, Theranos. He was responsible for day-to-day operations in the company. Though, he lacked training in the biological sciences and medical devices, which created an issue during the absence of medical experts. He once misheard the word, end effector as endofactor. He even used the word as a prank while giving a presentation in PowerPoint.
In October 2015, the company's Edison blood-testing device produced inaccurate medical results and diagnoses. The report on the device's inaccuracy was made by The Wall Street Journal. In March 2016, the Federal Centers for Medicare and Medicaid Services (CMS) prepared a report where it showed the widely varying results from the Edison machines.
The company, Theranos declared all test results void generated from Edison machines in April 2016. Theranos received a warning letter from the CMS in January 2016, after conducting an inspection in its California-based laboratory. CMS further proceeded with a two-year ban on Balwani from operating or owning a blood lab.
Balwani and the owner of Theranos, Elizabeth Holmes was charged with securities fraud by the SEC in March 2018. They were supposed to be raising over $700 million from investors through a years-long fraud by presenting false statements about the company's business, technology, and financial performance. Holmes at first came out of all the court cases, but, Balwani remained in litigation.
Holmes and Balwani were indicted on nine counts of wire fraud by the federal grand jury on June 15, 2018. They were further indicted on two counts of conspiracy on committing wire fraud. The U. S. District Court Judge made an order to stand trial for both which was supposed to start in July 2020. Balwani's trial was ordered to conduct separately from Holmes.
Holmes has recently begun her trial on August 31, 2021. If Holmes is convicted, she would be facing up to 20 years in prison and she would be paying $2.75 million in fines and restitution. Balwani's trial is set to begin in January 2022 after the conclusion of Holmes' trial.
Ramesh Balwani Personal Life
Ramesh Balwani was married to Japanese artist, Keiko Fujimoto. The pair were living together in San Francisco before they separated with divorce in December 2002. Balwani also had a love affair with Elizabeth Holmes while they were working together at Theranos.
Holmes and Balwani met first time in 2002. Balwani, who is 19 years older than Holmes was married to his wife Keiko at that time. Though they were romantically involved, they didn't disclose their relationship to anyone.
Ramesh Balwani Net Worth
As of 2022, Ramesh Balwani's personal wealth is estimated to be $40 million. Balwani would lose some amount of his wealth if he gets convicted in his upcoming trial in January 2022.
Ramesh Balwani News
Elizabeth Holmes—Theranos Fraudster And Ex-Billionaire—Gets Two Years Cut From Off Prison Sentence  ForbesTheranos Fraudster Elizabeth Holmes' Jail Sentence Reduced by 2 Years  The Daily BeastView Full Coverage on Google News

What to Know About Sunny Balwani  The Cut

Rich and famous got burned by investing in Elizabeth Holmes' Theranos  Business Insider