PJ Washington Net Worth: How Rich is the NBA Player Actually?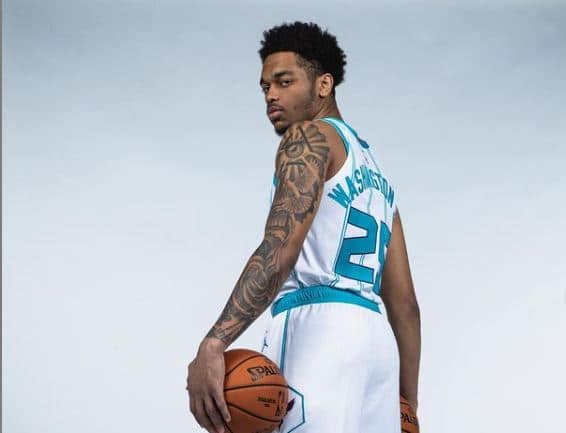 Paul Jamaine Washington Jr., better known as PJ Washington is a 23 years old American professional basketball player. He is best known for playing in the National Basketball Association (NBA) for the Charlotte Hornets. Washington was picked up by the Hornets in the 2019 NBA draft. As of 2022, PJ Washington net worth is estimated to be around $5 million.
Washington recently shut down the rumor of paying $200K as a child support payment to his ex-girlfriend, Brittany Renner. He addressed the ongoing rumor through a tweet on August 11, 2021, where he tweeted "Stop the cap", which means Quit Lying.
| | |
| --- | --- |
| Full Name | Paul Jamaine Washington Jr. |
| Birth Date | August 23, 1998 |
| Birth Place | Louisville, Kentucky, U. S. |
| Profession | Basketball Player |
| Ex-Girlfriend | Brittany Renner |
| Net Worth | $5 million |
Early life and College Career
PJ Washington was born on the 23rd of August, 1998 in Louisville, Kentucky, United States. He was born to his parents, Paul Washington Sr., and Sherry. Washington grew up with his two siblings; brother, Spencer, and a sister, Alexandria. His parents were basketball players who used to play at Middle Tennessee State. He used to wear the same number jersey 25 that his father used to wear while he played basketball in college.
Washington was an impressive player since his high school and college days. He was listed as one of the best basketball players for the 2017 recruiting classes. Washington joined the University of Kentucky and made a commitment to play for the University's team Kentucky Wildcats on November 10, 2016. Ten days later on November 20, he signed a letter of intent with Wildcats.
Washington showed his brilliant game in the freshman season at Kentucky. Though, he was suffering from a pinkie injury that needs to get surgery in the summer. With Kentucky Wildcats, he played in the NCAA Tournament. However, his team went on to lose the tournament title to Kansas State. In the tournament, he led his team with 18 points and 15 rebounds. As a freshman, he played with an average point of 10.8 and rebounds of 5.7 in each game.
Washington made an announcement of his intention of forgoing his final 2 seasons with the Kentucky Wildcats and declared for the 2019 NBA Draft. He was selected by the Charlotte Hornets as the 12th overall pick in the 2019 NBA draft. Washington officially signed a contract with Hornets on July 3, 2019.
PJ Washington Net Worth & Professional Career
View this post on Instagram
He made his debut in NBA along with Charlotte Hornets on October 23, 2019. In the first game, he helped the Hornets to get a close victory over the Chicago Bulls with a score of 126-125. He made 27 points and 4 rebounds in the game. Washington also made a record of 7 three-pointers in the game, which was the most in NBA history made by a player in an NBA debut.
Washington showed another impressive performance in a game against the Sacramento Kings on October 31, 2019. In the game, he scored 23 points and 8 rebounds which made his team get the victory with a score of 118-111. He continued his good form and scored 26 points and 5 rebounds against the Detroit Pistons on November 29, 2019.
On September 15, 2020, NBA named Washington in the 2019-20 NBA All-Rookie Second Team. In February 2021, he entered the basketball court against the Sacramento Kings again, and in the game, he put up a career-high 42 points. His tremendous form in the game helped his team to get an easy win over the Sacramento Kings.
PJ Washington Personal Life
PJ Washington was dating a model, Brittany Renner. He started dating Renner while he was playing for Kentucky Wildcats. Renner attended his game at Kentucky in 2019. They officially confirmed their relationship in 2020. The pair became parents of a baby boy in May 2021. However, after the birth of a child, they started having problems with each other after which they eventually broke up.
Recently, Washington has been in the news for the rumor that he is going to pay $200K a month as a child support payment to her ex-girlfriend, Renner. As per the report, Renner filed for divorce with him two weeks after she gave birth to his child.
Rumors claimed that Washington is forced to pay $200k every month in child support for the next 18 years. However, Washington recently shut down the rumor with a tweet where he said "stop the cap". Though, his ex-partner, Brittany has not given any official statement on this matter yet.
PJ Washington Net Worth
As of 2022, PJ Washington's personal wealth is estimated to be around $5 million. As per the reports, Washington has raked in $7.8 million so far from his professional basketball career, and he would be making around $14 million over the next two seasons.
PJ Washington News
PJ Washington intent on duplicating impressive outing: 'It just motivates me even more'  Charlotte Observer

P.J. Washington staying with Hornets on new 3-year, $48M deal  ESPN

How P.J. Washington's situation with Charlotte reflects the franchise's unsettled standing  Yahoo Sports