Phil Murphy Net Worth: How Rich is the New Jersey Governor Actually?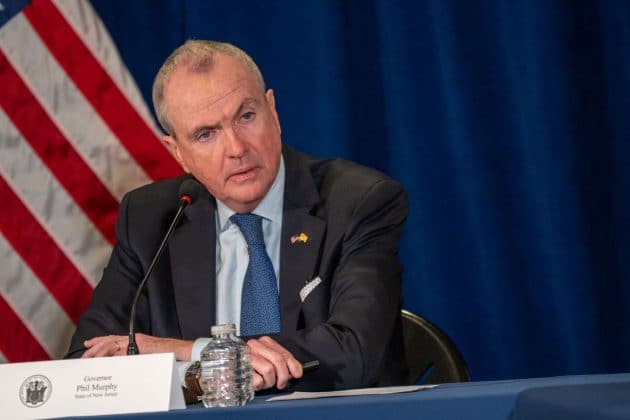 Philip Dunton Murphy is an American politician, diplomat, and former financier. He is currently serving as the 56th Governor of New Jersey since 2018. As of 2022, Phil Murphy net worth is estimated to be around $80 million.
He has previously served as the U.S. Ambassador to Germany from 2009 to 2013 during the time that Barack Obama was President. Before being involved in politics and diplomacy, Murphy had a very successful career at Goldman Sachs where he was part of the top management and worked for a total of 23 years.
| | |
| --- | --- |
| Full Name | Philip Dunton Murphy |
| Birth Date | August 16, 1957 |
| Birth Place | Needham, Massachusetts |
| Profession | Politician, Diplomat, and Former Financier |
| Relationship Status | Married |
| Net Worth | $80 million |
Early Life
Murphy grew up in a lower-middle-class family with his mother being a secretary while his father being a high school dropout who worked any job possible to provide for the family.
As a kid, Murphy saw his parents supporting John F. Kennedy. He loved playing soccer as a kid and graduated from Needham High School. He later attended the prestigious Harvard University where he graduated with a degree in economics. Later on, Murphy got his MBA from the Wharton School in 1983.
Phil Murphy Net Worth and Career
Murphy's career would begin after he joined a summer internship with Goldman Sachs in 1982. The very next year he would be hired by them and started to showcase his ability inside the organization. Murphy's main strength was his ability to get deals done because of which over the years, he started to climb the corporate ladder effectively.
In 1993, Murphy would be leading the Frankfurt office of the firm with him looking at the markets in Germany, Switzerland, and Austria. He then started working in the position of President in their Asia division in Hong Kong. By 1999, Murphy had become a key part of the management committee.
He then became co-head of the Investment Management Division where they oversaw a massive asset value worth $373 billion. In 2003, he became a senior director at the firm, and in 2006, he decided to retire from Goldman Sachs in pursuit of other goals.
Murphy became the National Finance Chair of the Democratic National Committee till 2009. He was successfully able to raise more than $300 million during his time there. He later served as the United States Ambassador to Germany under President Barack Obama from 2009 to 2013.
After being involved in the political scenario of New Jersey for several years, Murphy would become the Governor of New Jersey after being sworn into office on January 16, 2018.
Murphy has received several accolades during a successful career that has spanned financial services, diplomacy, and politics. He is the recipient of two honorary degrees which he received from Hamilton College and Rutgers University.
Personal Life
Murphy is married to Tammy Snyder who also worked at Goldman Sachs. Though they worked for the same employer for seven years, it was only later that the two would become romantic and decided to get married in 1994. Together, the couple has four children.
Phil Murphy Net Worth
As of 2022, Phil Murphy has an estimated net worth of $80 million. It was reported that when Goldman Sachs issued their IPO, Murphy's net worth had climbed up to $50 million.
He has large real estate properties because of which in his filings, he paid $200,000 in annual property taxes alone. When he released the tax returns of his previous five years in 2016, it was seen that Murphy earned $6 million in 2014 alone and during the five years made donations worth $980,000 every year.
Phil Murphy News
Ex-Murphy counsel drops bid for judgeship  New Jersey Globe | New Jersey Politics

Office of the Governor | Governor Murphy Directs the Lowering of U.S. and New Jersey Flags in Honor of Former Congressman Herb Klein  NJ.govView Full Coverage on Google News

Gov. Phil Murphy sends back NJ liquor license reform bill with conditional veto  NorthJersey.comN.J. booze laws could change soon, but Murphy's big reform plan is in trouble  NJ.comBill lifting New Jersey brewery […]