Paul Van Doren Net Worth: How Rich was the Vans Shoes Co-Founder?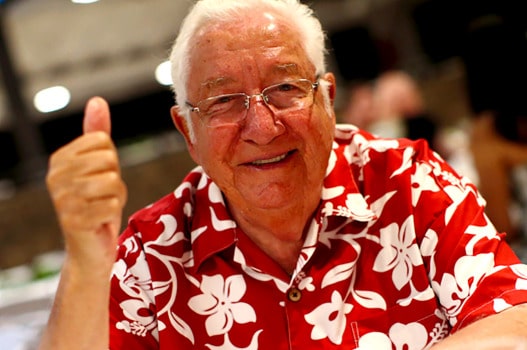 Paul Van Doren was an American entrepreneur and businessman. He is best known as one of the founders of the iconic shoe brand Vans. Paul Van Doren net worth is currently unavailable and is currently under review.
| | |
| --- | --- |
| Full Name | Paul Van Doren |
| Date of Birth | June 12, 1930 |
| Born Place | Boston, Massachusetts, United States |
| Wife | Married (name- not available) |
| Profession | Businessman |
| Net Worth | Under Review |
Early Life
Paul Van Doren was born on June 12, 1930, in Boston, Massachusetts to parents Johnson and Rena Van Doren. Paul's father was an inventor while his mother was a seamstress. He also had a brother named James Van Doren who was one of the co-founders of the Vans company. He ran the company from 1976 to 1984. He died at the age of 72.
At the age of 14, Paul dropped out of school when he was in 8th grade. From an early age, he was interested in horses and went to race tracks every day.
Paul Van Doren Net Worth and Career
Paul, his brother James, and their two friends launched the brand renowned in skateboarding. It took almost a year to build up the factory at 704 East Broadway in Anaheim. The first Vans store was opened in 1966. On the first day, 12 customers purchased the famous shoes.
By the end of the 1970s, Vans had about 70 stores in California. Their shoes become part of the casual dress code for skateboarders, surfers, and snowboarders. Ten years later, their retail stores expanded producing shoes for basketball and breakdancing.
Paul ran the company until 1976 when his brother James took over. In 1988, Paul and Gordon C. Lee sold the Vans company to the banking firm McCown De Leeuw & Co. for around $75 million USD. In 1991, the company renamed to Vans, Inc. and went public at $14 USD per share on NASDAQ.
As of now, the company is owned by VF, which also has skateboarding brand Supreme and The North Face. Today, there are more than 300 Vans stores worldwide and are sold in 97 countries.
Just two weeks ago, Van Doren released his autobiography on Amazon, "Authentic: A Memoir by the Founder of Vans". The biography details his life, the growth of the company, and also how the company managed to stand out despite competition at that time.
Paul Van Doren Personal Life
It's with a heavy heart that Vans announces the passing of our co-founder, Paul Van Doren. Paul was not just an entrepreneur; he was an innovator. We send our love and strength to the Van Doren family and the countless Vans Family members who have brought Paul's legacy to life. pic.twitter.com/5pDEo6RNhj

— Vans (@VANS_66) May 7, 2021
Paul was a married man and had five children: Paul Jr., Steve, Cheryl, Taffy, and Janie. Steve once became the vice president of events and promotions of Vans, while Cherly served as its vice president of human resources for some years.
On May 6, 2021, Van Doren died at the age of 90. His death of cause is still unknown.
Paul Van Doren Net Worth
Paul Van Doren's personal wealth is not available at the moment and is under review. However, we estimate it to be in the range of $50 to $100 million.
Paul Van Doren News
Vans Van Doren Thrift Shop collection: Where to get, release date, and more details explored  Sportskeeda