Olivia Jade Giannulli Net Worth: How Rich is the YouTuber Actually?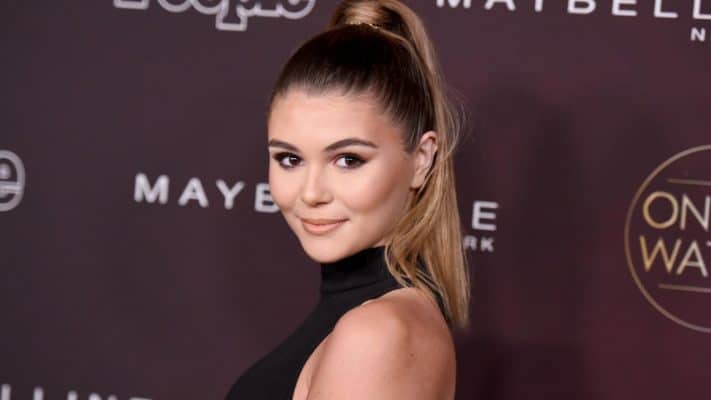 Olivia Jade Giannulli is an American YouTuber star, who is better known as the daughter of former Full House actress, Lori Loughlin, and fashion designer, Mossimo Giannulli. As of 2022, Olivia Jade Giannulli net worth is estimated to be roughly $1.5 million.
Olivia was a part of the 2019 college admissions bribery scandal, where her parents were arrested for paying a $500,000 bribe to get her into the University of Southern California.
| | |
| --- | --- |
| Full Name | Olivia Giannulli |
| Birth Date | September 28, 1999 |
| Birth Place | Los Angeles, California, U. S. |
| Profession | YouTube star |
| Ex-boyfriend | Jackson Guthy |
| Net Worth | $1.5 million |
Early life
Olivia Jade Giannulli was born on the 28th of September, 1999 in Los Angeles, California, United States. She was born to her parents Mossimo Giannulli and Lori Loughlin. Olivia has an elder sister named Isabella. She also has a half-brother named Gianni from her father's previous marriage.
Regarding her education detail, she has studied at the John Tomas Dye School from Kindergarten to sixth grade. Then she was transferred to Marlborough School, where she studied to 9th Grade. Olivia completed her high school graduation from Marymount High School in 2018.
Olivia Jade Giannulli Net Worth, College Scandal & Career
View this post on Instagram
Giannulli later joined the University of Southern California along with her sister, Isabella. However, after the 2019 college admissions bribery scandal came out, it is reported that both sisters have left the school due to fear of being viciously bullied. Though, a University spokesperson confirmed that she is still studying at the School.
Later, the University Registrar confirmed in October 2019 that Olivia and Isabella were no longer studying at the University. However, they didn't confirm either they have been expelled or left the University with their choice due to the student privacy laws.
As per reports, Giannulli posted a picture as a part of her application to the USC where she revealed herself to be a competitive rower. Though, she had no interest in rowing. Later, it was revealed that her parents have paid $500,000 bribes to the University's coach to designate Olivia and her sister, Isabela, as athletic prospects for the University's team.
Olivia was not even sure how to fill up the application, so her parents took the help of an employee who filled it on her behalf. Olivia was consistently making videos on her YouTube channel about how to apply to University before her parents were arrested by the federal agents. Though, it came into news that Olivia was aware of the fact that how she got admission to the University.
Later on, after the scandal broke out in media, Olivia was featured in Netflix's movie titled "Operation Varsity Blues". The media later flashed out that she was on the billionaire businessman, Rick Caruso's $100 million yachts at the time where her parents were arrested.
The Netflix documentary series also recreated the conversations between Rick and many people with whom he worked including Olivia's parents, Lori and Mossimo.
Giannulli is a famous social media star, who started making YouTube videos while she was studying in high school. She then became popular on Instagram. Both her YouTube and Instagram have more than a million subscribers and followers. In December 2019, Olivia made a video on YouTube breaking the silence of the scandal. She uploaded the video with the title "Hi Again".
Olivia has been named as one of the contestants on ABC's dance reality show "Dancing with the Stars". After her name was revealed as one of the members of the show by Good Morning America, the reality show started receiving criticism for casting Olivia in its new season. The reality show will premier on ABC on September 20, 2021.
Personal Life
Olivia Jade Giannulli is presently single. She confirmed her relationship status during a Story Q&A on August 12, when one of her followers asked her "R u Single?". In a reply, she said, "I am true." She was previously dating a singer/songwriter, Jackson Guthy. Olivia confirmed in August 2021, she has broken up with Jackson after getting back together after 2 years.
Olivia Jade Giannulli Net Worth
As of 2022, Olivia Jade Giannulli's personal wealth is estimated to be around $1.5 million. She made a whopping amount from the commercial endorsements and advertisements for the big multinational companies such as Amazon, and Sephora. However, after the scandal, Sephora announced that they are ending their partnership with Giannulli.
Olivia Jade Giannulli News
Jacob Elordi & Girlfriend Olivia Jade Check Out of Hotel in NYC | jacob elordi olivia jade check out of nyc 01 – Photos  Just Jared

Jacob Elordi & Girlfriend Olivia Jade Check Out of Hotel in NYC | jacob elordi olivia jade check out of nyc 02 – Photos  Just Jared

Jacob Elordi & Girlfriend Olivia Jade Check Out of Hotel in NYC | jacob elordi olivia jade check out of nyc 05 – Photos  Just Jared