Dixie D'Amelio Net Worth: How Rich is TikTok Star in 2022 Actually?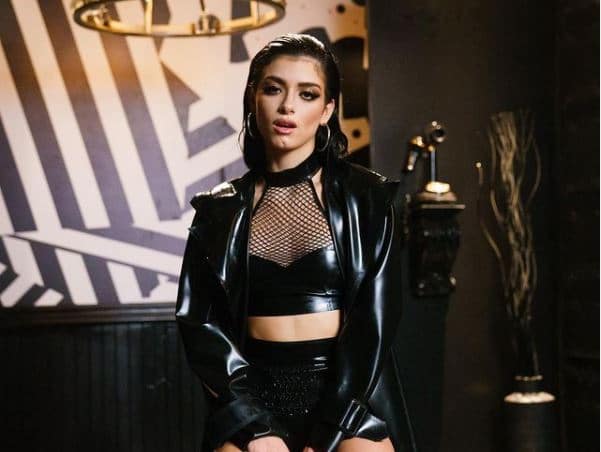 Dixie D'Amelio is an American TikTok star, and singer. She is best known for making dance videos on TikTok. Dixie currently has 54.8 million followers on her official TikTok account. D'Amelio released her first song "Be Happy" in June 2020. As of 2022, Dixie D'Amelio net worth is estimated to be roughly $5 million.
Dixie D'Amelio and her younger sister, Charli D'Amelio have recently been featured in the new Hulu reality series "The D'Amelio Show". The reality series premiered on Hulu on September 3, 2021.
| | |
| --- | --- |
| Full Name | Dixie Jane D'Amelio |
| Birth Date | August 12, 2001 |
| Birth Place | Norwalk, Connecticut, U. S. |
| Profession | TikTok star |
| Ex-Boyfriends | Griffin Johnson, Noah Beck |
| Net Worth | $5 million |
Early life
Dixie D'Amelio was born on the 12th of August, 2001 in Norwalk, Connecticut, United States. She was born to her parents, Mac, and Heidi D'Amelio. Her dad, Marc D'Amelio is a former Republican Connecticut senate candidate, and her mom, Heidi is a former model and photographer. She has a younger sister named, Charli D'Amelio, who is a famous TikTok star.
Dixie D'Amelio Net Worth & Career
View this post on Instagram
Dixie started making videos in TikTok after her younger sister, Charli became popular on a social media app. Looking at her sister's success, she also started making videos on TikTok. As she continued to make videos, she started getting fame and her followers increased in substantial numbers. Dixie later signed a deal with United Talent Agency in January 2020.
She starred as an actress on the Brat TV series "Attaway General". It was her debut as an actress in the series. D'Amelio has also been quite impressive as a singer. She released her first song titled "Be Happy" on June 26, 2020. Within a year, the song has gathered over 86.1 million streams on Spotify.
D'Amelio signed a recording deal with record label HitCo Entertainment on August 7, 2020. She dropped her second song titled "One Whole Day" featuring the famous rapper, Wiz Khalifa in December 2020. She started working on her fourth song titled "Psycho" in July 2021, and the song was released on July 23, 2021.
Dixie also has a self-titled YouTube channel, which she created on February 6, 2014. She uploaded her first video titled "My First Twitter Q&A" on April 10, 2020. To date, the video has garnered over 3.2 million views. She has also uploaded the official video of her first song "Be Happy" on her channel. As of now, the video has gathered over 109 million views.
Dixie has most recently made videos on her new song "Psycho". She made a video on the title "Dixie's Tips on Not Being a Psycho" on August 16, 2021. She has supposed to have made a video to promote her new song on the platform. On August 22, 2021, she uploaded a live performance video on Psycho on her YouTube channel.
D'Amelio has most recently featured on Hulu's reality series "The D'Amelio Show". The reality series deals with the D'Amelio sister's family lives, and careers in Los Angeles. In the premiere episode of the series, Dixie revealed the pressure she has faced since she entered the social media spotlight.
Dixie D'Amelio Personal Life
Dixie D'Amelio's present relationship status is believed to be single. She has previously dated a fellow TikTok star, Griffin Johnson. On July 2, 2020, Griffin revealed that he had asked Dixie to be his girlfriend. However, just after a month, Dixie revealed in a video that she had a final date with Griffin. She has described her relationship with Johnson as dumb and immature.
Dixie started dating well-known social media personality, Noah Beck in October 2020. She has mentioned Noah as the best guy for her through a tweet on Twitter. Dixie even revealed that she wished to get marry him in the future. Though the pair have reportedly broken up, and they are currently busy in their own lives.
Dixie D'Amelio Net Worth
As of 2022, Dixie D'Amelio's personal wealth is estimated to be around $5 million. According to a Forbes report published in August 2020, Dixie earned around $2.9 million in the previous year from her many sponsorship deals and merchandise. With the huge money in her pocket, she became the third highest-earning TikTok star.
Dixie D'Amelio News
Dixie D'Amelio Talks Working on New Music, Filming 'The D'Amelio Show' & More | Jingle Ball 2023  Billboard

Dixie D'Amelio & Trevor Zegras split amid cheating rumors  Dexerto

Olivia Rodrigo and Paris Hilton rock silver ensembles while Dixie D'Amelio stuns in pink mini dress as they le  Daily Mail