NORE Net Worth: How Rich is the Rapper Actually in 2022?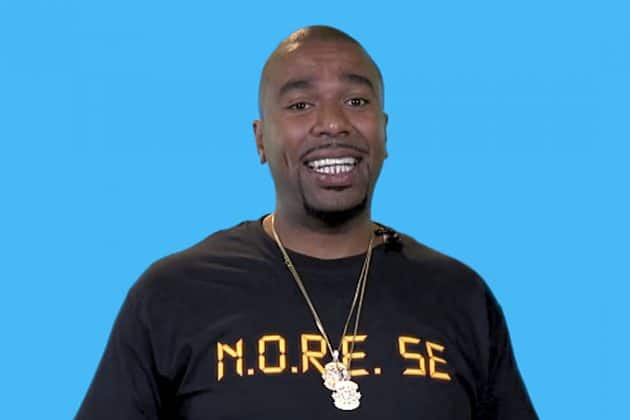 Victor Santiago, Jr., better known as N.O.R.E. or Noreaga is a 44 years old American rapper. He is best recognized as a one-half member of the popular East Coast hip hop duo "Capone-N-Noreaga (C-N-N)". As a solo artist, he is best known for his songs "Superthug", "Nothin", Banned from T. V.", and "Oye Mi Canto". As of 2022, NORE net worth is estimated to be around $3 million.
| | |
| --- | --- |
| Full Name | Victor Santiago, Jr. |
| Birth Date | September 6, 1977 |
| Birth Place | New York City, U. S. |
| Profession | Rapper |
| Wife | Neri Santiago |
| Net Worth | $3 million |
Early life
N.O.R.E. was born Victor Santiago, Jr. on the 6th of September, 1977 in New York City, United States. He has not shared enough detail on his early life, parents, and educational background. Though it seems that he was interested in singing since his early days.
N.O.R.E.'s career graph took off in 1995 when he became a part of the rap duo Capone-N-Noreaga (C-N-N). At that time, he performed under the pseudonym, Noreaga along with Queens-based rapper, Capone. In 1996, the duo signed Penalty Recordings. They released their first studio album "The War Report" in 1997, which was a commercial and critical success. The album received wide appreciation for using the traditional grimey boom-bap.
NORE Net Worth & Career
View this post on Instagram
N.O.R.E. started off his solo career after his companion and fellow artist, Capone was sentenced to jail. In 1998, he came up with his solo debut album titled "N.O.R.E.". He used the name as a short form of Niggaz on (the) Run Eatin. His debut album became a huge success. It even peaked at #3 on the Billboard 200 and was certified platinum by RIAA.
Following the huge success of a solo debut album, he released his second solo album titled "Melvin Flynt-Da Hustler" in 1999. His second album was a moderate success which peaked at the top 10 of the Billboard 200. The album was certified gold by the RIAA. In 1999, the famous duo got back together after Capone was freed from prison in the year 1999.
They started working on their new songs, and came up with their second C-N-N album in 2000, which was titled "The Reunion". However, the album failed to create the same magic as their first album. N.O.R.E. then continued to focus on his solo career and officially adopted a stage name to N.O.R.E. In 2002, he dropped his third solo studio album titled "God's Favorite". The album includes the hit song titled "Nothin", which was his highest-charting hit in his career.
After the release of his third album, he changed his musical focus to reggaeton music. In 2006, he dropped a reggaeton/hip hop album titled "N.O.R.E. y la Familia… Ya Tu Sabe". In 2007, he dropped his fifth album titled "Noreality". On September 15, 2009, he came with his new album titled "S.O.R.E.". However, after the release of the album, he denounced it calling as an album. He even asked his fans not to buy it.
In the year 2009, he collaborated with his old music partner, Capone, and went on to release their third C-N-N album titled "Channel 10". Soon after a year, the duo released their fourth C-N-N album "The War Report 2". In 2013, he stated that he would be changing his moniker to P.A.P.I (Power Always Proves Intelligence). However, he didn't receive a positive reaction from his fans about his new moniker.
On April 16, 2013, N.O.R.E. dropped his sixth studio album "Student of the Game". Shortly after few months of the release of the album, on 27th September 2013, he told MTV that he would be releasing his final album titled "Melvin Flynt II: Da Final Hustle". While talking to MTV, he also mentioned that he would be stopping his tour and working on his next solo albums to focus on becoming a CEO and music executive.
Personal Life
N.O.R.E. is married to a lady named, Neri Santiago. He and his wife, Neri, both appeared as new cast members on VH1's show Love and Hip Hop Miami returns on August 23. The pair exchanged their wedding vows on September 4, 2019. Together, they share a son named Noah. His son, Noah is reported to be 11 years old, and he is determined to pursue a career as an actor, model, and basketball player.
NORE Net Worth
As of 2022, N.O.R.E.'s personal wealth is estimated to be around $3 million. He has gathered a huge amount from his music album sales and tour events.
NORE News
Dame Dash Calls Out N.O.R.E. Over Lyor Cohen Interview Remarks: 'Just Defend Me a Little'  Complex

N.O.R.E. Admits Disappointment Over JAY-Z's Gayle King Interview  HipHopDX

Kodak Black Says He Could Be Kanye West's Mentor In New Interview  HipHopDX