Nelk Boys Net Worth: How Rich are the NELK Members Actually?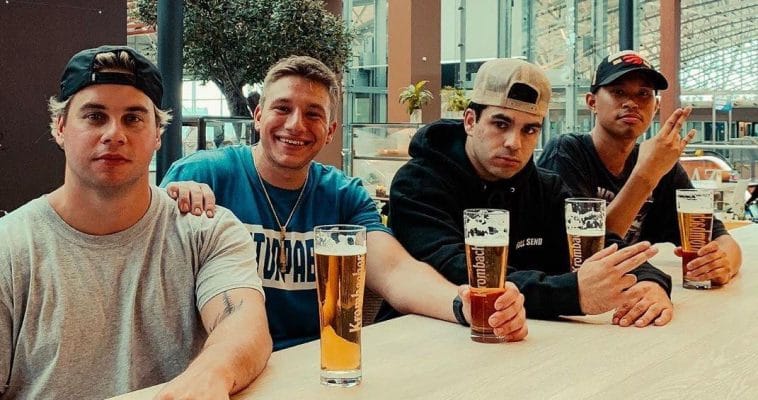 Nelk Boys is a popular YouTube channel, and entertainment company which was founded in Canada in 2010. Nelk Boys are best known for their prank videos, and vlogs. As of 2022, Nelk Boys net worth (combined) is estimated to be around $5 million.
| | |
| --- | --- |
| Channel Name | Nelk Boys |
| Founded | 2010 |
| Location | Newport Beach, California |
| Occupation | Online Entertainment |
| Subscribers | 7.24 million (As of March 3, 2022) |
| Net Worth | $5 million |
Start of the Channel
Nelk Boys started their YouTube channel on July 6, 2010. The channel was created by Kyle Forgeard along with three members, Niko, Marko Martinovic, and Lucas Gasparini. After four years, he met Jesse Sebastiani, who was running his self-published documentary "Saved by the Status". Jesse became a member of the group, while the old squad members, Niko, and Marko left the group in 2015.
Nelk Boys Net Worth & Rise to Fame
View this post on Instagram
The group of pranksters posted their video in January 2015, with the title "Coke Prank on Cops". They fooled the cops in a video by telling them that they had coke in the back of their car. The officers assumed coke as cocaine, but in reality, they meant to say Coca-Cola. Nelk Boys later fall into a controversy after the Los Angeles Police Department warned them by releasing a statement where they informed the public that the prank was illegal. The video is the second most viewed video on their channel.
Forgeard added another member, Stephen Deleonardis to the team in May 2019. He found Stephen's drinking and smoking challenge video funny and entertaining, which made his entry into the group. In February 2020, two other members, Salim Sirur, and his cousin, Jay joined Nelk.
Nelk hosted a flash mob in September 2020, where nearly 200 people gathered around on campus at Illinois State University. The gathering of mass people was a violation of COVID-19 regulations. Due to that, their YouTube was demonetized by YouTube. Later, the group was caught at a New Jersey house where they had gathered nearly 1500 people. The police in Seaside Heights soon broke up a gathering, and Nelk boys were kicked out of the house by the landlord.
The group made an announcement in November 2020, that they had hired a John Shahidi as Full Send Entertainment and Nelk, Inc.'s President. Jesse Sebastiani had left the group in 2017, but he came back to the group in 2021. This time, he didn't appear in Nelk's main videos, but he was participating in pranks. In fact, he began a new mini-series "Shithole" on a separate YouTube channel, which would present his new lifestyle.
Nelk repeated their Coke Prank on Cops in Colombia on 1st February 2021. As a consequence of the prank, one of the members, Sirur was detained by the Medellin police for a short period. Likewise, an arrest warrant was filed against Kyle Forgeard on March 23, 2021, in Texas, due to which, the group was unable to upload their new video.
Nelk Boys Net Worth
As of 2022, Nelk Boys combined net worth is estimated to be around $5 million. The channel gets 800,000 views in a day, which generates an estimated annual revenue of around $2.2 million. Besides YouTube, Nelk has made its own brand of hard seltzer named Happy Dad, which was made available to the public on June 14, 2021.
Nelk Boys News
An error has occurred, which probably means the feed is down. Try again later.