Merrick Garland Net Worth: How Rich is the U.S Attorney General?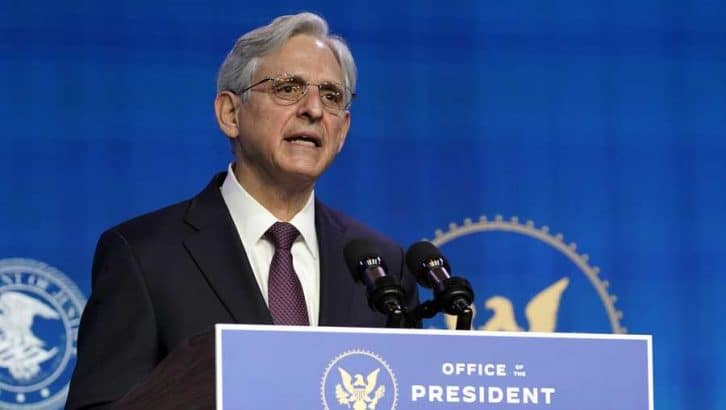 Merrick Garland is an American attorney, who is presently serving as 86th U. S. Attorney General. He was nominated by President Joe Biden, for the post of Attorney General in January 2021. On March 10, 2021, he was confirmed as a new U. S. attorney general by winning 70 to 30 votes in the Senate. As of 2022, Merrick Garland net worth falls between $6 million to $23 million.
Merrick Garland recently gave an order for an investigation into Minneapolis Police Department, after the former police officer, Derek Chauvin was found guilty of the murder of George Floyd.
| | |
| --- | --- |
| Full Name | Merrick Brian Garland |
| Birth Date | November 13, 1952 |
| Birth Place | Chicago, Illinois, United States |
| Profession | Attorney |
| Wife | Lynn Rosenman |
| Net Worth | $6 to $23 million |
Early life
Merrick Garland was born on November 13, 1952, in Chicago, Illinois, United States. He spends his childhood growing up in northern Chicago. His father Cyril Garland used to run a small business called Garland Advertising and his mother, Shirley used to work for Chicago's Council for Jewish Elderly as director of volunteer services.
Regarding his education, he studied at Niles West High School. He held his graduation degree in 1970 as a class valedictorian. Following that, he attended Harvard University taking social studies as a major subject. Earlier, he had a dream of becoming a physician, but later, he reached the decision of becoming a lawyer.
After graduating from Harvard in 1974, he joined Harvard Law School. While studying at law school, he worked as an article editor. In 1977, he held a Juris Doctor from Harvard Law School.
Merrick Garland Net Worth & Career
After completing his law graduation, he worked as a judicial law clerk for Judge Henry J. Friendly in 1977. He then worked for Justice William Brennan in 1978 at U. S. Supreme Court. In 1979, he started working as special assistant for Attorney General, Benjamin Civiletti for two years, ultimately leaving the post in 1981.
Garland started a private practice at a law firm, Arnold & Porter in 1981. While working for Arnold & Porter, he taught about antitrust law at Harvard Law School. In 1989, he served as an Assistant U. S. Attorney in the United States Attorney's Office for the District of Columbia. While working there, he represented the government in major criminal cases like drug trafficking and public corruption.
Merrick was confirmed to U. S. Court of Appeals for the District of Columbia on March 19, 1997, after then-president Bill Clinton nominated him for the position. He got the 76 to 23 vote from the Republican Senators, which made his seat confirmed for the U. S. Court of Appeals. On February 12, 2013, he held the new responsibility as D. C. Circuit's chief judge. He served as chief judge for seven-year. His tenure ended on February 11, 2020.
After the 2020 presidential election win, Joe Biden elected Garland as United States attorney general on January 20, 2021. He was confirmed by the Senate for the position with a vote of 70 to 30. On March 11, 2021, Garland was sworn by Assistant Attorney General for the Administration Lee Lofthus on March 11, 2021. Recently, he announced an investigation on Minneapolis Police Department after former office Dereck Chauvin was confirmed to be involved in the death of George Floyd.
Merrick Garland Personal Life
Merrick Garland is married to his wife Lynn since 1987. With her, he shares 2 daughters named Rebecca and Jessica. Both his daughter have graduated from Yale University.
Merrick Garland Net Worth
Merrick Garland is currently getting a salary of $221,400 for being a United States Attorney General. According to the financial disclosure form of 2016, his net worth is in the range of $6 to $23 million.
Merrick Garland News
Pence condemns DOJ, calls for Garland to explain Trump indictment  USA TODAY

For Merrick Garland, Trump's indictment case presents an extraordinary test  The Washington PostGregg Jarrett rips into AG Merrick Garland over Trump indictment: 'He doesn't care about the law'  Fox NewsGoldman: Ted Cruz […]

Merrick Garland doesn't care about the law: Gregg Jarrett  Fox Business