Mark Davis Net Worth: How Rich is the Owner of Las Vegas Raiders?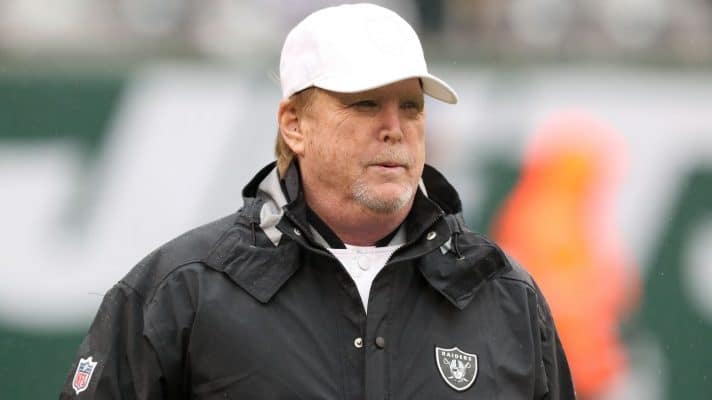 Mark M. Davis is an American businessman who is the owner of the Las Vegas Raiders which is a sports franchise of the NFL. Furthermore, Davis is also the owner of Las Vegas Aces of the WNBA. As of 2022, Mark Davis has an estimated net worth of $500 million.
| | |
| --- | --- |
| Full Name | Mark M. Davis |
| Birth Date | May 18, 1955 |
| Birth Place | Brooklyn, New York |
| Profession | Businessman and Sports Franchise Owner |
| Relationship Status | N/A |
| Net Worth | $500 million |
Early Life
Mark Davis is the only son of Al Davis and Carol Davis. His father Al was a well-known football coach who owned the Oakland Raiders for close to four decades before his passing in 2011. He went to the California State University in Chico after which he started to get involved in helping his father in managing the Raiders and the different elements of its business operations.
Mark Davis Net Worth and Career
Mark started by looking after the retail operations of the franchise with his focus being on ways to improve the brand image that the Raiders had in their stores. He was also involved in their equipment department where he helped in developing new products such as the muff-style hand warmer. Yet in those early days working under his father, he quickly learned some important lessons too.
0In 1980, Mark was working with one of the players of the franchise named Cliff Branch in his contract negotiations which led to a deal including an annuity. His father Al was not happy with this deal and as a result, he was even kicked out of the house by his father.
Mark would later inherit the sports franchise from his father being the only child after his father's passing in 2011. He along with his mother has a 47% stake in the Raiders which gives them a controlling interest in running the operations of the franchise. When Mark became the main head looking after the Raiders, their contract with Oakland Coliseum whom they had started a lease back in 1965 had come to an end.
Though he explored several options, Mark decided that the Raiders would be moving to a shared stadium in California. A new twist came when this plan failed and Mark looked for a new deal in Oakland. However, by this time, Oakland decided to raise their rent.
Eventually, in 2017, the Raiders announced that they were moving to Las Vegas. Mark's style of management is drastically different than that of his father Al as he is more focused on the business operations of the Raiders while letting the general manager look after the performances in the field.
Personal Life
Mark has tried to keep his personal life to his circle which is why it is hard to even know who he is married to or if he has any children. But it is a known fact that Mark is a big foodie and loves trying out new restaurants. Furthermore, over the years, he has established his name of funky haircuts with many knowing him through the bowl haircut that he did.
Mark Davis Net Worth
As of 2022, Mark Davis has an estimated net worth of $500 million. A big part of his net worth has been inherited from his father. Mark has done well in helping to take the Raiders in progressing them further over the years making some significant changes in the process.
He has recently been working on creating a huge mansion in Nevada which is to be 15,000 square feet in area and will have a design that is similar to the one that Raider's have in their stadium. This mansion is said to be worth $14 million.
Mark Davis News
NFL Rumors: Tom Brady Is Buying 'More Than a Ceremonial Sliver of the Raiders'  Bleacher Report

Tom Brady's Bizarre Decision to Join Forces With Mark Davis is a Bad Look for Robert Kraft  Sportscasting

Mark Davis  The Gazette