Marjorie Taylor Greene Net Worth: How Rich is the US Representative?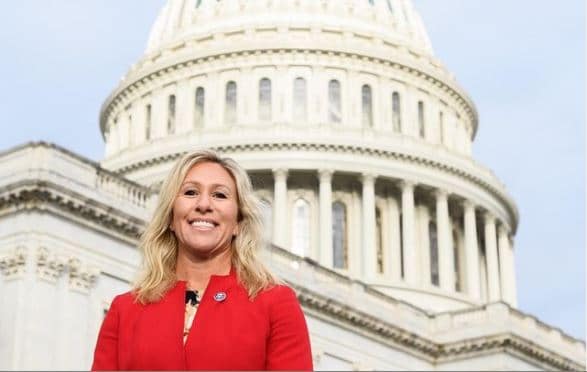 Marjorie Taylor Greene is an American politician and businesswoman. She is best known as a far-right conspiracy theorist, who is serving as the United States representative for Georgia's 14th congressional district. Marjorie Taylor Greene net worth is under review. However, some websites list her net worth to be in the range of $30 to $50 million.
Greene is a strong supporter of former U. S. President, Donald Trump. After electing to Congress in November 2020, she was sworn into office on 3rd January 2021. She was featured as a speaker at Donald Trump's Ohio rally on June 26, 2021, where she targeted Democratic Rep. Alexandria Ocasio-Cortez for supporting progressive legislation like the Green New Deal.
| | |
| --- | --- |
| Full Name | Marjorie Taylor Greene |
| Birth Date | May 27, 1974 |
| Birth Place | Milledgeville, Georgia, U. S. |
| Profession | Politician, businesswoman |
| Husband | Perry Greene |
| Net Worth | Under Review |
Early life
Marjorie Taylor Greene was born on 27th May 1974 in Milledgeville, Georgia. She was born to Robert Taylor, who founded the construction company, Taylor Commercial.
Regarding her study, she joined South Forsyth High School, from where she graduated in 1992. Later, she attended the University of Georgia, and she came out holding a graduate degree in Business Administration from the University in 1996.
Marjorie Taylor Greene Net Worth & Career
View this post on Instagram
Greene started taking the responsibility as Vice-President of the company, Taylor Commercial in 2002. The company was sold to Green and her hubby, Perry. In 2007, she started working as the Chief Financial Officer of the company, which she continued till 2011. Marjorie began working as a part-time coach at Alpharetta gym, CrossFit On The Move in 2012. By August 2013, she co-founded a CrossFit gym and CrossFit Passion.
On June 4, 2019, she started her 2020 candidacy for Georgia's 6th Congressional district. In the candidacy, she focused on balancing the federal budget, and restrain Congress from spending more money. She shifted her campaign to the 14th District on December 13, 2019, after coming to know that incumbent, Tom Graves would not be running for reelection from there.
She was expected to compete against Democratic IT specialist, Kevin Van Austal for Georgia's 14th congressional district, 2020. However, Kevin withdrew his name from the race, which made Greene's victory easy in the November general election. She received 74% of the total vote, whereas her opponent Vau Ausdal received around 25% vote. With the victory, she became the second Republic woman who represented Georgia in the House.
Greene has been strongly supporting Donald Trump from the beginning. When Joe Biden took over White House on January 21, she came up with an article of impeachment against Biden, however, no one was interested in co-sponsoring her proposal. Marjorie has been recently raising her voice strongly against Democratic-Republican, Alexandra Ocasio-Cortez. She recently opposed the congresswoman for supporting the Green New Deal.
Green referred Ocasio-Cortez as the little communist from New York City while speaking at Trump's first post-presidential rally held in Wellington, Ohio, on June 26, 2021. She even accused Cortez of not being American, and not embracing American ways.
Marjorie Taylor Greene Personal Life
Marjorie Taylor Green is married to Perry Greene. The two tied the knot while studying in college in 1995. She shares three kids with hubby Perry. Green seems to be living a happy life with her husband and kids at present time.
Marjorie doesn't seem to support abortion. Likewise, she tried to block the Equality Act on February 24, 201. Green even proposed to stop transgender women from participating in women's sports.
Marjorie Taylor Greene Net Worth
Although her exact financial detail is hard to predict, some sites estimated her net worth to be in the range of $30 million to $50 million. She seems to have earned huge money from her political career and running the construction company, Taylor Commercial, and CrossFit Gym, and CrossFit Passion.