Maile Hammahz Height, Age, Bio, Net Worth, Career & More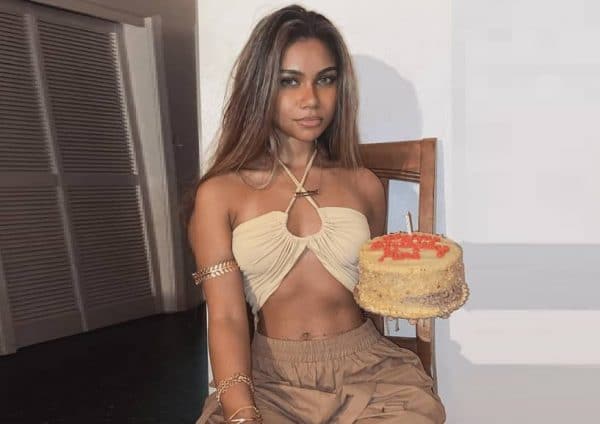 Maile Hammahz is an American TikTok star and social media personality who is best known for her TikTok account where she has grown her following to over 3.8 million in a very short amount of time by posting about her modeling as well as posting snippets of her life. Maile also enjoys making art and is known for her unique Hawaiian heritage. As of 2022, Maile Hammahz has an estimated net worth of $300,000.
| | |
| --- | --- |
| Full Name | Maile Hammahz |
| Birth Date/ Age | September 2, 2002/ 19 years old |
| Birth Place | Hawaii, United States of America |
| Profession | TikTok star and social media personality |
| Relationship Status | Single |
| Net Worth | $300,000 |
Early Life
Maile has not mentioned much about her upbringing but from her posts, it seems that she grew up in Hawaii but is currently living in California for her career as a content creator. It is also not clear whether Maile has finished her high school education yet nor about any future plans to go to college.
Maile Hammahz Net Worth and Career
View this post on Instagram
Maile started getting active on TikTok in September of 2019. In her early videos, we can see her showing her Hawaiian heritage which the users found to be very unique and quickly came to like Maile. As a result, several of her videos started to go viral one after another. This has led to her having a following of 3.8 million already on TikTok though it has not even been 2 years since she joined this platform.
She was able to increase her following even more after being part of the TikTok group called The Vault which was formed back in 2020. This group is a collective of TikTok content creators who come together and stay in a mansion where they create videos and collaborate with each other. Because of the several stars including Maile, the group has been able to accumulate hundreds of thousands of fans in quick succession.
Furthermore, now Maile seems to be focusing on growing her following in other platforms as well such as Instagram where she currently has a following of close to 200k followers. Since she is now associated with the influencer marketing and talent management agency called Six Degrees of Influence (SDI), Maile has been trying to create a bigger fan following across several platforms.
Personal Life
Maile has been known for her Hawaiian heritage among fans. She has mentioned in one of her posts how she is part of the Hawaiian Royal Bloodline which means that she is related to the royal family. However, Maile has not elaborated further on how exactly is she connected with the royal family there and the history behind it.
We might get to hear the full story regarding this if she decides to do a Q&A with her fans in the future. Maile has also strongly spoken against racism that occurs in the U.S. but at the same time condemned the rioting and looting that occurred during the Black Lives Matter movement. Furthermore, Maile has also spoken about the incidences of bullying that tend to occurs among teenagers.
Maile Hammahz Height, Weight & Measurements
Maile Hammahz at the age of 19 stands at a height of 5 feet 1 inches or 155 cm tall and weighs around 50 kg or 110 pounds. Her body measurements are not available at the moment. Likewise, her hair color and eye color are both dark brown.
Maile Hammahz Net Worth
As of 2022, Maile Hammahz has an estimated net worth of $300,000. Though Maile is still very young, she has been able to garner a big following because of which she has been able to earn through sponsorship deals and brand endorsements through her partnership with Six Degrees of Influence.
If her following keeps on increasing at the current rate then we can expect Maile Hammahz to become one of the most followed influencers on TikTok which will help her net worth to rise exponentially in the coming days.