Keith McCants Net Worth: How Rich was the Retired NFL Player Actually?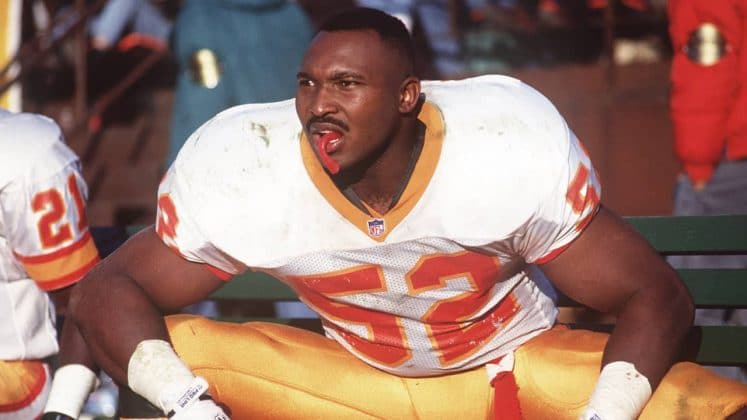 Alvin Keith McCants, simply known as Keith McCants was a 53 years old American professional football player. He is best known for playing as a linebacker in the National Football League (NFL) for the professional football teams, Tampa Bay Buccaneers, the Arizona Cardinals, and the Houston Oilers. Keith McCants net worth before his death is estimated to be around $1.5 million.
Keith McCants was found dead at his house in Florida on September 2, 2021. According to investigators, he died due to a drug overdose.
| | |
| --- | --- |
| Full Name | Alvin Keith McCants |
| Birth Date | April 19, 1968 |
| Birth Place | Mobile, Alabama, U. S. |
| Profession | Football player |
| Relationship Status | N/A |
| Net Worth | $1.5 million |
Early life
Keith McCants was born on the 19th of April, 1968 in Mobile, Alabama, United States. He has not shared brief detail on his early life, and parents. For his study, he joined Murphy High School. Later, he continued his study by joining the University of Alabama.
While attending Murphy High School, he was actively playing football. He had 130 tackles and 3 interceptions as a senior player at Murphy, and for his excellent game, he was named to the 1986 1st Team All-State Team. He was also named into the 1986 Alabama Sports Writers Association's Super 12 team that included the top 12 high school football players in the whole state.
Keith McCants Net Worth & Career
McCants excelled in the high school year where he helped his team to get a place in the state tournaments in both freshman and senior years. Following high school graduation, he studied at the University of Alabama. In 1989, he was named the National Defensive Player of the year.
As a sophomore, he finished in second place on the team with a total of 78 tackles. During the 1988 regular season, he made a record of most tackles on the team against the tough teams like Tennessee, Auburn, Mississippi State, and Texas A&M. McCants completed his college year with a total of 197 tackles which also include 16 tackles for a loss.
McCants began his professional career in 1990 after he was picked up by the Buccaneers in the 1990 NFL draft. He was signed with the team for 5-year. In 1991, he showed an excellent game for the Buccaneers where he recorded 5 sacks and 34 quarterback pressures. Keith was cut off from the 1993 training camp by Tampa Bay, and then he was picked up by the New England Patriots within 48 hours.
In 1993, he was playing with the Houston Oilers. The team went on to finish first in the AFC Central Division during that season. With that, the Oilers reached their 7th straight postseason, and it was first for McCant. Keith played two seasons 1994 and 1995 for the Arizona Cardinals.
After the end of his NFL career, he started co-hosting the show called "Hear It Now!" on September 13, 2019. It was his first full-time job as a broadcaster where he took the interviews of famous sports personalities like Robert Jones, Cornelius Bennett, George Teague, Stylez G. White, and many more.
Keith McCants Personal Life
Keith McCants had not revealed anything on his relationship matters. Either he was married or single, that has still remained a mystery. Keith was found dead at his Florida-based house on September 2, 2021. The reason for his death is reported due to a drug overdose. A more detailed confirmation of his death is still yet to come out as investigation is still going on.
Keith McCants Net Worth
Keith McCants's personal wealth before his death is estimated to be around $1.5 million. He has gathered the whopping amount from his NFL career. McCants was signed for $7.4 million by the Tampa Bay Buccaneers for a 5 year in 1990.
Keith McCants News
An error has occurred, which probably means the feed is down. Try again later.