Josh Groban Net Worth: How Rich is the Singer Actually in 2022?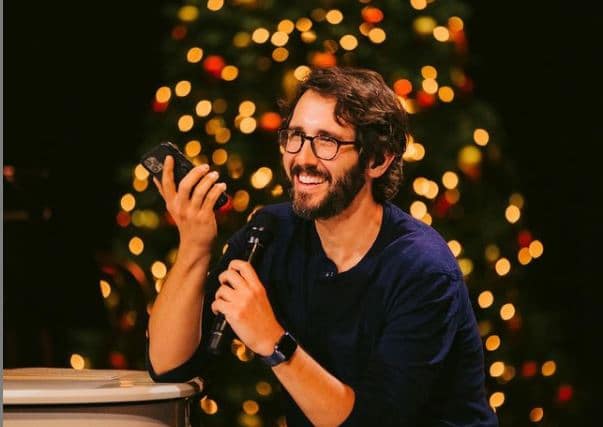 Joshua Winslow Groban is an American singer, songwriter, and actor. He has sold more than 25 million records throughout the world having had four of his albums be certified as multi-platinum. Groban has also appeared in several films such as Coffee Town, Muppets Most Wanted, and Crazy, Stupid, Love. As of 2022, Josh Groban net worth is estimated to be around $35 million.
| | |
| --- | --- |
| Full Name | Joshua Winslow Groban |
| Birth Date | February 27, 1981 |
| Birth Place | Los Angeles, California |
| Profession | Singer, Songwriter, & Actor |
| Relationship Status | In a Relationship |
| Net Worth | $35 million |
Early Life
Groban started to sing at a young age and by the time he had reached the 7th grade, he was making his first public musical performance. At the same time, in his early years, he was also involved as an actor and played in several roles for his high school's production called Fiddler on the Roof.
Regarding his education, he studied at the Los Angeles County High School for the Arts where he was a theater major. Later on, he studied musical theater at Carnegie Mellon University but left within the first semester as he was offered a recording contract.
Josh Groban Net Worth and Career
View this post on Instagram
Groban started his career by being involved with the show called Ally McBeal where he played the character named Malcolm Wyatt. His impressive performance on the show led to his role in To Where You Are. Yet, the turning point in his career was the recording contract he received from Warner Bros. Records. Through the network of the record label, Groban started to perform in different shows and collaborate with artists on their tours. Eventually, he released his debut album called Josh Groban in 2001 which would be a big success managing to get to double-platinum.
Building upon this success, he went on to release another album in 2003 which was called Closer. Groban's album quickly managed to reach number 1 on the Billboard charts which was a huge achievement for him. Some of the most popular songs in the album included You Raise Me as well as Remember. Over the years, many of his songs would be used as the soundtracks of movies as well.
He then released his third album in 2006 called Awake. Since then, he has released many songs and albums that have had huge success. Groban has also toured around the world. For the Awake world tour, Groban managed to do concerts in a total of 71 cities.
Personal Life
Josh Groban was in a relationship with January Jones that started in 2003. After they broke up, Groban made public to be dating Kat Dennings. However, after their relationship ended in 2016, he has been dating the actress Schuyler Helford since 2017.
Groban is also involved in many philanthropic efforts. For his 27th birthday, he started the initiative called Raise 27 which aimed to raise $27,000 for his Josh Groban Foundation that helped an orphanage called Siyawela.
Josh Groban Net Worth
As of 2022, Josh Groban has an estimated net worth of $35 million. Having sold millions of records along with doing tours all around the world, Groban has been able to build a huge net worth.
Josh Groban News
Josh Groban Breaks His Instagram Silence After Revealing 'Sweeney Todd' Exit  Yahoo Life

Josh Groban Revisits 6x-Platinum 2003 Album 'Closer' for 20th Anniversary Deluxe Edition — Listen/Buy  Rock Cellar Magazine

'JOSH GROBAN 20TH ANNIVERSARY EDITION OF CLOSER GIVEAWAY' on Indy Now  FOX 59 Indianapolis