Jessica Hahn Net Worth: How Rich is the Model Actually in 2022?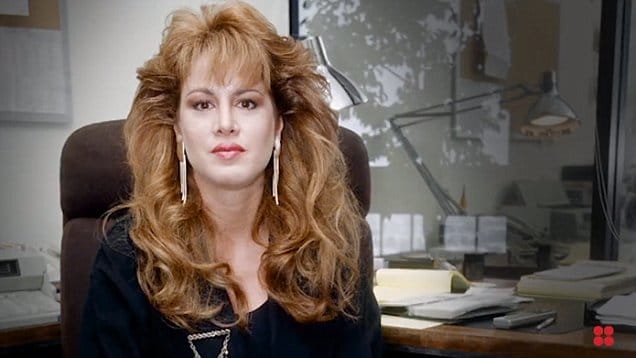 Jessica Hahn is an American model and actress. She has appeared in several nude photoshoots for Playboy and also has some movie credits in minor roles. As of 2022, Jessica Hahn net worth is estimated to be around $1 million.
Hahn is also known for accusing the televangelist Jim Bakker in the allegation of rape when she was working as a church secretary. This led to a nationwide inquiry into who Jessica Hahn was with this case having many twists and turns over the years.
| | |
| --- | --- |
| Full Name | Jessica Hahn |
| Birth Date | July 7, 1959 |
| Birth Place | Massapequa, New York, U.S. |
| Profession | Model and Actress |
| Relationship Status | Married |
| Net Worth | $1 million |
Early Life
Jessica was born on July 7, 1959, and grew up in a place called Massapequa in New York. Nothing more is known about her early life other than she went to Massapequa High School.
Jessica Hahn Net Worth and Career
Hahn had gotten a call from Oklahoma from an evangelist named John Fletcher who had invited her to Florida where Jim Bakker was doing a show. She has followed Jim Bakker through his show The PTL Club and was a fan of the show. As per her claims, Hahn was lured into sex in a hotel room by Bakker and has mentioned that she was young and vulnerable at the time as she was still only 21 years old. She didn't speak out about this incident for some time but Hahn finally gathered the nerves to announce this which led to Bakker resigning as the head of The PTL Club on March 19, 1987.
Bakker later served time in jail for other charges such as misuse of ministry funds. Yet, the case of sexual misconduct would be his most serious allegation. As per Hahn, she was drugged and raped by Bakker as well as the preacher John Fletcher. Hahn was allegedly paid $279,000 by Bakker to remain silent on the matter but as per Hahn, this was not so. However, in the public eye, this news started to become bigger and bigger and was even turned into a film about Bakker's dramatic rise and fall.
Hahn has mentioned that she went on to make a couple of mistakes after this incident as she posed nude for Playboy three times. She has also been seen in The Howard Stern Show multiple times. Since then, she has spoken out and empathized with the woman who started to break the silence regarding sexual harassment through the MeToo Movement. She has mentioned that there are still days when she wakes up in the middle of the night feeling miserable about the things that have happened to her.
Personal Life
Jessica Hahn was in a relationship with Sam Kinison who is a comedian. She even appeared in one of his music videos called Wild Thing that was released in 1988. They later broke up and Hahn started to date Ron Leavitt who had created Married…with Children. Their relationship continued until his death after battling cancer in 2008. Though after Leavitt's death, Hahn didn't talk much about her relationship status, she revealed in 2017 that she had married Frank Lloyd who has worked as a film stuntman for several films including Spiderman.
Today, the couple lives in their 45-acre ranch which is located near Los Angeles. Hahn has mentioned that she has completely changed her lifestyle from the one she had while in Hollywood being involved in modeling and films. Hahn is a Christian and has said that her closest relationship is with God. Furthermore, she is also a conservative and was a supporter of President Donald Trump which she regularly tweets about on Twitter.
Jessica Hahn Net Worth
As of 2022, Jessica Hahn has an estimated net worth of $1 million.
Jessica Hahn News
Jessica Hahn's Husband Files for Divorce  PEOPLE