Jerry Mathers Net Worth: How Rich is the Actor Actually in 2022?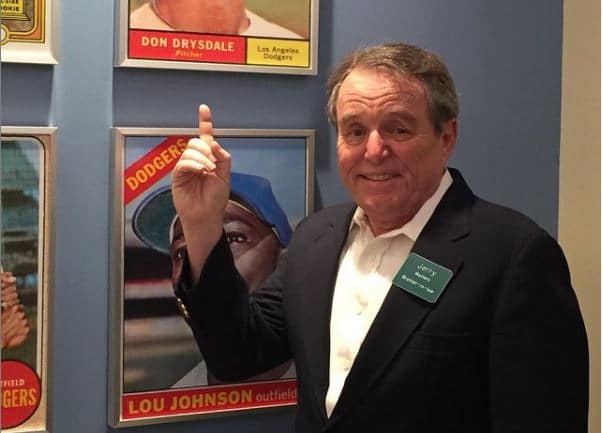 Gerald Patrick Mathers, better known as Jerry Mathers is an American actor. He is best recognized for his childhood role as Theodore "Beaver" Cleaver on the TV sitcom "Leave It to Beaver". As of 2022, Jerry Mathers net worth is estimated to be around $4 million.
| | |
| --- | --- |
| Full Name | Gerald Patrick Mathers |
| Birth Date | June 2, 1948 |
| Birth Place | Sioux City, Iowa, United States |
| Profession | Actor |
| Wife | Teresa Modnick |
| Net Worth | $4 million |
Early life
Jerry Mathers was born Gerald Patrick Mathers on the 2nd of June, 1948 in Sioux City, Iowa, United States. His father was a high school principal. He spent his childhood days growing up in the San Fernando Valley, LA, California. He grew up with 3 siblings; two brothers and one sister.
Jerry started his career at two years of age by appearing as a child model for the advertisement of a department store. After a first ad, he appeared in a commercial advertisement of PET Milk, where he was featured along with the comedian, Ed Wynn. Jerry then appeared in few movies such as "This Is My Love", "Men of the Fighting Lady", "The Seven Little Foys", and "The Trouble with Harry".
Jerry Mathers Net Worth & Career
 

 

 

View this post on Instagram

 

 
Mathers became a prominent TV figure after he was selected for the role of Beaver Cleaver in the TV sitcom "Leave It to Beaver." The producers of the TV show selected him for his honest attitude when he said he would rather prefer to be at his Cub Scout meeting rather than auditioning for the role.
Jerry was very impressive in his role as Beaver in the sitcom. He appeared in the TV show for six years where he made an appearance in 234 episodes. While he was a part of the show, Jerry made a deal of receiving a certain percentage of the merchandising revenue from the show. With the deal, he became the first child actor ever to receive a percentage revenue of the merchandising revenue.
As he grew up and turned into a teenager, he retired from acting and concentrated more on the study. Matthers has studied at the Dotre Dame High School. While he was studying in school, he was a part of the musical band named Beaver and the Trappers.
In 1966, he joined the United States Air Force Reserve. He continued to serve in the Reserve after completing high school graduation. And after some time, he was promoted to Sergeant. Matthers was rumored to be killed during the Vietnam War. However, the rumor was proved false after Jerry mentioned that he has never been stationed outside the U. S.
Jerry has also worked as a commercial loan officer after he completed his university education at the University of California, Berkeley. He was getting $500 a week through his work at the bank then. Later, he used all his savings to start a career in real estate development. After all ups and downs, he returned back to his acting career in 1978, where he appeared in the comedy play Boeing, Boeing.
Jerry reprised his role of Beaver Cleaver in the TV reunion movie "Still the Beaver" in 1983. The movie was loved by the audiences which led to the development of sequel series with the same name. In 1984, the series started airing on the Disney Channel. The series was later retitled "The New Leave It to Beaver" after it was picked up by TBS. The popular TV series ran until 1989.
Matthers went on to promote his much-loved TV series on the MeTV network in 2018 and 2019. As an actor, he was last seen in the 2008 movie "Will to Power", and the TV movie "Mother Goose Parade".
Jerry Mathers Personal Life
Jerry Matthers has been married three times. First, he tied the knot with Diana Platt in 1974. He met her first time in college. After separating from Diana, he married Rhonda Gehring. He had three kids with his second wife, Rhonda; two daughters, and a son. The pair separated with divorce in 1997.
Jerry then married his third wife, Teresa Modnick on January 30, 2011. As of now, he has been spending a luxurious moment with his third wife. Matthers represented a Type 2 diabetes reversal program in a TV ad after he came out of illness of Type 2 diabetes.
After being diagnosed with diabetes, he got enrolled in a weight loss program with a weight loss management company, Jenny Craig. He lost over 40 lb. during the weight loss program, and later he appeared as the first male spokesperson for Jenny Craig.
Jerry Mathers Net Worth
As of 2022, Jerry Mathers' personal wealth is estimated to be around $4 million. Besides being popular as an actor, he has also recorded two songs for single 45 rpm titled "Don't Cha Cry", and "Wind-Up Toy". He has also been the national spokesman for the pharmaceutical manufacturers association "PhRMA".
Jerry Mathers News
Jerry Mathers said that Hugh Beaumont was a ''Dutch Uncle''  MeTV

5,000 boys auditioned to be the new ''Beaver'' Cleaver  MeTV

How well do you know Jerry Mathers' career?  MeTV