Jenna Jameson Net Worth: How Rich is the Actress Actually in 2022?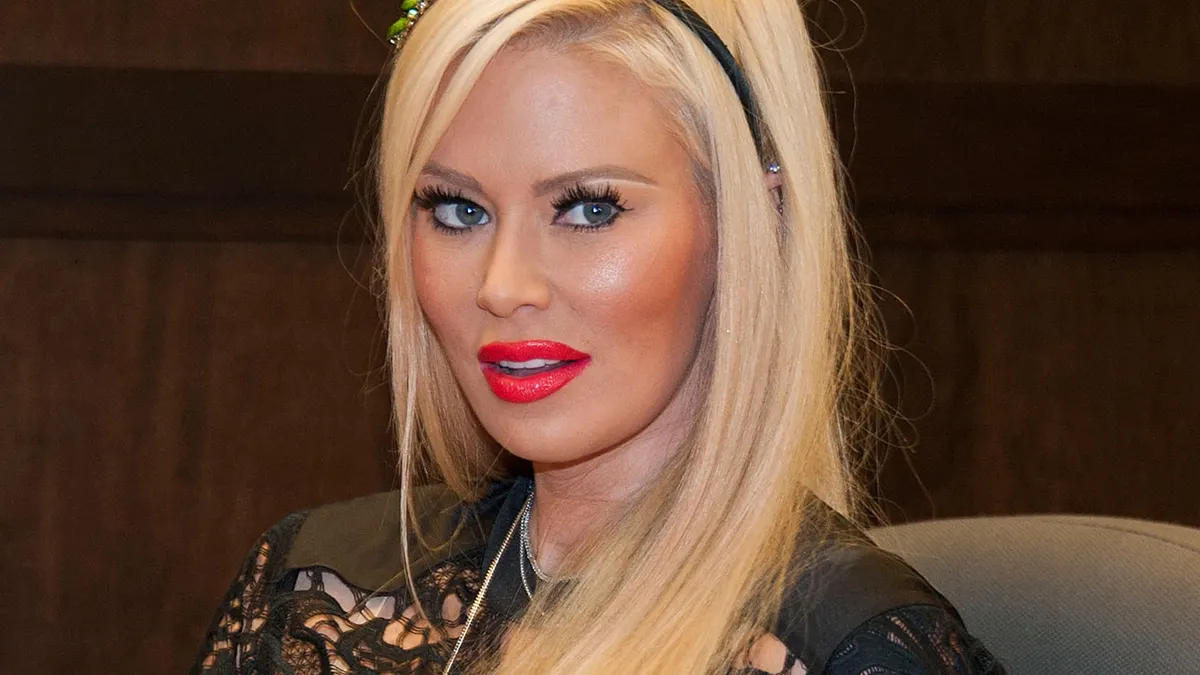 Jenna Marie Massoli, who is better known as Jenna Jameson is a well-known American model and former pornographic movie actress. She has been often named "The Queen of Porn" and has won over 35 adult-video awards. Jenna is the co-founder of an adult company, ClubJenna which later grew into a multimedia adult web empire selling adult movies starring Jenna and other adult actors and actresses. As of 2022, Jenna Jameson net worth is estimated to be around $6 million.
| | |
| --- | --- |
| Full Name | Jenna Marie Massoli |
| Date of Birth | April 9, 1974 |
| Place of Birth | Las Vegas, Nevada, U. S. |
| Occupation | Model, former adult actress |
| Partner | Lior Bitton |
| Net Worth | $6 million |
Early life
Jenna Jameson was born in Las Vegas, Nevada on 9th of April, 1974. She was to her parents, Laurence Henry Massoli and Judith Brooke Hunt. Her dad Laurence has served as a police officer and program director at KSNV-DT. Likewise, her mom Judith used to be a Las Vegas showgirl who died on February 20, 1976, due to melanoma. Jameson moved along with her family to different places like Arizona, Nevada, and Montana after being bankrupt due to her mom's cancer treatments.
Jenna grew up with an older brother named Tony. As a kid, she has made a frequent entrant in many beauty pageants and has attended ballet classes. In fact, she has trained in dance for 15 years. As she grew up, she tried to become a Las Vegas showgirl following her mother's footsteps, however, due to not matching up with the required height she was getting rejected in most shows. She was later hired at California's resort, Disneyland Resort, where she served for two months.
Jenna Jameson Net Worth & Career
View this post on Instagram
In 1991, she started dancing in strip clubs of Las Vegas. Her pay increased to $2000 per night within six months. Later on, she continued her study and completed graduation from Bonanza High School.
At first, she entered the stage with the name Jennasis, which she later used as the name of her business, Jennasis Killing Co. In late 1991, she posed nude for photographer Suze Randall in a hope that she would get featured on the men's magazine cover, Penthouse. Jenne later took a different path and started acting in sex videos in a reprisal of her then-boyfriend, Jack's infidelity. She started getting noticed after appearing in the 1994 movie "Up and Cummers 10 and Up and Cummers 11", and later she made appeared in other pornographic movies.
In 1995, she was signed by a small pornographic film production company, Wicked Pictures. In the first year of her contract with Wicked Pictures, she earned around $6000 for each of 8 movies in that year. She was earning $60,000 for a day and $8000 each night performing at strip clubs by the year 2001. She founded an internet pornography company called ClubJenna along with her husband Jay Grdina in 2000. The company's website was one of the first pornographic sites which provided more than adult pictures and videos.
In 2001, the first movie of her company "Briana Loves Jenna" grossed more than $1 million in its first year. In August 2005, the company launched an interactive website called Club Thurst dedicated to her gay male fans. Besides appearing in adult movies, she has also appeared in a music video of Eminem's song titled Without Me.
In August 2015, she featured as one of the contestants on the 16th series of the UK reality series called "Celebrity Big Brother", where she represented the USA. At the 2008 AVN Awards, Jenna announced that she would never going to return back to pornography and retired officially.
Personal Life
Jenna Jameson is currently dating her Israeli boyfriend, Lior Bitton. Together, they welcomed a baby daughter on April 6, 2017, who was named Batel Lu. Jameson converted to Judaism in June 2015 to marry Bitton, however, she has not gotten married to Bitton yet. Jenna has been married twice; first to Canadian pornographic actor, Brad Armstrong and the second time with American former pornographic actor and businessman, Jay Grdina.
Jenna was raped by four boys when she was 16. She was raped again by Preacher, who was her then-boyfriend Jack's biker uncle. Jenna became addicted to drugs while she was in high school. She has recently been hospitalized for Guillain-Barre Syndrome after she was not able to walk. On January 10, she shared a video on Instagram telling her fans that she was diagnosed with Guillain-Barre Syndrome and currently getting treatment in the hospital.
Jenna Jameson Net Worth
As of 2022, Jenna Jameson's personal earning is revealed to be around $6 million. She has bagged the hefty sum from working as a strip dancer, model, and pornographic actress. Jenna has also directed a movie titled "Jenna's Provocateur".
Jenna Jameson News
Jenna Jameson gives health update after being given a year to live  FOX 10 News Phoenix

Jenna Jameson Discusses Being Given a Year to Live, Busting Herself Out of the Hospital (Exclusive)  Entertainment Tonight

Jenna Jameson is 'off all medication' after mystery illness, addresses weight loss  Page Six