Jayda Cheaves Net Worth: How Rich is the Entrepreneur Actually?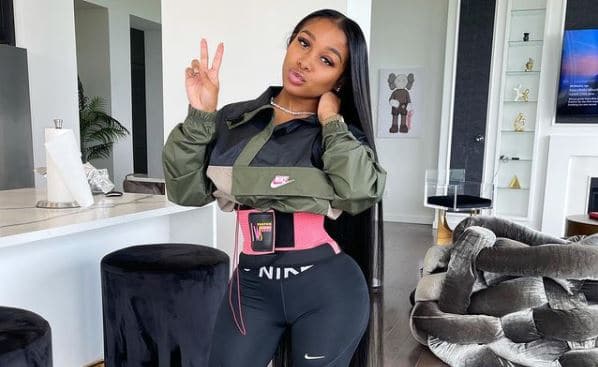 Jayda Cheaves is an American entrepreneur, Instagram, and YouTube star. She is the founder of an online clothing boutique, AmourJayda. Jayda is also known for her relationship with the rapper, Lil Baby, with whom she separated in March 2021. As of 2022, Jayda Cheaves net worth is estimated to be around $4 million.
| | |
| --- | --- |
| Full Name | Jayda Cheaves |
| Birth Date | September 25, 1997 |
| Birth Place | Savannah, Georgia, U. S. |
| Profession | Entreprenur, Instagram Star |
| Ex-boyfriend | Lil Baby |
| Net Worth | $4 million |
Early life
Jayda Cheaves was born on 25th September 1997, in Savannah, Georgia, United States. She has not shared enough information on her early life, parents, and academic background. However, we came to know that she has completed her high school graduation in May 2015. Jayda has a younger brother, Jaelen, and a sister, Ameerah also known as Jazz. Her sister, Ameerah owns a salon called The Glam Trap in Decatur, Georgia.
Jayda Cheaves Net Worth & Career
View this post on Instagram
Jayda started her entrepreneurial venture at the early age of 16, through the app called Poshmark. Sue used to resell clothes and earn the profit through the app. From her early work experiences, she became familiar with branding and marketing. Later, she started her own website and became her own boss. She has also opened a shop called Amour Jayada in Atlanta, Georgia, and through the shop, she sells cosmetic, and beauty products.
Cheaves has also started a good hair online shop named Amour Jayda Hair, which specializes in supplying good hair bundles, wigs, and hair-related products. To date, she has worked along with the brands like Fashion Nova, GSU WOO, Pretty Little Thing, and many others.
Jayda also has a YouTube channel, where she makes videos on her daily life. She made her last YouTube video on March 19, with the title "Exotic Fruits Mukbang??". Likewise, she is often known as an Instagram Guru. She is presently followed by 5.6 million people on her Instagram. In the last few months, she has been busy working on her new clothing collection called Waydaminmerch, where the brand's page is followed by 280K followers.
Jayda Cheaves Personal Life
Jayda Cheaves is currently single. She was in a relationship with the famous rapper, Lil Baby. Cheaves met Lil through her sister, and she started dating him in 2016. The couple reportedly broke up after she made an allegation on Lil that he cheated on her with an adult star, Ms. London.
According to Ms. London, she was paid by Lil to have a relationship with him. Though, Lil completely denied the allegation and claimed himself to be innocent. Likewise, he further alleged Jayda for using his name for clout. Jayda and Lil Baby shares a son named Loyal Armani together.
Jayda Cheaves Net Worth
As of 2022, Jayda Cheaves' personal wealth is estimated to be around $4 million. She has earned a vast chunk of money from her entrepreneurial ventures. As per sources, her online company, Amour Jayda generates annual revenue of $2 million.