Adam Weitsman Net Worth: How Rich is the Entrepreneur Actually?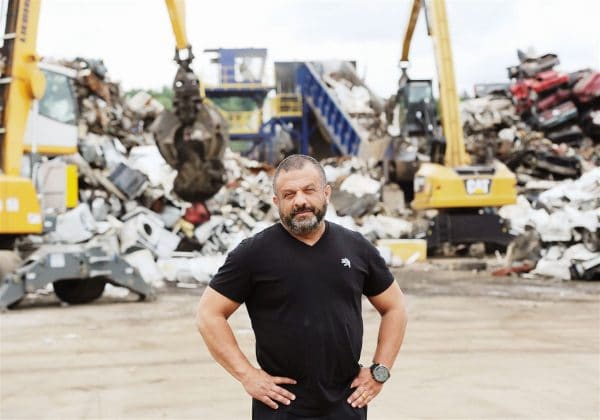 Adam Weitsman is an American entrepreneur and philanthropist. He is best known as the owner and CEO of a scrap metal processing company, Upstate Shredding-Weitsman Recycling. The American Metal Market gave his company the award of the Scrap Company of the Year in 2015 and 2016. As of 2022, Adam Weitsman net worth is estimated to be roughly $1.2 billion.
| | |
| --- | --- |
| Full Name | Adam Joel Weitsman |
| Birth Date | June 13, 1968 |
| Birth Place | Owego, New York, U. S. |
| Profession | Entrepreneur |
| Wife | Kim Weitsman |
| Net Worth | $1.2 billion |
Early life
Adam Weitsman was born on the 13th of June, 1968 in Owego, New York, United States. His family had been involved in the scrap metal business for a long time. In 1980, his dad and grandfather found two early American stoneware bottles in their scrap yard during an excavation project. After that, he started collecting the 19th Century stoneware. By 1982, he had already started collecting the antic stoneware and during that time, he already owned 60 pieces.
Regarding his education detail, he completed his school graduation in 1986 from Owego Free Academy. Then, he joined Long Island University from where he majored in banking. During that time, he was working at a Manhattan art gallery.
Adam had a sister who died due to cancer in the early 1990s. After his sister's death, he moved back to his hometown to help his dad in their family's scrap metal business. 1991, he started the American Folk Art Gallary in Greenwich Village. He started working as a Vice President of a scrap processing company, Ben Weitsman & Son in 1995.
Adam Weitsman Net Worth & Career
View this post on Instagram
Weitsman started taking more interest in the scrap metal recycling business which ultimately ended up with founding his own company, Upstate Shredding. He started operating his company in 1997 which was opened at the Tioga County Industrial Park. In 2005, after his father's demise, he acquired his father's company, Ben Weitsman & Son, Inc.
Adam further expanded his company by acquiring an 11-acre scrape yard in Solvay, New York from Peter Matlow. Then, he acquired a scrap yard based in New Castle and Empire Recycling based in Watertown between 2012 and 2016. The company was then named collectively Upstate Shredding-Weitsman Recycling. His company won the Tioga County's Business of the Year award in March 2010.
Besides working in the scrap processing business, he has also invested in real estate in Skaneateles. Adam is also a restaurant owner, who constructed a Mexican restaurant, Elephant and the Dove in 2018. Likewise, he has developed a sushi bar in Omega. In 2021, Weitsman made an announcement of starting a new Italian restaurant collaborating with Rise N Shine restaurant owner, Danielle Mercuri.
Adam Weitsman Personal Life
Adam Weitsman is married to Kim Weitsman. He met his wife first time in the summer of 2000. Kim was pursuing a modeling career at that time, but she left her modeling career in 2004 to help Weitsman on his scrap business.
Kim took the responsibility as an operation manager at Upstate Shredding. Their marriage took place in Skaneateles, New York in June 2006. Together, they share three kids named Clover, Monroe, and Rae.
Adam Weitsman Net Worth
As of 2022, Adam Weitsman's personal wealth is estimated to be around $1.2 billion. He has made a huge amount from his scrap metal processing business. Adam has also been actively involved in philanthropy activities. He has made donations to social causes like ALS, cancer research, education, youth, health, and community services.
Adam Weitsman News
After 3 years of planning, Adam Weitsman's sushi restaurant in Skaneateles is about to open  syracuse.com

New Restaurant: Hidden Fish In Skaneateles  wnbf.com

Who is Adam Weitsman the billionaire on Selling Sunset?  Dexerto